Review
Album Review: Kabaka Pyramid - Kontraband
05/30/2018
by Gardy Stein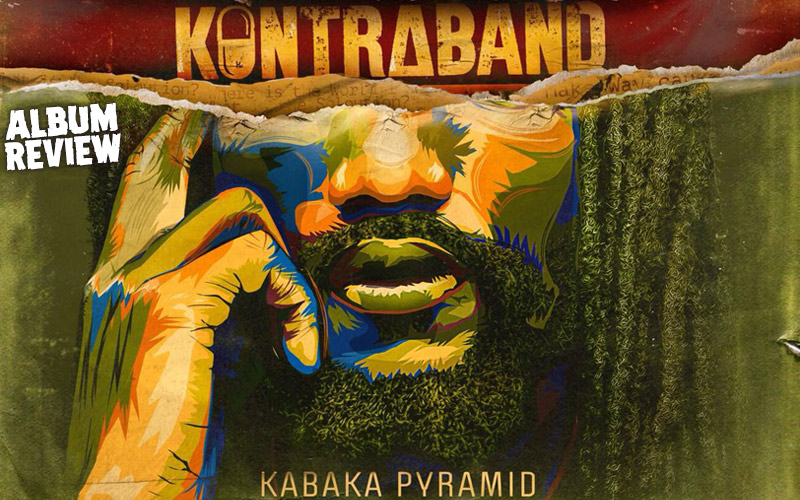 \ˈkän-trə-band\ (noun)
Def.: illegal or prohibited traffic in goods, smuggling; goods or merchandise whose importation, exportation, or possession is forbidden; a slave who during the American Civil War escaped to or was brought within the Union lines (Merriam-Webster Dictionary)
Close your eyes, centre yourself and take a deep breath – it's finally here! Kabaka Pyramid's debut album Kontraband is out, and there's no going around it, nor taking it lightly. Where to start on a feat like that? With the breathtakingly impressive cover-art-work by Qahdir Maharaj maybe, because that's the first thing you see? Or with the executive producer who is none less than Damian "Junior Gong" Marley, a name that in itself guarantees high quality? Best, probably, is to start with the artist himself. In his 2017 interview with colleague Angus Taylor, Kabaka explained that "Kontraband represents me and my music (…). The system and society, they don't want you to have this message (…). Each song is like a different item of contraband, and each is going to break down some walls within the person, barriers that are blocking themselves from true self-expression and individuality."
And, indeed, the inner battle is on. The Lyrics Deity presents a skill honed into perfection and creates a universe of words which, even after a fourth and fifth run-through, has not ceased to reveal its multi-layered complexity to the listener (me, in that case). Of course y'all know the ironic word-play of Well Done, and also Can't Breathe, the release of which as first single was no coincidence, as it is dealing with important and critical issues, is a textual master-piece: "Many can't spell but a dat dem have we under…". Special mention in this context deserve the self-worth-boosting Natural Woman and, most of all, the scorching title track Kontraband, where the lyrical genius of Kabaka is joined by the equally competent Damian Marley who is also responsible for the production of the powerful riddim.
The features are an achievement on their own, anyway. Pyramid took a genuine world tour, starting "a yaad" with Protoje on the pensive Everywhere I Go and the haunting voice of Chronixx in the H.I.M.-tribute Blessed Is The Man. We are brought in touch with the creative breeding ground of the Virgin Islands by Pressure Busspipe on the intro-track Make Way and then travel to the motherland. US-Senegalese artist Akon makes a wake-up-calling start with Africans Arise, while Stonebwoy joins forces with Kabaka in their pledge to break down the world's Borders. Last but not least, the trip takes us to Australia with the Nattali Rize combination All I Need, a sweet love tune produced by the two artists, Carlo Santone and Stephen Marley.
Other producers that, next to Junior Gong, contributed to the high-quality diversity of the sixteen tracks included are Genis Trani, who orchestrated Kaught Up, Can't Breathe and the intense Meaning Of Life, the Austrian Irievibration Records (building a musical platform for the very personal I'm Just A Man) and Natural High Music whose Reggae Music is one of my many favourites due to its infectiously positive riddim. Even Kabaka himself took a seat in the producer's chair, the result of which sounds like a self-fulfilling prophecy. My Time talks about patience, hard work and that this is the singer's time to shine. Very similar sounds the explanation Kabaka gave when asked why this album didn't come out earlier: "I never wanted to be one of those artists who rushed to release an album when the fan-base and recognition was not at a certain level. I wanted to reach a level where the album could actually make an impact and be part of Reggae's legacy." Mission accomplished! Kontraband is a debut worth waiting a lifetime for. Exhale and press repeat. And repeat again. And again…
---
Release details
Kabaka Pyramid - Kontraband
DIGITAL RELEASE [Ghetto Youths International, Bebble Rock Records]
Release date: 05/25/2018
Tracks
01. Make Way feat. Pressure Busspipe
02. My Time
03. Kontraband feat. Damian Marley
04. Can't Breathe
05. Well Done
06. Reggae Music
07. Kaugh tUp
08. Lyrics Deity
09. Borders feat. Stonebwoy
10. Africans Arise feat. Akon
11. Meaning Of Life
12. Everywhere I Go feat. Protoje
13. Blessed Is The Man feat. Chronixx
14. Natural Woman
15. I'm Just A Man
16. All I Need feat. Nattali Rize
Featured artists
Damian Marley
/
Pressure Busspipe
/
Stonebwoy
/
Protoje
/
Chronixx
/
Nattali Rize