Review & Photos: Kabaka Pyramid in London, UK - April 21st 2014
04/24/2014 by Angus Taylor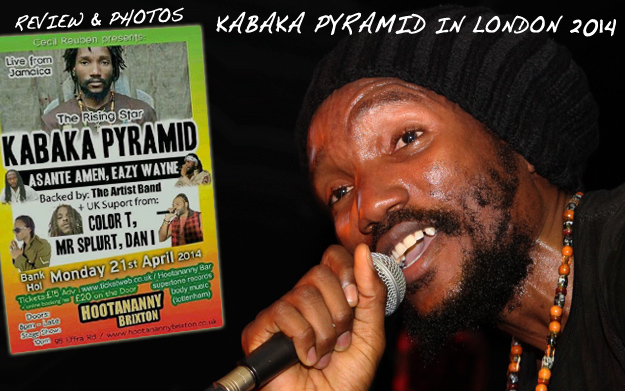 Kabaka stayed calm as he sent everyone around him joyously insane.


It's been a big Easter weekend for Keron Salmon aka Kabaka Pyramid. He celebrated his birthday on the Saturday, played at the Reggaeville Easter Special in Dortmund alongside reggae co-revivalists Chronixx, Dre Island and Kelissa that evening, and then capped it off with his first appearance in reggae-historic London at the Hootananny on the Monday night. The UK public have bought into Chronixx, yet how known Kabaka is outside his strongholds in Europe and the west coast of the USA has been harder to gauge. A respectable three quarter capacity after a reggae event packed bank holiday period suggested he has plenty of supporters in here too.

Promoter Cecil Reuben announced Kabaka saying "So much of the lyrics coming out of Jamaica are just foolishness. So I'm glad when a youth rises with conscious lyrics. A real lyricist". As the venue's four piece Artist Band struck up Bob Marley's 3 O'Clock Road Block for Rebel Music, Kabaka's distinctive voice could be heard from off stage sounding just as on the record. Then he appeared, yoga thin, dressed old school in a close-fitting brown PVC jacket and black woolly tam, poised like a cobra, ready to strike with spitting fire. When the words came his face stayed calm and composed as he sent everyone around him joyously insane.


"Life is a school - we have to write" he explained and his lyricism was demonstrated by the way he rhymed "intuit"" and "Into it" on the love themed I Alone. Though his hip hop background can be discerned in his flow, his dancehall fast-chat on Massicka combination Choppingz audibly impressed notable attending UK mcs. "Accurate" is Kabaka's catchphrase and both he and the band were suitably rehearsed – bar having to restart the intro of the Irie Vibrations produced title track from singles compilation Lead The Way.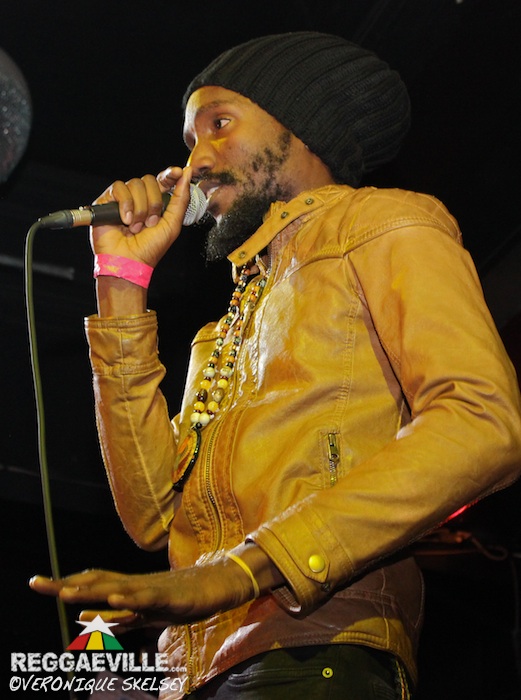 "I gave thanks for the energy" he said, admitting he was actually feeling unwell. He also showed gratitude to his fellow artists in the contentiously named "Reggae Revival" singing his recent pairing with Chronixx, Mi Alright, and name-checking Protoje, Jesse Royal, Hempress Sativa during paean to originality No Cliché. However, as he clarified before song-on-the-subject The Revival, the movement is "more than music" – highlighting the individuals behind the scenes ("a whole heap of I and I").

Visitors will tell you things are done better on the continent - the events are more slickly organised, the bands tighter. Yet there is something about a Jamaican visitor talking to a room in London in their first language - while having to be lyrically on point for their local artist peers - that cannot be created elsewhere.

People have begun to complain that Chronixx is overhyped (although to say someone is overhyped is to contribute to the culture of hype around them). Kabaka is every bit as explosive as Chronixx live and deserves the same accolades. Likewise Cecil Reuben and the Hootananny for one of their best shows of all time.

Support came from deejays Eazy Wayne, Mr Splurt, Colour T and Dan I who performed well over - mostly vintage - backing tracks. But it was Asante Amen in particular who stood out for being a true singer on a bill of chanters and talkers with an extraordinary vocal range.

➜ VIEW THE PHOTOS HERE