Review
Album Review: Junior Reid - The Living Legend
08/30/2015
by Dan Dabber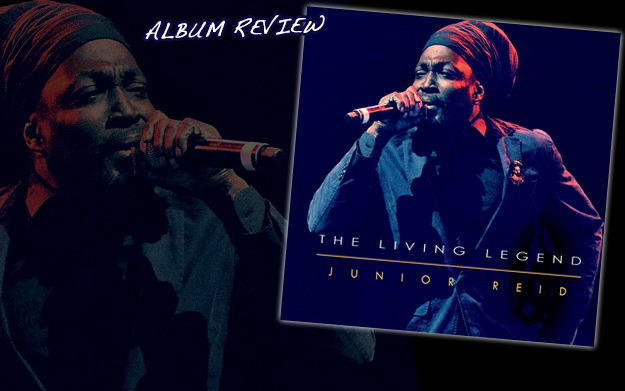 Junior Reid first announced The Living Legend album several years ago. He told the Jamaica Gleaner in June of 2010 that there were 16-18 tracks recorded, that there was artwork completed, and that he was just "listening back to see which mix can be better." Five years and several missed release dates later, Reid has finally dropped his first full length studio album in over a decade and it includes some music with which listeners may already be familiar.

Reid's collaboration with Julian Marley, Never Too Rough, first appeared on Ghetto Youth International Presents Set Up, Vol. 2 last December while Sharing The Night (Feeling It Riddim - Machete Records - 2012) and Victory (OnTour Riddim - UNISYZ Muzik - 2014) previously popped up as versions on riddim jugglings. Reid also included many of the singles that he has released over the last few years, including Out Deh, Dancehall City, and Same Boat.

The Living Legend's appeal, much like Junior Reid's, is in its broad range of musical flavors. As one would expect, reggae is the dominant sound on this record, though this versatile genre is tweaked in every possible direction to create a variety of moods. There are also tracks on The Living Legend that are, in terms of musical structure, more hip hop or RnB than reggae, creating a soundscape tailor-made for Reid's diverse fanbase.

Junior Reid's singing style has historically worked well in combination with other artists, and the collaboration tracks are some of the best on the album. The Generation, which features a phenomenal second verse from Sizzla, is set to a militant rockers-style riddim, reminiscent of the kind of music that made Black Uhuru a global force in the 80's. Junior Reid wails fiery verses and expertly delivers the simple, infectious chorus, "They cyant confuse the minds of dis yah generation."

The collaboration with Vybz Kartel, Gun Dem Load, has a similar message but with a harder edge. The track starts with nyabinghi drums and an intense intro from Reid, then it builds into an unexpected rugged hip hop beat that drops in from seemingly nowhere, after which a commanding verse from Worl' Boss ensues. Gun Dem Load is followed by Wanted, a tale fit for the old west that features masterful storytelling lyrics from Junior Reid as well as guest vocalist Buju Banton. This track has a timeless quality to it and was originally released as a limited pressing of 45s back in 2001, long before Banton was sentenced to serve prison time in the US. With its rich musical and lyrical complexity, Wanted is probably the most interesting track on The Living Legend.

Other high notes on the legendary Junior Reid's newest album include hard hitting conscious reggae songs like Same Boat, Mr. Big Man, and Where I Come From, as well as romantic tunes like Your Love and Never Let You Go. His cover of Bob Marley & The Wailers' Guiltiness from the Exodus album is also a nice piece, as it serves as a conduit, allowing one legend to live on through another. As Junior Reid said in a recent interview with Reggaeville, "All the legend that is not here, live through us, the rest of the legend that is here still." In case the listener has forgotten why Reid is worthy of legendary status and the honor of standing in for the legends who are no longer here, he inserted a reminder into the album entitled One Blood Junior Reid. A contender for top selection from The Living Legend, this riddim is built from elements of reggae, hip hop, dancehall, funk, and classical music. The beat is a raw, intelligent head-nodder that would be as appropriate in a hip hop party as it would be in a reggae dance. Reid's lyrics are what set off this track, which lays out parts of his own story and many of his impressive credentials until culminating in the hook, "They call me One Blood Junior Reid."

Junior Reid will always be best known for One Blood. In many ways, that song literally changed the world. It will probably continue to influence generations far into the future, long after everybody forgets why Mims was ever hot. Reid's brilliance has not faded even slightly over the decades, and his masterful songwriting, unique singing abilities, and positive messages are as relevant today as they ever were. This is all clearly evident on The Living Legend in a style that is well rounded and uniquely his. Although it is unlikely that this album contains a hit that could reach or surpass the success of One Blood, it deserves a prominent place in Junior Reid's catalog of contributions to reggae, as well as his contributions to music in general.


---
Release details
Junior Reid - The Living Legend
DIGITAL RELEASE [J.R Productions]
Release date: 08/25/2015
Tracks
01. Now Is The Time
02. Love You Back
03. Same Boat
04. Blue Light Red Light
05. Mr. Big Man
06. This Generation feat. Sizzla Kalonji
07. Where I Come From
08. Out Deh
09. Guns Dem Load feat. Vybz Kartel
10. Wanted feat. Buju Banton
11. Guiltiness
12. Your Love
13. Never Let You Go
14. Sharing The Night
15. Better Must Come feat. Jahwada
16. Jah Love You Always
17. Never Too Rough
18. Oneblood Junior Reid
19. Dancehall City
20. Victory
Featured artists
Buju Banton
/
Sizzla
/
Vybz Kartel