Review
Album Review: Jah Vinci - Ghetto Born
07/22/2014
by Munchy
Overall Jah Vinci delivers greatly on his debut record.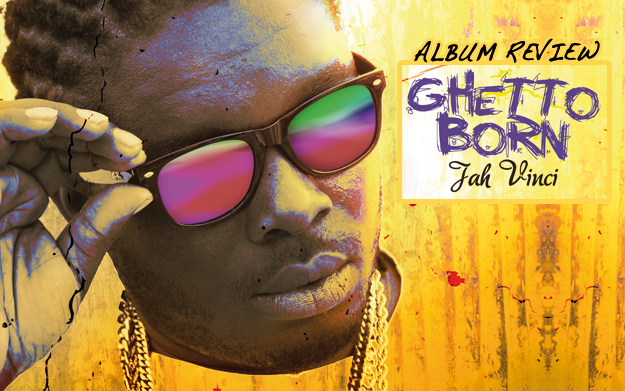 When he first rose to prominence in 2008, the Portmore Empire was on a high rise not only due to its self-proclaimed World Boss Vybz Kartel but also through promising members such as Popcaan and Black Rhyno. Yet to fans Jah Vinci was never just an ordinary member of the Gaza clique. Having been by far the strongest vocalist of Vybz Kartel's talent factory, he always seemed to be destined for greater things than just being one of the Teacher's many protégés. At the latest his 2010 release of the magnificent Soul To Keep on TJ Records' Word A Prayer Riddim convinced every sceptic of his ability and endowment as a singer and had the artist go down in the history of dancehall with this modern day classic full of soul and heartfelt compassion. However, he seemed to have faded from the spotlight for quite a while now. After leaving the Empire in 2011 Jah Vinci still recorded and released singles such as Nice Again on Don Corleon's Scriptures Riddim or Still Nah Lose for Silly Walks. Despite proper delivery the big hype failed to materialize.

Even greater to hear that Jah Vinci has finally finished his very debut album and is about to rise even further with its release on July 22. The foundation of the 13 tracks was first laid by Jamaican Khabir Bonner of Grillaras Productions, who has shined through the release of Lutan Fyah's Life Of A King in 2013. Eventually fellow producers Tariq "Nashi" Smith and Xavier "Bless X" Prendergast of Kamaumusic joined to give Ghetto Born the perfect final.

As what you expect from the title Jah Vinci focuses on the hardships of life in the less fortunate communities of Jamaica's capital Kingston: hunger, violence, struggles. Yet the message is more positive than one would expect at first. Instead of complaining the singer appears as a counsellor, a conciliator, a grown man, who has learned a lot in the past. Accordingly mature, profound, and never shallow this album knows to impress with each one of its songs.

With just acoustic guitar and an angel-like background choir the title track opens the curtain to this diverse musical venture. Nestled on the ladies' vocals Jah Vinci wails about the suffering in August Town or Papine, while he is also assured that "Jah will make it better".

Continuing in the same spirit Call On Jah follows with a fascinatingly decelerated beat at only 72 bpm that even confers meaning. "We ah feel the pain, we ah face the struggle, ghetto life nuh easy, not only inna trouble, we call on Jah" is another hopeful and encouraging message delivered on thundering bass, gloomy synths, and hypnotic piano chords that eventually evolve into a ingenious drum beat reminiscing a ticking clockwork.

We Nuh Trust Dem picks up speed after with its hammering drums and thrilling strings. Negative people, bad mind persons cannot harm him, explains Jah Vinci. His family is bigger than that and fake friends are just like dirty carpets, "we ah dust them".

On Don Of All Dons the singer welcomes King of the Dancehall Beenie Man as his partner in crime, as the two sing and deejay about their career and the road to success. The self-esteem boost reaches its peak with a piece of Hype Williams' 1998 movie Belly and character Ox' infamous speech: "I am the original Jamaican Don Dada. Unnu want ramp with bomboclaat me? I murder people fi fun. Murder unnu bomboclaat fi fun."

Besides Beenie Man, also Junior Reid is featured on Ghetto Born. Unsolved Mystery is a strong combination uniting two brilliant vocalists as they tell the story of a mysterious crime with dubious ending as the witness disappears. Not only shine both singers with ardent chants on the low, thumping synths and accelerating drums, but especially Jah Vinci touches, as he adapts the role of a defendant with "shackles deh pon mi feet and handcuff deh pon mi hand", who is about to be sentenced.

Meanwhile something lighter is Stronger, a dreamy hip poppy beat with massive bass line and harmonic guitar that presents Jah Vinci as a lover, who promises a previously hurt girl that "this future is for us, now it's all about love." A theme that is also delivered in Darling, where the vocalist narrates about a disappointed girlfriend, who leaves her man as he only brags and poses. On Latino flavoured acoustic guitar we get to hear, that the sadness behind the "plastic smile" is too big. "Money can't buy her love." She walks away from her man, "left him ah bawl", and Jah Vinci knows: "One man's trash is a next man's gold."

Overall Jah Vinci delivers greatly on his debut record. Ghetto Born is musically and lyrically diverse, and shows the strong sides of the artist: catchy melodies, soulful and compassionate vocal delivery, and stories that draw your attention.


---
Release details
Jah Vinci - Ghetto Born
DIGITAL RELEASE / CD [Grillaras]
Release date: 07/22/2014
Tracks
01. Ghetto Born
02. Call On Jah
03. We Nu Trust Them
04. Don of All Dons feat. Beenie Man
05. Jah a Guide We
06. Darling
07. Stronger
08. Penitentiary feat. Junior Reid
09. We Taking Over
10. Jah Throne
11. Rude Boys and Police
12. The Conquering Lion
Featured artists
Beenie Man
/
Junior Reid