Review
Album Review: Chuck Fenda - Jah Element
10/01/2013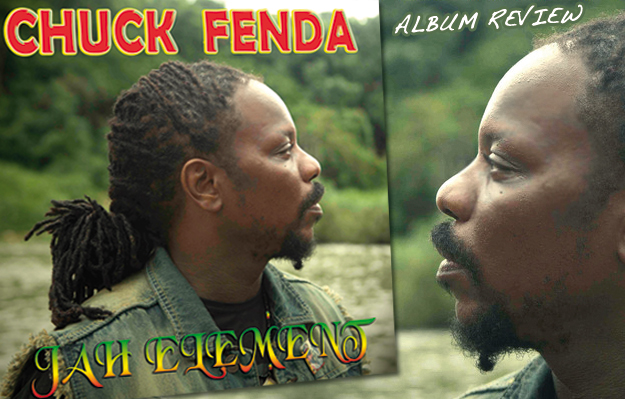 From all the chanters that came up in the late 1990s, Chuck Fenda might be the one with the most consistent output. Which, one is tempted to add, isn't that difficult when you're just releasing one album every two years. Fenda started to work with King Jammy, did the hardcore dancehall thing with tunes like Rougher Than This and Badman Talking, turned conscious in 1999, joined 5th Element, and released his conscious debut with Better Days in 2004. In 2007, the 'Poor People Defender' dropped a sequel, The Living Fire, on Greensleeves Records. It contained Coming Over, the intense combination with Cherine Anderson, and Gash Dem and Lite Dem, the tune the reggae world (and more or less the entire island of Jamaica) was talking about when it was banned from airplay by Irie FM and Zip FM in Jamaica. In 2009, Fenda released Fulfillment on VP, which was also well received.

The cheap cover artwork of Jah Element, his latest album release, looks as if a kid in elementary school had designed it with Microsoft Word. Fortunately, the Lloyd "John John" James-produced album sounds better than it looks. It comes with a whopping 17 tracks, most of whom are too short, though. The quality of production (of my digital review copy, at least) doesn't fully live up to today's standards we expect from an album of an artist as established as Fenda. Many tunes, including For My Daughter, Hurt Me Heart, Bun Up, and Miracle, focus too much on trebles for a reggae record. Many of the riddims used are relics of classical or older ones. John John and Fenda worked with a variety of musicians, among them Sly Dunbar, Squidly Cole, Kirk Bennett, Trevor James, Earl "Chinna" Smith, Courtland White, and Andre "Spider" Dennis. Fiona Robinson and Sherida Sharpe provide backing vocals.

"Judgement for the wicked/hot lava pon dem": The first lines of the first track, None Shall Escape, pave the way. Chuck Fenda talks as bluntly and fiery as ever, so that's good news for his fans. Him cyaan cool, you know. Jah Element is one hundred percent conscious, and most tunes speak directly about righteous livity. Such as the mighty Badness No Pay, a combination on which Bounty Killer shows a side of him we see too rarely. Spiritual Warfare is simply too overloaded with effects, less would have been more here. Fenda and guest vocalist Junior Reid do a good job otherwise.

The dubstep-infused It Pain Me is outright unnecessary. Hurt Me Heart is, again, too loaded with effects to please. The combination with Angel Doolas, Foul Play, touches much more. Warning is one of the few highlights of Jah Element, as is Stop Worry - finally a tune with the right groove.

Fans of Fenda should check out Jah Element. This album certainly doesn't rank among the most relevant records of the year, though. It sounds as if it had been cobbled together in a hurry. Further, the album might have profited much from involving less people. Too many cooks spoil the broth. Jah Element isn't a milestone in Fenda's career.


---
Release details
Chuck Fenda - Chuck Fender - Jah Element
DIGITAL RELEASE [John John Records, Zojak]
Release date: 09/10/2013
Tracks
01. None Shall Escape feat. Johnny Clarke
02. Badness No Pay feat. Bounty Killer & Leroy Smart
03. Cut Off All Ties
04. Spiritual Warfare feat. Junior Reid
05. Jah Element
06. For My Daughter
07. It Pain Me
08. Hustle
09. Hurt Me Heart
10. Sign and Seal
11. Foul Play
12. Best in the World
13. Warning
14. Man a Rasta
15. Bun Up
16. Miracle
17. Stop Worry
Featured artists
Bounty Killer
/
Junior Reid
/
Johnny Clarke