Report: Garance Reggae Festival 2011
07/31/2011 by Valentin Zill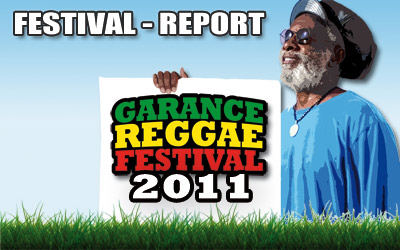 Review: Garance Reggae Festival 2011
DAY FOUR - 30th
When I woke up to the fourth and last day of Garance Reggae Festival, I already felt the post-festival depression (PFD) coming. The better the festival, the worse the PFD afterwards...
Day four of Garance could have been named the contemporary day. The only foundation artist was Max Romeo, but that does not mean it did not have to offer a lot. Au contraire.

The first slot belonged to Protoje and Pressure, the protégés of Don Corleon, who travelled with them. Each of them had 40 minutes to play, and they made the best out of it. They rocked a massive much larger than the day before at the same time. France loves foundation roots music, but that does not mean they would not be open for the most recent developments in Jamaican music. Also backed by Marseille-based Dub Akom (the French equivalent to the Austrian House of Riddim, you could say) was Lutan Fyah. The Bobo Dread from Spanish Town was limping due to a leg injury, but that did not stop him from burning the fyah hot on stage. For financial reasons, many Jamaican artists choose a local backing band when they go to Europe. Dub Akom enjoys an excellent reputation ah yard, and Lutan Fyah had an explanation for that: "You know why I love to play with Dub Akom? They have a lady on the bass, on the most rugged of all instruments!"

Next up was Queen Ifrica. Do not get misled by her size: she is full of raw energy, and she knows exactly how to transfer her energy as well as her positive vibes to the crowd. Same with Tony Rebel, who pleased the massive with his French skills. He loves to play in France so much he recorded a French version of If Jah years ago, and he always performs that version of what is probably his biggest tune when playing there.

French superstars Danakil got a slot that was way too short, but they turned the little time they had into one of the very best performances at this year's Garance. They had a seemingly much younger audience that was absolutely willing to party. Danakil's lead singer Balik was supported by Natty Jean on background and for several combinations. The Senegalese reggae artist is a protégé of Ras Manjul, with whom Danakil had recorded their latest album Echos Du Temps. French singjay Taïro joined them to perform his tune Bonne Weed. Balik was wearing a UNICEF T-shirt, and he reminded the Garance crowd to support the starving people in Somalia, Ethiopia and Kenya.

With Gyptian, the Garance went dancehall for the first time. As well received as his performance was, the night's deserved headliner was Max Romeo. Those who had questioned whether such an old gentleman should be given such a late slot admitted their misapprehension soon. Max was in excellent shape as he took the Garance back into the early days of reggae once more, for the last time this year...

Garance Productions deserves a huge big up for this stunning festival with its unique line-up and its highly dedicated massive. For roots fans all over the world, it was the place to be. I have been to numerous festivals, but Garance Reggae Festival 2011 was easily the best I ever saw. Kudos! Keep up the good works.


DAY THREE - 29th
Day three of what is quickly becoming my favorite festival started in bright sunshine - as the two days before. The REGGAEVILLE team took some time to check out the lovely village of Bagnols-sur-Cèze. 361 days per year, Bagnols has a population of 18,500. With an additional 45,000 visitors of Garance, it turns into one huge jam. But the people of Bagnols do what they can to make the Garance massive feel at home and at ease. Coffeeshops and brasseries are turned into dancehalls, and local shops have special offers to feed hungry visitors. As the shows only start at 18:30h, there is plenty of time to enjoy the festival ambiance in this picturesque village.

On Friday, too many people checked out Bagnols. Kayamanga was the first artist to play on the main stage, but the attendance was weak. Those who made it in time enjoyed a captivating show by the aspiring Senegalese roots singer. Junior Kelly and Horace Andy got much more attention. Both delivered.

Friday's first highlight was Johnny Clarke's show. Rare enough are his appearances on stage in Europe, so he draw a huge audience. His powerful and energetic performance exceeded expectations easily. Happy faces everywhere when he was troding down Babylon. Visitors, artists and journalists told me how thankful they were for this rare opportunity to see Bunny Lee's most successful vocalist, the first dancehall singer in the modern sense, live on stage. I call it the Garance moment now as you are getting accustomed to it soon with several of these moments per night.

The downside to the incredibly good turnout to most of Garance's shows is that it was difficult to find a way through the massive to buy something to eat. While that is by no means a particularity of Garance Reggae Festival, it was more problematic inasmuch as the wide variety of food offered there was much more tempting than the usual array of fast food found at too many festivals in Germany, for instance. Ethiopian and Jamaican food was available, and one could not think of anything more fitting for a reggae festival.

Tiken Jah Fakoly was one of the very few non-Jamaican headliners, but his show was nevertheless amongst those the most anticipated. Tiken really delivered. He started to perform right away, not wasting time with an intro. With two additional musicians playing the kora, the ngoni and the tama, Fariband is hotter than ever. The massive was dancing after the first two bars. Tiken Jah Fakoly and his compatriot Alpha Blondy are mainstream artists in France, but I was still surprised to see the crowd singing along even the Dyoula lyrics.

The only ones to play a (very well received, of course) Gregory Isaacs tribute were Third World, who took the Garance massive back to Jamaica, spreading great vibes. Much less often touring mainland Europe than them are the Twinkle Brothers. They started to do music together in 1962. Their deeply spiritual show full of raw, natural energy proved they more than deserved the headliner slot.
DAY TWO - 28th
If you kick-off a festival with a line-up as stunning as yesterday's at the Garance, you have got to be resourceful to keep it interesting. In Bagnols-sur-Cèze, they are. On the menu of the festival's second day: Natty, Clinton Fearon, Ken Boothe, Sly & Robbie feat. Junior Reid, Jimmy Cliff and Midnite. A spicy, mostly Jamaican menu with enough courses to satisfy even the biggest hunger.


Clinton Fearon, who played the second slot on the main stage, paved the way for what was to come: pure, positive, uplifting vibes to satisfy the lovers of conscious, rootical music. Clinton has toured France extensively, so it was no surprise that he already draw a huge audience eager to sing along with him. The Garance massive was screaming for an encore, but the schedule was tight.

Next up was Ken Boothe. Mr. Rocksteady went on stage with a simple "Hi. Are you ready for this journey?" His show was a journey indeed, a journey way back into the heydays of rocksteady music. And the crowd was ready for this welcome variation. "Some of you grew up with your parents plaing my songs. Now you get to know those who wrote those songs", he announced. And he delivered.

Another highlight of this gourmet festival was Jimmy Cliff's performance. The longest serving reggae artist needed support to walk on stage, but as soon as he grabbed the mic, he had the energy of a 20-year-old, dancing through his numerous classics. Blissful faces everywhere. In line with the many socially aware comments at this festival was Vietnam. Jimmy updated the lyrics slightly, saying that he did not want another Afghanistan. His words, his solidarity were pure upliftment for the massive, as especially in France the political situation is tense these days.

No one celebrates musicality like the Riddim Twins do. Although they are still touring Europe extensively, one cannot see Sly & Robbie too often as they play slightly altered beats and basslines every night to keep it interesting for themselves. Junior Reid joined them on stage later.

Midnite closed the second night of Garance Festival with their easy skanking meditation style that set an interesting contrast to the much faster set presented by the Riddim Twins. Midnite where pleasing the crowd nevertheless. Especially Propaganda got the massive screaming for more, again certainly because the French crowd feels concerned.
DAY ONE - 27th
All of France is controlled by Johnny Halliday and la variété française. All of France? No. The people of Bagnols-sur-Cèze, a little village in the south of France, are resisting. They defend their independence, and they love reggae music. Not any kind of reggae - they favor the foundation artists. Those artists that built the very basis for the international reggae movement. Once every year, for four days, the people of Bagnols rename their lovely village into Kingston Village. With the help of Paris-based Garance Productions, Bagnols becomes the place to be for anyone who is into roots reggae, rocksteady and foundation dancehall.


Leave the best for the rest, so they say. Not so at the Garance Reggae Festival. Wednesday saw a stunning kick-off of France's number one reggae festival. The Studio One Showcase alone would have been reason enough to make it to Bagnols, no matter how far away you live. The track show was run by the well-established Parisian sound system Soul Stereo. Performing on the mic was an exquisite selection of Studio One singers and DJs from all eras - Carlton Livingston, Jim Brown, Alpheus, Lone Ranger, Winston Francis, Dawn Penn, Willi Williams, Dillinger, Prince Jazzbo and King Stitt. In honor of the great Sir Clement "Coxsone" Dodd they presented some of the very best tunes ever. Of course each artist presented the tunes that made them famous, but the real surprises were unexpected and spontaneous combinations with up to four artists singing and DJing together. Where else could you see Alpheus featuring Lone Ranger and Jim Brown? Alpheus, by the way, was easily the most energetic performer that night - not astonishing, as he was easily the youngest. Dawn Penn got an overwhelming response from the Garance massive for No No No. When Jim Brown asked Dillinger to sing Cocaine In My Brain, Dillinger started with an anti-drug speech before he delivered. The continual coming on stage and going off stage provided variety, as did Prince Jazzbo's recounting of heart-warming Studio One anecdotes. Kudos to Garance Productions for this unique, historic moment!

The Studio One showcase framed Burning Spear's show. Although he was Wednesday's headliner, he played an earlier slot. Rumors were that he asked for that as he was tired. If he was, one could not notice. His show was the first night's highlight. "It's been a long time since I last played for my fans in France", announced he when he walked on stage, quietly and unpretentiously. He made up for it, started with The Youth and performed most of his classics, drawing an audience so huge that a majority could only follow what was happening on stage on a big screen right behind the mixing. The electrifying energy that his performances set free could still be felt.
watch Dawn Penn performing No, No, No: