Interview with Junior Reid
09/11/2015 by Dan Dabber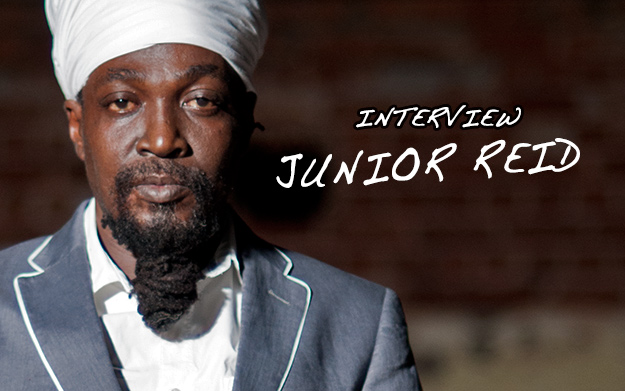 With massive successes over the course of his more than 35 year career, the title of Junior Reid's newest album, The Living Legend, is no hollow boast. His 1989 single, One Blood, became a global anthem and the impact of that unifying tune can be heard intermittently throughout the last two-and-a-half decades of musical history. Before One Blood however, Reid also did a brief stint with the immensely popular Black Uhuru, giving him a worldwide platform for his singing and songwriting talents as well as proving that he had what it took to front the most popular reggae band since Bob Marley & The Wailers.

The real story behind One Blood is the subsequent influence and longevity of the single. American hip hop artists and producers have been particularly impacted by One Blood and Reid's music and his popularity with these urban trendsetters has led to countless collaborations. The most successful hip hop collaboration to feature a performance or a sample of Junior Reid had nothing directly to do with One Blood. A remix of Mims' This Is Why I'm Hot from 2007, which featured Reid and dancehall deejay, Cham, went crazy hard that summer in both urban and dancehall markets.


Reggaeville sat down to chat with Junior Reid just one day after the release of his new The Living Legend album.

What was it that first turned you onto music and how did you come to realize you had talents?
Well, what turn me on into music, yah know, living in my community; Kingston. Mi live in Waterhouse growing up with my grandmother. We used to have a neighbor that live next door and always playing music. I used to wonder where this sound coming from, yah understand me? So what I did I climb up in my ackee tree just to look next door to see where the sound was coming from. And when I look, I look through the window and I see this forty-five spinning on this turntable and I hear this voice coming from this forty-five. So I was wondering, how can somebody get a voice on this plastic thing? And I hear Dennis Brown song, a song named It's Time To Settle Down (Concentration).

(sings) It's time to settle down in the track and concentrate. And getting a weekly pay instead of stealing everyday…

So Dennis Brown one of the man that make me waan sing. Michael Jackson one of the man make me waan sing. Then comes Hugh Mundell, Lacks, and Don Carlos. So I was rolling with Don Carlos and Lacksley Castell inna them time because we a live in the same neighborhood and Hugh Mundell a move and come live inna the same neighborhood with us. And we just start vibes and then mi just start to learn about sing…

One time me ago to the studio and them a say, 'No. Yah not in the same melody. Yah not in the same ear.' Because I didn't understand about melody or ear or singing flat or in key or whatever… But mi a just do it and first time Hugh Mundell come inna the studio, yah know, without knowing all these things I take my intro… Before that I went to the studio and they was telling me that I'm flat. I don't understand what is flat so me go up and I sing and I try it. And them a say, 'Yah flat, man. Yah flat.' So it not work that day and him a say, 'Mi nah waan yah a DJ. Sing wah yah haffi sing, yah know.' He say, 'Mi a do the DJ parts.' So mi give Hugh Mundell my DJ lyrics and then mi start sing. Then we ago down to King Tubby's studio because King Tubby's studio was down the road from where I live.

Mi go in the studio. Mi lick down the riddim. Voice the riddim in just one take. Mi a just go in and ready fi voice. First mi a take the intro. Then we do the chorus we do the verse. And then we do the chorus, I take a solo, do another verse and then go back to the chorus. Them say I do everything right! Music is a feeling, yah know? Yah just a sing that feeling and make everything nice. So it really started first I put it on plastic, and then from that it get fantastic, boombastic.


What do you think your time with Black Uhuru meant for your career?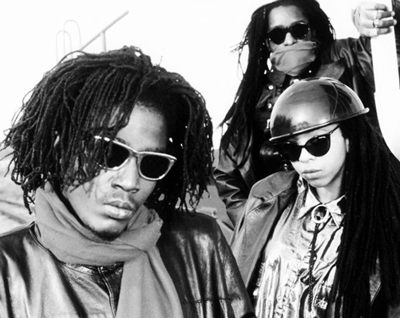 Well, you know, it is an experience. And it expose me to some different corners in the business. Because you know Black Uhuru is the second promoted band behind Bob Marley. When they say Bob Marley, they say Black Uhuru, because they was on the same label. So with a group like Black Uhuru, you don't care which lead singer in the group, it will always get crowd. But after you get the crowd, you haffi hold the crowd. You have to sustain and hold the crowd. People will just hear the name and they go, 'oh...' But the people love the time that Junior Reid spend with Black Uhuru and the works that I have done with Black Uhuru. I get the experience to go to the Grammy Award and I play some BIG venues… And me get the experience with Black Uhuru. It was great working with them… But through the vibes and everything with the whole group I decide to just do my thing. Because they are doing their thing so I must do my thing.


You went on to do big things… One Blood comes to mind.
Let me tell you something… I record and produce One Blood to sing it with Black Uhuru. And I record Eleanor Rigby and Dominance and all those songs for Black Uhuru because Sly & Robbie play Eleanor Rigby… Yah understand me? So those songs was supposed to come out on the Black Uhuru album, but I was a part of the production.

Then now, I didn't have any visa and they was going around me shunning me off, members from the group. Mi have a visa problem wah'appen… They have an awards show in California. They nominate Garth Dennis from The Wailing Souls, who used to be a member of Black Uhuru. And they nominate Don Carlos, who used to be a member of Black Uhuru. And they nominate Duckie from Black Uhuru. So when they have the three of them in the house now at the awards show, them start to seh, 'Well, this is the original Black Uhuru. Let's go on and perform the song together.' And they went on and performed the song together. And them do good. Naturally, they start to plan seh they can tour like that, so them don't need Junior Reid anymore. But I WAS THERE when them need me to come and support them. When I start to go through my problem, they did not have no time fi wait for me and my problem.

So, in the studio recording all these songs and looking for them to come to the studio and them don't turn up. So what I did, I just go ahead and just finish the songs and just come out with it. I seh, 'Well, I can just go on and do my thing as Junior Reid recording and just a gwaan easy.' Yah understand me? Mi just go head and I just finish up all the product mi have because I KNOW WHAT I HAVE. And I hit the road with One Blood and Married Life and all those songs. And the One Blood album come and take the world BY STORM!!

And they say I am the only artist who leave my solo career and go into a group. Normally, it's an artist leave from a group and go solo. I leave my solo career and go into a group and take the group to another level. Then leave the group and go back solo. Yah understand? At the time I have a hit called Foreign Mind. That's the time that Black Uhuru request me. I go to Black Uhuru. I give them a hit right away, Fit You Haffi Fit. And then now when it start there was a problem with the group and I leave the group now, my first hit was One Blood. Naturally, I'm a hit maker. When I go into the group, I got a hit, Foreign Mind. I go in the group, give them a hit, then I leave the group with A HIT.


What inspired you to write One Blood?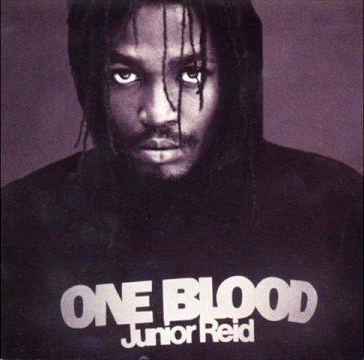 All I did was just open my mouth and the father full it with words, yah know? Because it is Haile Selassie that first come to Jamaica and say, 'We Ethiopians and Jamaicans are one blood." So once the father say we are one blood, the world is one blood. No matter what color or race yah is, we are one family. We are relative. We are family. We are BLOOD.

Because when you talk about love, you have a lot of different love. You have money love, things love, real love, fake love, material love. You have people who have love for gun. You have people who have love for war. People have love for animal. People have love for all sort of things. People have love for shoes, car, money… But there is only ONE BLOOD. Everything bleed red.

So when I come to seh one blood now, I just try to unite the world. By me singing One Blood… that is a serious song. Because at the end of the day, figure heads out there spend millions to create war and abomination and all these things. And then now I come with just the word and say one blood and prevent the people from war - from east, west, north, and south. Its like, I mess up all those money.

One Blood is more than the music. One Blood is humanity. One Blood is more than a song. One Blood is the world anthem. Because every country in the world have an anthem, but the world don't have an anthem. And the world accept One Blood because everyone in the world want to know we are all one. We is one blood.


What is your favorite hip hop collaboration that you've done?
One of my favorite one is Ghetto Youths Rock with Lil Wayne and, with Wu Tang Clan, Jah World. I would say One Blood, This Is Why I'm Hot…

And in the RnB, I would say No One Remix with Alicia Keys. That's one of my favorite. I feel so good to be on the track… even to share the stage at the American Music Awards and all those things…

And Guru… the great Guru… the late Guru. God bless him soul, yah know… with Mashin' Up Da World. (sings) Mashin' up da world
Ghetto youths dem want to destroy… All dem song, yah know? Crazy, crazy…


You had two tracks on Wu Tang's The W album… How did you get so involved in that project?
You know, they just accept Junior Reid and love Junior Reid. Junior Reid is a part of Wu Tang. Junior Reid, Wu Tang family… The Wu. Yah know? The RZA, Ghostface Killa, you know, Method Man, Raekwon, Masta Killa, all di man dem. Dem a mi bredren. And dem a roll deep… We party together. We work in the studio together. We grow together. Because right now I am on the Wu management. Wu management is a part of our management… I am on a JR Production management team and Wu management. So just one family.
How did the This Is Why I'm Hot Remix come to be? Did you know Cham was going to be on the track? And did you have any idea that it was going to be as big of a hit as it was?
Nah… I just pass through the studio and give the artist a strength. I heard that there's a guy called Mims in Miami and he got this track and he would love to have me on the track. I hear it from more than one people, but I didn't reach out. And then I went down to Miami from New York. I have a show and I bump up into Mims and them.

They say, 'Yo, man. We have studio a studio across road and we love to get some...'

I say, 'Alright.' Come give them a strength… And when I go inna the studio, it wasn't about no money. Mi a just go in to vibe.

Bam. Bam. Bam. Sing the two line. Leave the studio. I don't even remember the song. And then later on I hear Baby Cham on the song and I remember what I was singing. I didn't even remember the lyrics dem, and it becomes a hit.

It's all about putting in the work, yah know?


How long has it been since your last full length studio album?
It's been a while… About eleven years or so. Eleven, twelve years… But the reason of that because I was so busy collab-ing - doing collaboration with artist from all over the world - and spreading my base. Yah know expanding my base? And working, yah know… So I just decide to come back to the arena and just do a good foundation album because I see that the business NEED IT. So wi haffi mek dem know… Seh reggae still live on. So me, as the godfather, have to come out and represent and say, 'The Living Legend.' Living Legend mean that - Junior Reid, mi represent ALL legends. So all the legend that is not here, live through us, the rest of the legend that is here still. Yah understand me? So this is not about just me as a legend. That's why I didn't name the album 'Junior Reid The Legend.' I name it 'The Living Legend Junior Reid.' Yah understand me?

This is a JR Productions release as well, right?
Yeah. This is a JR production and you can find at… All my fans can just log on to juniorreid.com, iTunes, CDBaby, or Amazon… Most of the tracks produced by JR Productions team. I got one or two guest producers on it like Fatta, Bulby, Adoney Reid, Spoogi, Julian Marley…

Three song on the album mixed by Jammys - Guiltiness, a cover of Bob Marley song… Guiltiness, because I couldn't come with The Living Legend album and don't have a song with Bob Marley on it - with a Bob Marley vibe. So Jammys mix that one and Jammys mix the other one called Mr. Big Man… Right. And he mixed the other one named Wanted, by Junior Reid and Buju Banton.


There's a variety of vibes on The Living Legend. Did you have a blueprint in mind or did it just come together organically?
It just come together organically, song by song. Yah know?



Is there a track on the album that has special meaning to you personally?
All the songs dem on the album, yah know? I can't really pick out a favorite… But, some of the time when I vibes the album, I like this song Where I Come From… Blue Light Red Light, Love You Back, Mr. Big Man, Now Is The Time, This Generation… Yeah.


What do you think was the most difficult part of recording The Living Legend?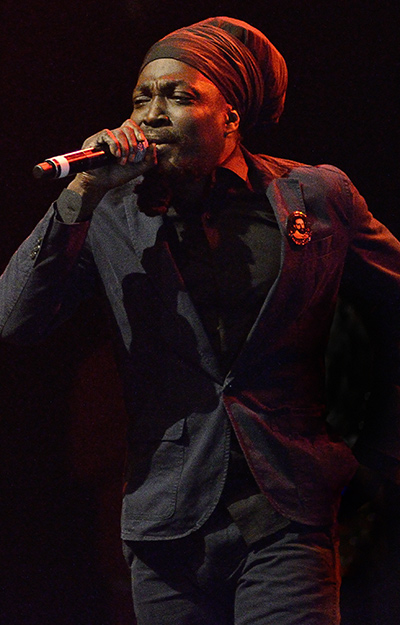 Most difficult part? Ummm… Is gathering the musicians them together.

Because after I know the sound that I'm going for, and there's not anyone around is available now that can give me that foundation sound. So I have to request the musician and put them together… and create that sound. Yah understand me? So that was the most difficult part of the whole project. Getting the musicians them together and deciding who you're going to work with and this…

I work with the foundation and I still work with some other upcoming youths as well. Because you have to keep the youths in di ting, yuh know?


Now that you are a veteran artist, what aspects of your approach have changed since you were younger and what aspects have stayed the same?
I have the same love for the people and the same love for the music. Now I have more experience… Yah know, more wise about the business. Know more about the business… Know what I'm saying?

Yeah, so… Yah know, I learn a lot. Coming up and… That make me different. When I say different - way from approaching the music. Approach it on a different level. Yah know, I take it more serious now. You understand me? Because I would play around back in the days… Yah know, just playing around and still making hits. So now we seriously making hits now.


What do you think has been the most satisfying accomplishment of your career?
My accomplishment is just to know that I have a name in the business. Because you can't pay for a name. You have to work for your name. People have a lot of artist and they spend millions on the artist. Still, nobody know about the artist because their work was not connecting. So it's not about money.

When you make a name, you have to have something special to make a name. And even to make a name, you haffi keep the name. That's why still now you still have all those big companies have commercial advertising… sponsoring… Just to keep their name in the swing.


Is there anything left that you still want to accomplish in your career?
Yeah, right now… They don't know the 'Junior Reid Hit Single Platinum Vol 1, 2, and 3' and all that… They don't get a compilation of all Junior Reid hits them. And I know that all my fans are waiting just to see all the hit songs in one package. Yah understand me? So that is a part… And there's so much more. I can't let out everything… A lot in the making.

Because right now I feel like I got something for the world that the world don't get as yet. And, as I say, I say one blood. And right now how I feel, I feel like one. Because it's one man, one earth, one sky, one sea, one god, one name, one destiny… Yah understand me? That's what keep me now… I just think 'one.' One love, one blood, one unity, one strength… I stay young and stay one. That's why I stay strong and come with The Living Legend album and I want all my fans them to go out and support it. Yah understand me? Yeah…


One of my favorite tunes on the album is One Blood Junior Reid. It made me wonder, do you ever feel boxed in by the massive success of One Blood?
No. It don't put me in a box because I AM one blood. That's me. That's my life. That's how I live. People see me on the road, they don't even know that I'm a singer because I just gel-ly into the people dem. They expect to see me in them ring ring and them bling bling and mi just normal. Sometime no watch, no chain… Nothing at all. Mi just simple.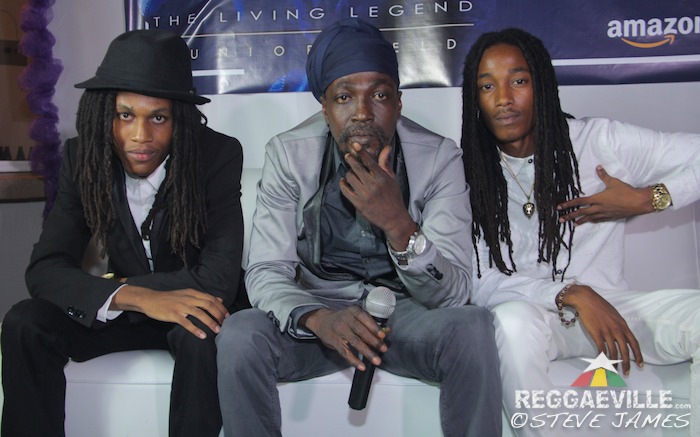 Mi go a some place and some man see me in America and them just think mi is a likkle herbman waan sell a likkle herb… Yah know, the herb? The high grade? (laughs) Yah understand me? And mi a seh, 'No. Mi have nuh grade. Mi stay suh…' And then later on they finally say, 'That's Junior Reid.' They say, 'Uhhh! But mi just went and ask him if him have any herb.' (laughs)



So the The Living Legend dropped yesterday… How has it been received so far?
Last night we have the album launch. By the way, at the original One Blood Studio, which now called Crescent Court Guesthouse. But that's where we keep the show last night, the album release party and it was a road block! Everybody turn out. Capleton was there. A lot of artist… Yung J.R, Johnny Osbourne, Juju Blood… Yah know? A lot of artist… It was awesome, man. And all the press was there. Everyone leave with a copy of the album. Everyone loving it.