Review
Album Review: Junior Natural with Sly & Robbie - Militant
10/31/2017
by Munchy & Alex Drummie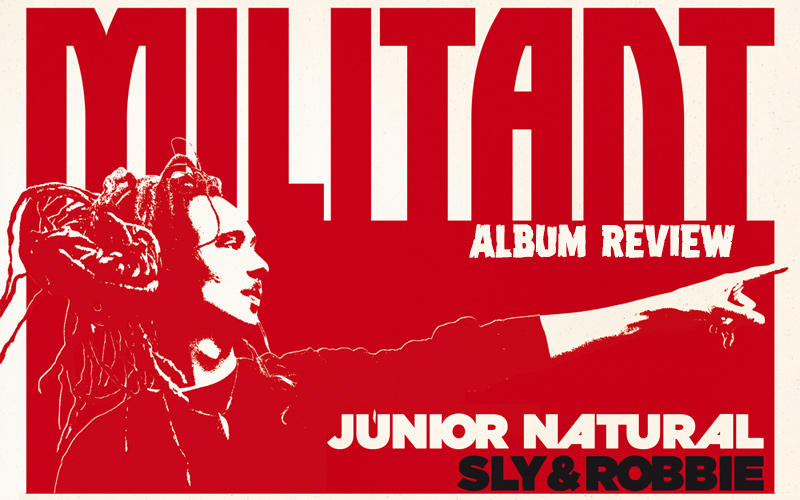 It was just an ordinary parking lot somewhere in Kingston, where singer Junior Natural auditioned for veteran musician Robbie Shakespeare. The legendary bass player gave him one chance and one minute, the Swedish artist used it. "Come back with twelve songs and we'll take care of you" was the task Junior Natural was given after, and he did what he was told. The result of this almost fairytale-like story is Militant by Junior Natural and Sly & Robbie, that will hit the stores October 13.
All material was recorded, mixed and produced in Jamaica, at Anchor studio with Delroy "Fatta" Pottinger and Steven Stanley at the controls and effects. On board as musicians came further living legends such as Robbie Lyn on keyboard, Dalton Browne and Earl "Chinna" Smith on guitar. Of course, the resulting sound is as exceptional as its credits, yet one that Reggae fans are familiar with: it's that amazingly heavy tone of Black Uhuru and Ini Kamoze that Sly and Robbie rose to the top with. It's packed with massive bass lines and that classic Sly Dunbar buff baff beat, sprinkled with delay lines, reverb and sound effects reminiscing Guess Who's Coming To Dinner or Whole World Is Africa, it's that timeless and unmistakable Taxi sound.
Frequency gimmicks are the very beginning of Soldiers. A strong track with an even stronger and suitably militant message by Junior Natural, not in the physical but spiritual way: "It nuh really a toy-soldier ting, these soldiers neither deal with murdering. The main point is that we want to go further in developing mankind educate the children." The song is followed by The Truth that once more shines with a rock-like guitar riff, delays on percussion and hi-hat and all those typical Black Uhuru sound effects we love so much. The singer teaches us not to blindly believe everything but to use common sense and the own conscience to listen to. "Everything you see and hear it's not gold. It's a false nature and hearsay you been told. The truth ah the truth can't be bought nor sold. Imagine what faithful acts can unfold."
80s Simmons drum sounds decorate tracks like For Everyone, soundscapes remind us of Dennis Browns Sitting And Watching, claps in Freedom Time of the Crown Prince's Revolution. For most parts Sly and Robbie managed to re-create what they had begun in the 1980s, additionally they topped it up with modern sound tricks and Steven Stanley's techniques as an engineer. Junior Natural's lyrics are just as timeless as the music by the Riddim Twins. The 22 year old sings maturely, calls for oneness and unity in The People "Dem want fi split we unity by religion. The whole earth is sick, it in a bad condition. We the people haffi make a stand, fi make unity strong.", puts love over diamonds and pearls in Like This, bigs up his favorite Scandinavian Reggae event, the Uppsala Reggae Festival, where he also performed this summer, in Festival.
Outstanding are Close To You, the only love song "livicated to that special someone" his empress that slows it down with a one drop beat for a change and the astounding Beautiful Creation, that is the highlight of Earl "Chinna"Smith on slide guitar on a meditative Nyabinghi rhythm that gives this cry to protect mother nature an almost magical sentiment.
An impressed Robbie Shakespeare described Junior Natural's voicings like this: "It was like a sacred channel opened up and he was tuned to some spiritual vibe from above." Who better to turn this vibe into music than Sly and Robbie?!?
---
Release details
Junior Natural with Sly & Robbie - Militant
DIGITAL RELEASE / CD / VINYL [Taxi Records]
Release date: 10/31/2017
Tracks
01. Soldiers
02. The Truth
03. For Everyone
04. Some Of Them
05. Freedom Time
06. Festival
07. Beautiful Creation
08. Everlasting
09. Like This
10. Jah Light
Produced by
Sly & Robbie