Review
Album Review: Junior Kelly - Urban Poet
10/12/2015
by Gardy Stein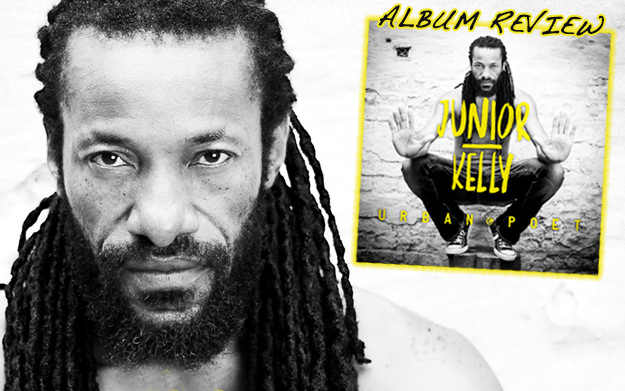 "Let me tell you bout power to the people, and let me tell you bout the power of the people! And if you take away the power from the people, people a go rise up cause a so people stay."

Power To The People! This song is a hymn already. One of 16 brand new tracks to discover on Junior Kelly's latest release, it is out there on video as well for a few days now, widening its repercussions. The album Urban Poet is the outcome of a collaboration with the Austrian label Irievibrations Records, who have provided us with a steady stream of innovative music over the last two decades. Says the singer: "It was an absolute pleasure working with Irievibrations as they listened to me and gave me full autonomy to express myself."

And this expression is taking many directions. Whether the piano-dominated gospel No One Is Higher, the angry acoustic Dig It Up, the funky No More War or the poppy In Love – Kelly is experimenting with styles in an obvious effort to make the tracks live up to the title-designation "urban". And even though songs like To Get By, Mile In My Shoes, Memories or Hooked On Mary don't really appeal to my personal taste, they do reflect the fast-paced life and diverse influences there are in a big city. Furthermore, the crystal clear sounds and an overall rather crisp instrumental delivery along with the impressive cover-art-work add to this impression.

As for the second part of the title, I am missing the lyrical excellence that deserves the label "poet". While the artist shares well-told narratives with us as in the pleasant False Pretender, other tracks just don't find exciting words, let alone fresh metaphors to bring the message across: "Stay, stay, stay with me, tonight, make love under the moonlight…". The vocal delivery, too, lacks conviction at times (as in High Hopes or in the bonus track Stay Alive), but this might be a deliberate tool to bring across some concrete jungle roughness. However, one or two artist features would have been nice to widen the vocal range!

Apart from the anthem introduced in the beginning, worth mentioning are Sneak Peek, an emotional love song which is a veritable playground for Kelly's voice, and the soulful R'n'B infused Everybody Needs Somebody.

Altogether, this album is an interesting experiment that might win the artist a few younger ears, but I decidedly disagree with the press release calling this album "his best work to date". Older productions carry a warm, organic feel, and once again, I have to refer to Power To The People, which sums up in a nutshell the songwriting potential of this artist. "Come let's get together, me say powerful people!"


---
Release details
Junior Kelly - Urban Poet
CD / DIGITAL RELEASE / 2LP [IrieVibrations Records]
Release date: 10/09/2015
Tracks
01. No Dig It Up
02. Everybody Needs Somebody
03. Power To The People
04. No More War
05. In Love
06. High Hopes
07. No One Is Higher
08. Stay With Me
09. Mile In My Shoe
10. To Get By
11. Put It Pon You
12. Hooked On Mary
13. Memories
14. False Pretender
15. Sneak Peek