Review & Photos: Mattia's Birthday Bash 2012
11/02/2012 by Lea Yeah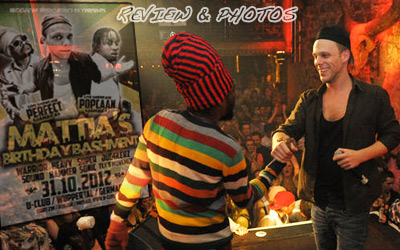 'One Man Army' Mattia from WarriorSound really splashed out on Wednesday, 31st October: Two live acts and three guest sound systems attracted a huge number of people to come to the U-Club in Wuppertal, Germany and celebrate his 30th birthday.




After an introduction round in which the four guest sound systems, Jugglerz and Supersonic from Germany, as well as Heavy Hammer from Italy and Tek9 International, showed off their juggling skills, the temperature and the whole atmosphere heated up very soon inside the basement club.

The Maroon Riddim announced Perfect Giddimani's performance when the singjay came along wearing a stylish multicoloured outfit mashing up the place from the first second on. He was giving fulminant versions of his greatest hits like Bumbo Claat and Nuh Badda Mi or Hold On Buju, captivating the audience with his high and scratchy voice and an energetic performance by jumping, running and raving around the stage like a whirlwind. The crowd showed their respect to the entertainer by giving nuff forwards and singing along with a few songs.

After a short set played by WarriorSound, Reggae singer Ray Darwin pleased the crowd and surprised Mattia with a short birthday song.

Next was Popcaan. The scene was still set perfectly when the 'Poppy' came out on stage to the crowd's great applause. He caught the bashment vibe nicely and surprised the massive with an enduring performance including solid versions of Head Bad, Clean and Dread.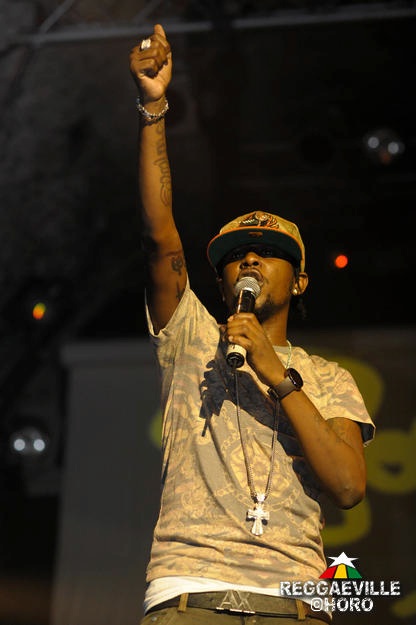 His whole appearance consisted of noticeable high entertainment value: Surprising both vocally, with his bright but sorrowful singing voice, and by entertaining the crowd with funny sounds that reminded one of a meowing cat, and a few 'Yo Wuppertal!' shout-outs in the same style. Of course the singjay also didn't forget to big up Mattia for his birthday. After 75 minutes of Party Shots and Raving, the bash went on with the soundsystem lineup.

The dance was highlighted by a 30 minutes dubplate round and ended late in the early morning when lights went on, approximately at 5.30am. All in all, the whole lineup of the night made the crowd leave the place very pleased by the musical versatility of the whole evening.