Reggaeville Riddim Corner #4 [March 2015]
03/31/2015 by Dan Dabber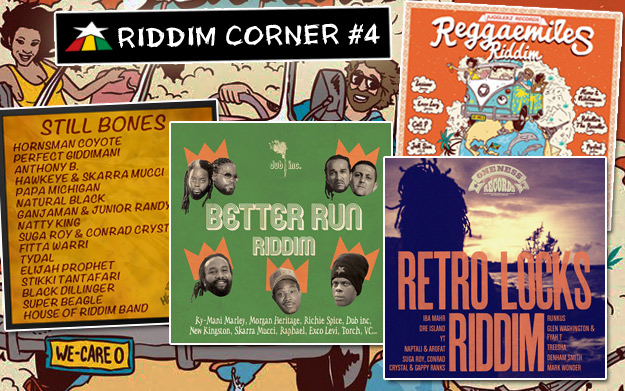 Outside of Jamaica, no place produces more contemporary reggae music than Europe. While this has always been the case, it is a relatively recent phenomenon that the UK and the large number of Jamaican immigrants who live there are no longer relied upon to put Europe on the reggae map. European musicians, soundmen, and selectors are now forming their own reggae labels, building their own riddims, and working with the best and brightest Jamaican artistes to create some of the biggest reggae tunes on the planet. This exceptionally vibrant movement deserves further exploration and perhaps the best way to do that is through riddim.

REGGAEMILES RIDDIM
It is only fitting to start a European riddim tour in Germany, the unofficial epicenter of the reggae movement in continental Europe, and two of the biggest names out of that German scene are Jr Blender and Jugglerz. DJ Meska and Shotta Paul are the men behind Jugglerz, which is both a sound system and a record label. As a sound system, Jugglerz have gained fans from all over the globe with their popular weekly internet radio show. As a label, Jugglerz Records has released several riddims since 2013, including a handful that were produced by Jr Blender. Blender, who came to prominence with his reggae remixes of pop songs, is a highly sought-after producer from the German reggae scene who has worked on projects for several labels from his home country and abroad.


In 2014, Blender and Jugglerz collaborated for the Penthouse Riddim, a tribute to Donovan Germain's Penthouse Records and the 90s dancehall style that Germain popularized. Penthouse Riddim made some noise throughout the reggae world in 2014, boasting versions from heavy-hitting artistes like Delly Ranx, Collie Buddz, and Beenie Man. Jugglerz and Blender are looking to do something similar with their newest collaboration, Reggaemiles, a riddim which is similar in tempo to Penthouse, but with a more updated vibe. The juggling features many talented vocalists including Jah Sun, Luciano, Million Stylez, and Exco Levi, but perhaps the hottest track from this release is a lovers tune from Gappy Ranks called Falling in Love. Reggaemiles Riddim is suited quite well for the lovers approach however, most of the more well-known artistes on the riddim chose to go in a conscious direction with their lyrics.

BETTER RUN RIDDIM
In the tradition of many of the 70's Jamaican bands they emulate, there is no shortage of self-contained, autonomous reggae bands in the western world. Some of these bands have found great success with this very first world approach, but few of them have won over the traditional global reggae audience, in no small part due to a tendency to not participate in the riddim culture that fuels the world's dancehalls. But Dub Inc, France's top reggae band for over fifteen years, sees no reason to not have their cake and eat it too. In addition to five well-received studio albums, Dub Inc has in recent years began to voice other artistes on their riddims, including some of the most talented singers and deejays from Jamaica. On their own Dub Inc label, the band released the No Doubt Riddim juggling in 2011, featuring artistes such as Busy Signal, Capleton, and Tarrus Riley. But two Dub Inc members, drummer Greg "Zigo" Mavridorakis and bassist Moritz "Morry Da Baron" von Korff, have their own labels as well. Zigo's Greenyard Records has produced riddims like 2010's Design and the recently released Fight It Riddim, while Morry Da Baron's Munich-based Oneness Records, established before Morry joined Dub Inc in 2009, has been a major player in the European riddim scene since their 2007 juggling, Oneness Riddim.


The newest riddim release on the Dub Inc label is Better Run, an extrapolation of a song by the same name from the 2013 Dub Inc album, Paradise. To complement their album version, the band tapped some big reggae artistes such as Ky-Mani Marley, Richie Spice, and Morgan Heritage to contribute to the Better Run project. The Morgan family probably has the strongest tune with Let It Be Done but American group, New Kingston, are beginning to come into their own and it shows on tracks like their well-executed Better Run contribution titled Today. Although the Better Run Riddim release will add to Dub Inc's growing reputation as a force in the global reggae community, there does not appear to be a standout version that can propel this riddim into heavy rotation with selectors throughout the world.

STILL BONES RIDDIM
Austria's House of Riddim is another European reggae band creating a niché for themselves in the broader reggae world. As a backing band, a studio, and a record label, HOR is a triple threat that established themselves by working with first class reggae artistes like Delly Ranx, Anthony B, and Kabaka Pyramid. Their newest project is a riddim release entitled Still Bones, a re-lick of the Jackie Mittoo classic, Hot Milk.
As musicians, their work is masterful and their Still Bones version of Hot Milk is more reminiscent of the Studio One original than the popular early-dancehall incarnations that followed. But HOR particularly shine on this release as producers, having utilized and gotten the most out of some very talented, yet often over-looked vocalists like Papa Michigan, Natural Black, Natty King, and several others. Probably the best example of this is Love is the Answer, the Still Bones contribution from South-African reggae singer, Black Dillinger, whose style has developed into an uncannily Sizzla-esque approach that may leave you wondering if Kalonji actually voiced a tune on this release. But, out of all the very solid versions on House of Riddim's Still Bones, which is named for the Hornsman Coyote's instrumental version that is also included in the release, Jamaican artiste, Tydal, steals the show with Coward, a killer, deejay-style cut from the singer's 2014 album, Mission Incomplete.

RETRO LOCKS RIDDIM
Our journey comes full-circle back to Germany for our final riddim selection, Retro Locks from Oneness Records. As mentioned above, Oneness is Dub Inc's bassist, Morry Da Baron's label, and he established the imprint along with his partner, Ben Zecher, as an extension of their previously-formed backing band, Oneness Band. Oneness Records has been building a reputation for no nonsense one drop riddims for several years now, including releases like Backstabber Riddim and Redeemer Riddim, both from 2011, and the 2012 collaboration project with Reggaeville.com, Reggaeville Riddim. Oneness has appeared to gain even more momentum in the last year or so, having released two quality riddim selections, Rise Up and African Children, in 2014, and if Retro Locks is any indication, that momentum has carried over into 2015.


Retro Locks Riddim is a re-boot of Bim Sherman's Golden Locks, a tune that is covered by Glen Washington and Fyah T for the Retro Locks juggling. Oneness' update of the instrumental preserves the Roots Radics-like drums and bass from the 1979 original while modernizing the production with some clean, contemporary engineering and a new, bright synth accent. Washington and Fyah T also do the Sherman tune justice, but their contribution may be outshined by other standouts like Iba Mahr's Travelling Home and Gappy Ranks featuring Suga Roy & Conrad Crystal's Who Are You. Dre Island's version, On Time, is also exceptional, and it may touch some reggae singles charts before the European summer even gets underway.

This concludes our European riddim tour, but it likely won't be the last you hear of these selections. The notoriety of Jr Blender and Jugglerz should be enough to carry the Reggaemiles Riddim for a while, even if it lacks a strong, standout version. Dub Inc is in a similar situation with the Better Run juggling, but their strong European fanbase will likely support them regardless. Still Bones and Retro Locks, however, both offer plenty of killer versions and the familiarity of a re-licked riddim will also help these two selections gather momentum in the weeks to come. Retro Locks especially stands out as a possible hit riddim, due to fantastic production from Oneness Records, top notch contributions from some big-name Jamaican artistes, and a genuine roots reggae sound that fits in well with the current trends in the broader global reggae scene. But, whether one or more of these riddims becomes a crucial selection in 2015 or not, the reggae scene in Europe will continue to flourish and put out some of the best reggae music in the world for years to come.

LISTEN TO THE RIDDIM MIX: