Jugglerz In Jamaica - A Miami Vice Episode!
08/22/2014 by Shotta Paul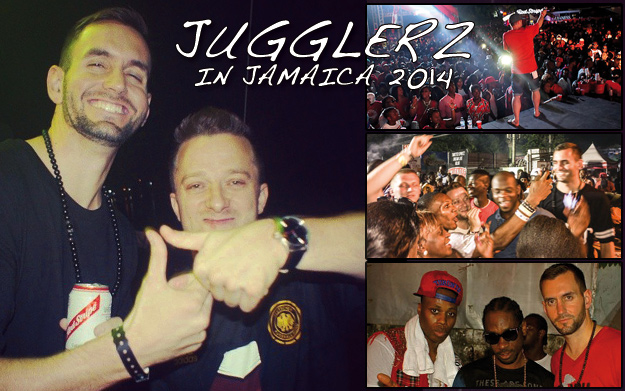 We know: Soundkillers don't do writeups. Especially not about themselves. But since there is no official audio and the video-files of the events are yet to drop we decided to do this for our fans back home who couldn't be there. So if you don't like it don't read it.

DJ Meska and Shotta Paul of Jugglerz Sound from Germany spent one week on the Island and created history in Jamaican dancehall music: They totally defeated Dancehall Icon Tony Matterhorn at one of the biggest "war-dance" events "Beer Vibes" and simultaneously re-ignited the feud between Bounty Killer who honoured Jugglerz' skills on several social media posts and Matterhorn who couldn't take his loss lightly. Five days later, the two "bad german dem" managed to leave the legendary Sound Killamanjaro with Freddy Kruger speechless after a juggling-turned-clash in the morning in the hills of St. Elizabeth.The time in-between was filled with stardom-like picture-taking with fans in the streets, partying and chilling with dancehall celebrities between Montego Bay, Negril and Kingston.

It was a rough setting: having played three shows in Europe from Thursday on Meska and Shotta Paul were already lacking sleep when boarding the plane to Jamaica on Sunday morning in Frankfurt City. After 11 hours of in-flight torture-tainment Montego Bay welcomed the two top-selectors with one of its most beautiful sunsets. It was just a fried chicken later when the team jumped on the chartered bus to Negril where the Caribbean's biggest music festival Smirnoff Dream Weekend was already in full swing. Checking in among all other acts and celebs in The Hedonism II, Jamaica's top nudist resort, sparked laughter and surprise: why would you book the hard core of dancehall music into a (at least partly nudist) hotel that claims: "Everything you heard about it is true".

But it wasn't much time to wonder and Jugglerz moved to the event Beer Vibes. [Find a full run-down & the videos here!] The dance with a crowd of more than 8000 people is a clash dance without defined rounds and votings. The purest form of soundclash: juggle hard and fire shots at the other sounds and the baddest sound wins. Jugglerz managed to get the upper hand over Tony Matterhorn and left the place in a frenzy: the people couldn't believe how wicked the Europeans delt with the case, from patrons to Police Superintendent everybody congratulated Paul and Meska to how they KILLED Tony Matterhorn with an incredible performance. Matterhorn himself wasn't that amused and spent the wee hours of monday morning discussing the night in the hotel lobby with famed Metro Media Selector Sky Juice and everybody else who could not get out of his way fast enough. Matterhorn kept that discussion alive for the next days and weeks – even trying to change the story when the video evidence is already out there – nice try, Maggie!

Monday afternoon was the next Dream event called Smirnoff Exclusive Red&White Celebrity Playground. Chromatic, DJ Nicco and Jazzy T were responsible for the music while Bounty Killer, Elephant Man, athletes, models, TV Hosts and regular partygoers from all over the world raved from afternoon till 10pm. Jugglerz had a pass-through performance and played the song that they never got to play the night before: Rhyme Minista's Killaz which is currently the one of the hottest songs in the west of Jamaica. But being at a party and not a clash they stuck to their concept of the "badder version" and played also a "Gyallis" version which received a crazy forward. The party was impressively stylish with a couple of thousand people all dressed in red and white. Bounty Killer hailed up DJ Meska with the words: "Yo Jugglerz, yuh baddd! Where is Shortman?" He later commented the picture of the meeting on Jugglerz' Instagram Account dissing Matterhorn and thus re-igniting the ongoing feud between the two.

Tuesday was a day at the beach filled with chilling out, taking even more pictures – it was just a joke that Jazzy T kept alive telling everybody Meska was the spare keeper of the German national football team that just had won the world cup: "he play pon the German side but they bench him." but it kept Meska busy discussing football with almost everybody. We then missed out on the Dream Live Event since lack of sleep, jetlag and the purple grades finally took their toll and left us dreaming on our beds from 10 pm. Popcaan and Alkaline must have shelled down the place though. Damn, did I sleep good.

Wednesday was the last day of Smirnoff Dream Weekend which ended with the IGLOO Party: A giant Soundsystem party comparable to the Dancehall Arenas on Europe's festivals. Only with a bit more style lol. And more HipHop instead of Jumpup Sound which is not uncool. Igloo in Jamaica means "cold box": People bring their own Igloo filled with drinks and only buy ice. Sounds crazy – is crazy! Our European Dancehall Queen Binta from Sweden turned a lot of heads in the VIP-Area – she is a wicked dancer! After Igloo everybody moved to Magnum Heatwave, a party outside of the Smirnoff Dream Weekend Events – remember, it was also Jamaican Independence Holiday. Chris Martin's performance was pretty enjoyable, Rhyme Minista got crazy forwards and Bugle delivered his set very convincingly! We went home while the party was still pumping.

On Thursday it took us a good while to make the move to Montego Bay partly due to heavy rain and partly due to heavy smoking. When we arrived in Mobay in the evening it was just enough time left to decide that we would travel to Kingston early the next morning to meet people.

Friday morning saw us hitting the road as early as 8:30am only stopping for some Ackee & Saltfish with Festival. Arriving in "town" around noon at Jazzy T's house in Liguanea we still had enough time to realise that noon was too early to meet most people of the nightlife. We still held a good meds on the porch discussing Football with Jazzy's father and linking up with Stainless Records Mastermind DJ Karim. We went to the new Jerk Chicken center across the street to eat some of their great food and met with the hypest dancer of the moment Ding Dong to hold a vibe. Swiss Crew Cali P and Phenomden also rolled in for a reasoning. Bounty Killer told me on the phone that he had three shows the night and we should link up the evening of the day after. But since Saturday was Mighty Rock Anniversary Dance in St. Elizabeth it wasn't possible for us so we agreed to link via internet at a later time. We then moved to Ribbiz Bar & Cafe in Grants Pen where we enjoyed a cool Rum & Coke with Mr. G aka Goofy, Seanizzle, Phenomden and Angel Doolas, Ribbie and Kamal, owners of the bar and one of the promoters of Dream Weekend. We then hit the road back to Mo'bay and took a stop at Bass Odyssey's 25th Anniversary: About a 1000 people were enjoying themselves in a friendly vibe, sounding their Vuvuzelas sometimes for the fun of it. Sentinel was just starting to play when we arrived. It must have been a big thing for them to play the first time in Jamaica. They got a few forwards in their 20 minutes. When Sky Juice of Metromedia took over he shelled down the place with the first couple of tunes and speeches and got a huge forward with a long speech about his background and where he came from to introduce Chronixx' Never Give Up as final tune. Killamanjaro started hot with Freddy Kruger and Ricky Trooper but then boiled down a little while still maintaining their big sound character. They even invited Sky Juice to select a few tunes.

We then made the last few kilometers to Mobay, but not before grabbing a freshly jerked chicken with festival traditionally wrapped in aluminum foil.

Saturday morning was blessed with sleep and free wifi. We rolled out to Burnt Savannah around 6 pm with 2,5 hrs road before us. We stopped at Belmont's charismatic Peter Tosh Beach and our longtime friends at Sandra's shop in Farm, Westmoreland. There had been heavy rain in the afternoon so the curvy roads up the hills were plastered with puddles of unknown depth. So Turbo the driver had to drive very careful not to damage his vehicle. Eventually we were greeted by an impressive location that looked like your perfect vision of an original "country dance": the leaves on the palm trees swinging in the breeze, jerk chicken pans and pots on fire spreading a warm and spicy aroma, a few lights shining down from the forested hills, the whole scenery enlighted by the full moon shining through a few clouds and three big sounds lined up in the lawn: Mighty Rock with two columns and a very good sound, King Ghetto also two columns but a very loud mic and tweeter that would make you shrug at the peaks and the great Killamanjaro with three large columns that they were just warming up with the nicest dubplate selection a reggae fan could imagine. It cannot get any more authentic or original. DJ Meska was next to continue the warm-up and gave the people within the hearing range of about two miles the true warmup juggling of one of Europe's most experienced selectors. [Find a full run down of the dance & videos here.] The party went on to be totally amazing, pure vibes, hot dancing, massive forwards from the couple of hundred patrons. And it was already in the morning light when a clash broke out and Jugglerz managed to conquer Jaro's Tenor Saw Dubplate. There was no way to escape for the legendary sound so the crowd decided that Jugglerz just done him for the night.

Young Jugglerz Sound creating history: First killing Tony Matterhorn on the Island's biggest clash-event Beer Vibes at Smirnoff Dream Weekend and five days later shutting off legendary Killamanjaro Sound with Freddie Kruger spontaneously in the morning sun of an authentic Soundsystem Dance-turned-clash in the hills of St. Elizabeth, Jamaica.

On the way back we stopped near Montpellier to enjoy an early meds and to take a break from the winding roads of the hilly landscape.

After three quick hours of sleep we moved to Sangster's Intl Airport for the return flight back to Germany. After purchasing the allowed quantity of the Island's finest distillates Meska was stopped by a security guard: "yo, you are the selector from Germany? – Yes. – From 2010, everyday mi a talk bout yuh. Where is Shortman? Can I take a picture?"

Thank you Jamaica for the love. Good times.

Big up Ron Burke, Salamon, Kamal, Philip and the whole Dream Weekend Team, Mighty Rock Sound, Jazzy T, Delano and the Renaissance Sound, Matthew, Cutty and the whole Coppershot Crew, Romain Virgo, Odean Brown Bumpie Kash, Bounty Killer, Rhyme Minista, Ding Dong, ReTV, Onstage TV, C Thug, Scrappy, Scoulou and Claasilisque, DJ Sensay, Phenomden, Cali P, Killa Boo, Binta Blackout, Crossfire and Unity Sound, all Jugglerz Fans and Supporters, Jugglerz ASG, Weedy G, 90s Crew Brooklyn & St. Elizabeth, Mobay Crew, all scammers, Flankers, Salt Spring, Glendevon, Middle East, the whole of western Jamaica, Westmoreland, Sav, Bluefields, Belmont, Farm, Negril, Lucea, Hanover, St. Elizabeth, Burnt Savannah, Elderslie, Magotty and everybody involved to make this tour unforgettable in Sound System history.