Review
Review: Skillinjah - Riddim Jockey EP
10/25/2013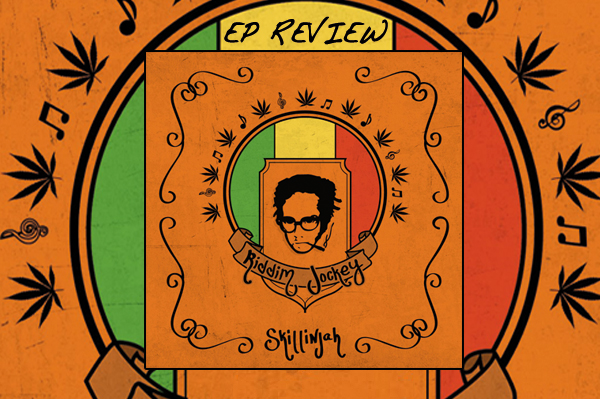 American artist Skillinjah returns with a new 6-song EP Riddim Jockey, produced for the most part in his hometown of Springfield, Missouri. This artist I would consider the Frank Zappa of reggae with his irreverent style, atonal delivery and deep, authentic grooves. His use of patois, often in a comical, sophisticated cypher is remarkable.

Skillinjah has global links with german producer Reggaesta who created the riddims for the songs Doobie, From Outta California and Bun Dem. The remaining three songs, Riddim Jockey, Boss DJ and Baddaflexx were produced by Richard "Richmo" Faught. His sound takes what his predecessors, artists like Dillinger and Trinity started, that atonal, freeform, lyrical, rapid fire flow and builds from it, utilizing the space between the notes to make his case in a clear, toaster style.

The EP launches with the tune Boss DJ which calls out all of Skillinjah's contemporaries who only seem to chat on the mic about a select few topics, busting gunshots and boasting of piles of money. He aims to define what a boss DJ should be over a deep one drop riddim. In his commentary on what has become a harshly competitive space he uses themes of the road, athletics, herb, with the humorous boastful allegory, "I love herb like grandma loves grandpa".

On Riddim Jockey Skillinjah gives some of his past in the context of the great reggae artists of history as he calls out his influences, "Ride me ride in a New York City, born in a Texas raised in Missouri, one thing me know me know me reggae history; U-Roy the original granddaddy, Big Youth a di original Ras Daddy, Yellowman an Supercat an Brigadier (Jerry) an Josie (Wales)….".

For Doobie the artist is joined by vocalists Josh Heinrichs and Lance Sitton on a classic ganja tune, built over a sparse riddim that draws for what sounds like a Carlton Barrett fill sample and moves into dubwise phrasing, delay effects with a distant organ bubbling and building the vibe.

From Outta California pays tribute to a certain California girl that caught the artist's attention. The groove here is a classic ska/rocksteady/bluebeat vibration over which Skillinjah extols his own virtues in the relationship department including foot massage on his subject! Bun Dem is a playful one-drop inna reggaeton style, seasoned with a distant melodica and hard-driving drum and bass. As usual, Skillinjah's agile lyrical flow surprises with some Spanish lyrics and loads of sweet allegories that burst into flame in the mix down portion of the tune. Lance Sitton chimes in to sing the flame retardant to the burn out, "Jah love is the only way…".

Baddaflex moves the EP into its finale, in ragamuffin style, Skillinjah draws for so many classic reggae and Jamaican interests in his lyrics here, from martial arts to callaloo… "My soul is not a sail, it's not a deal, it's not a bargain, dis bad man and make me see wha'appen, dem nah wan fi see di mongrel barking, squeeze it between your eyes just like a parallel parking.".

Skillinjah strikes me as the kind of ninja type artist, one who is just getting started in this arena….looking forward to what he has to say and play in the decades to come.


---
Release details
Skillinjah - Riddim Jockey
DIGITAL RELEASE [GanJah Records]
Release date: 10/22/2013
Tracks
1. Boss DJ
2. Riddim Jockey
3. Doobie feat. Lance Sitton & Josh Heinrichs
4. From Over California
5. Bun Dem feat. Lance Sitton
6. Baddaflex
Featured artists
Josh Heinrichs