Review
EP Review: Josh Heinrichs & Skillinjah - Resist
02/21/2020
by Steve Topple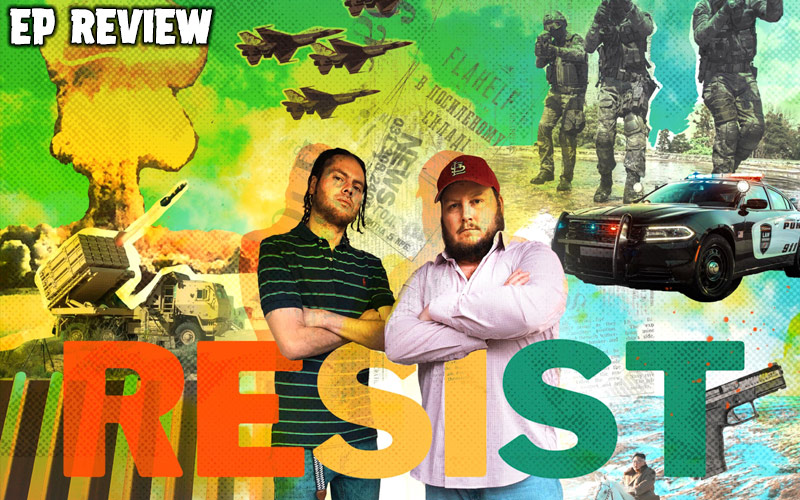 Josh Heinrichs and SkillinJah are not men who do things by halves. Not only are they currently on tour, but they've also just dropped their latest EP in the midst of this, too. So, does the project live up to expectations?
Resist, released via GanJah Records, is a short but perfectly formed example of Roots with a modern twist. So, it may not be musically groundbreaking or experimental when juxtaposed with some of their peer's work. But Heinrichs and SkillinJah are a safe pair of Reggae hands. And the EP demonstrates their commitment to the craft, and its message, well.
The EP starts with the title track, featuring the always-sublime vocals of Nattali Rize. All the usual Roots musical devices are present: a one drop on the upbeats, with a double kick on the fourth of every second bar; an infrequent bubble rhythm and a bass on a syncopated yet fairly-fixed nine-beat, clave-like riff. But elements of Calypso also come in, with the folksy, whining combination of electric, syncopated guitars (minus any skank), a brilliant ukulele turn from Lauren Huff and the chanting, heavily harmonised and rhythmic vocal arrangement, with occasional call and response. Meanwhile, some Dubby synths also fleet in and out – and heavy reverb ends the track.
But Resist shows off the EP's high-end composition and production skills, which are a constant throughout the entire record. The melody of the main chorus is catchy to an almost irritating level; the mythical 'earworm' so many artists try, and fail, to produce. Meanwhile, Chris Montague's production and Mark Kondrat's mastering, are textbook. The drums one drop and the bass riff have been set at just the right dB to almost dominate the track, but not at the expense of the other lines. This gives that immediate Reggae 'wind'. Overall, what is a fairly basic composition and arrangement is elevated to top-class.
Dangerous takes us into a more stripped back vibe, with the instrumental focus being left to keys, bass, percussion and guitars. Overtly Roots, the pair incorporate elements of both Dub and Funky Soul into the mix. The percussion line, while one drop focussed, breaks at points in a Dub-like manner. But it's the funky soul elements which move the track into a more ambiguous area. The Hammond organ, which makes fleeting appearances away from the keys' bubble rhythm, plays almost second fiddle to Heinrich's expansive and highly impressive Soulful vocal performance. His complex, dextrous melodic runs stretch across octaves and registers, flitting between tenor and falsetto voices yet in the same range. And those funky electric guitars with the reverb maxed are straight out of the Isley Brothers' handbook. Couple these with SkillinJah's smooth, affecting singjay and the track is an edgy, unsettling affair.
Next up is Emergency which deviates somewhat from its Roots base, bringing in more elements of other genres. The opening sequence is almost Gospel-Rock, with a brooding and foreboding use of acoustic and electric guitars and a Hammond organ. This leads straight into the second 'earworm' of the EP. Gone is the one drop, replaced with a more Hip Hop-led use of the kick, snare and hi hats. The keys vary between a bubble rhythm on the chorus and RnB, straight on-the-beat, double time, double treble clef chords in the verses. And oh my, the piano solo bridge into a Hammond organ extended flourish is delicious from Chris Cope: proper, harmonic improvisations which wouldn't feel out of place on a Jazz-led RnB track or a 90's Clivillés and Cole remix of one. Emergency is, overall, perhaps the most experimental and musically intricate cut of the EP. Absolutely superb.
Red finally sees Dub finally getting a full look in, via the use of some purposefully placed synths and the skilled performance of Bobby Hustle. The stripped back composition is also telling of the genre, with the focus honed to just bubble rhythm keys, a rolling, claved bass and a laid-back one drop with the odd embellishment. But the sparing use of a vocoder takes the track into more modern territory. Moreover, the bridge has a briefly different vibe, using a buzz roll on the snare reminiscent of Trap/Drill. But we're quickly back to Dub/Roots territory. And Heinrich's, SkillinJah's and Hustle's lyrics are, in short, hilarious.
The EP concludes with Sunshine, featuring Logan Rex of Artikal Sound System. It's a curious yet enthralling modern Lover's Rock track, drawing on elements from other genres. The use of the root then the minor seventh chord is a welcome, and nicely surprising addition to the standard melodic structure. Pared-back, heavily layered yet brief backing vocals hint at those Calypso influences again, but they're smoother than expected, leaning more towards Soul – as Lover's Rock should. Dub breaks and the odd synth are thrown in for good measure. The track finishes the EP well, being an intricate amalgamation of everything that came before it.
Resist is undoubtedly a classy affair. To say it's polished would be an understatement; Montague's production and Kondrat's mastering are of particular note, being intricately designed for each track to accentuate the specific genre and vibe Heinrichs and SkillinJah want to make you feel. They are lyrically gifted, as well – brining wit, searing relevance and smart political and social commentary across the EP's five tracks. Also, they are master composers, with the whole record being filled with catchy melodies and hooks. Resist has that kind-of broad appeal that even people who normally skirt around Reggae can't 'resist'. Nicely, if somewhat safely, done.
---
Release details
Josh Heinrichs & Skillinjah - Resist EP
DIGITAL RELEASE / CD [Ganjah Records]
Release date: 02/14/2020
Tracks
01. Resist feat. Nattali Rize
02. Dangerous
03. Emergency
04. Red feat. Bobby Hustle
05. Sunshine feat. Artikal Sound System
Featured artists
Nattali Rize
/
Bobby Hustle