Review
Album Review: Josh Heinrichs - Good Vibes
03/12/2016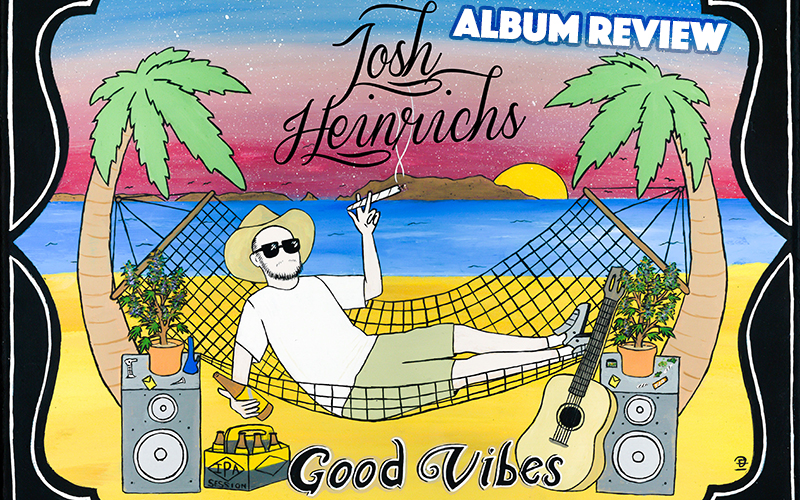 Good Vibes is self-released on Josh Heinrichs' own GanJah Records label and it is distinguished from his previous releases by a notable contribution of his own guitar playing which is a centerpiece of the compositions and the mix.

Out of the gate Heinrichs draws for a ganja tune Puff Herbs, his voice, so full of falsetto tone sings "in the morning when I wake up, before I do my exercise, when I do my meditation, with the ganja by my side….help me with my problems, with my stress throughout the day." The song's hook uses a vocal effect to give it the broadcast public address system sound to carry home the punchline: "Love to puff herbs, morning noon and night". The singer plays a howling blues guitar in call and response with his lyrics that go through the regiment, scoring some herb from the ganjaman, while giving a bly to "concentrated collie weed" a reference to the butane fueled dabbing craze.

For the epic solo played on a steel/Guild vintage guitar that opens the title track Good Vibes, the artist sings at the top his range over a dreamy sparse ballad that lilts with a true one drop tempo, classic roots reggae carries a relaxing mantra of positivity like a New Age guided meditation: "We've got to keep on rising, keep on smiling." This artist's falsetto and delivery in general are like no other in the industry right now, and he's made a recording that truly presents his greatest instrument.

Guest performer Koa Lopez from Maui's Inna Vision joins Josh for "Make A Way" over an island style one-drop that further promotes the good vibes in the soaring hook "Love will make a way". Koa cites the positive use of the technology during his bars to illustrate how love is passed through emails, voicemails Snapchats & playlists.

Walk Away is a departure from the reggae groove, its a true lover's lament in a downtempo about misunderstandings, the quest for resolution, parting ways, the life of the touring musician: "This life on the road it ain't for me, I want to be home to see my babies grow." For With You the artist counts all his blessings and includes the realization that all his dreams are indeed coming true. The phrasing on this is right out of the popular song play book's how to write a satisfying chorus, "with you all my dreams are coming true." A lengthy guitar intro and outro bookend the bars and cinematic effect is reached, this one is ready for the big screen!

E.N. Young solo artist and member of the band Tribal Seeds performs interlaced melodica on Like An Angel a sweet personal ode to his partner in life and her sweet disposition and countenance. Its a short ditty at 2:25 and a nice bit of punctuation in this section of the album sequence. Home Again keeps the fire burning for romantic love as Josh soars through a chorus that rejoices in the sweet feeling of reuniting with his loved ones. The groove is one of the most compelling on the album, with a minor key chord progression and ethereal guitar effects and live drums.

More well-recorded drums drive the one drop groove as bright keyboards bubble under the artist's examination of the state of affairs in regards to police brutality and the legal system in the song Love. Josh Heinrichs' soulful voice beseeches "Where is the justice, where is the peace, where is the love, where is this love in humanity?" The antidote or salve is offered with "Every time I turn on the news its negativity, reggae music gives me positivity, makes me appreciate life and all its beauty."

Longtime GanJah label collaborator, bredren and running buddy on tour deejay Skillinjah joins Josh for High Grade. Various strains are listed with their preferences, as Skillinjah cites his passion for the herb with some deep allegories "if a ganja war mi war like Sparta, if the price is right mi well chief a quarter." The riddim track covered here is the Junjo Lawes classic for Barrington Levy's Murderer.

Start With Yourself begins with the line "Please fill up the bowl, talk story about something that soothes our soul…" The term "talk story" being a Hawaiian pidgin/patois language term for having a rap session, shooting the breeze, speaking what is on your mind. A beautiful chorus, "We've got so many problems, only love can solve them" is sung with help by the artist's family- Kaya, Aston & Olivia Heinrichs, to close out the album.
Josh Heinrichs seems to be in a particularly philosophical point in his life and it shows in his songwriting on Good Vibes, its refreshing to hear such a powerful male vocalist speak so personally about his perspective on life, a sense of peace and knowledge of himself, especially when his voice is so full of emotion and depth on its own it helps sell the messages making them universal and accessible to us all.
---
Release details
Josh Heinrichs - Good Vibes
DIGITAL RELEASE [GanJah Records]
Release date: 03/11/2016
Tracks
01. Puff Herbs
02. Good Vibes
03. Make a Way feat. Inna Vision
04. Walk Away
05. With You
06. Like an Angel feat. E.N. Young
07. Home Again
08. Love and Humanity
09. High Grade feat. Skillinjah
10. Start with Yourself feat. Kaya, Aston & Olivia Heinrichs
Featured artists
Skillinjah
/
Inna Vision