Interview with Joseph Israel
08/09/2016 by Gardy Stein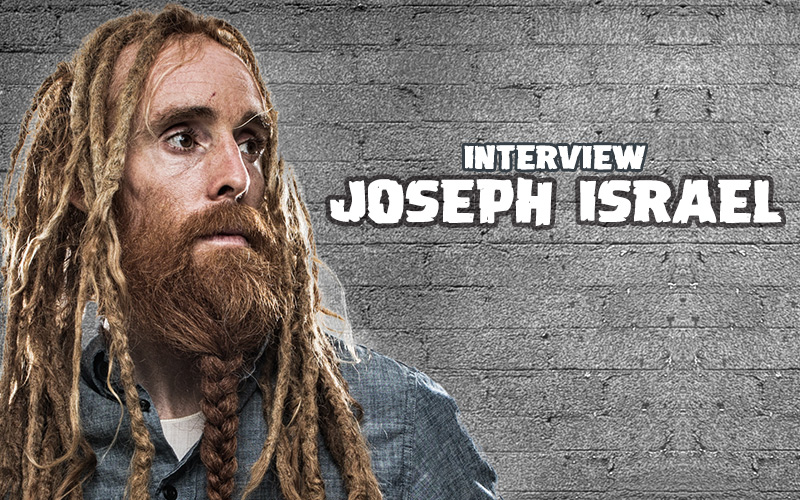 There is a point of no return when certain circumstances come together to push you on your path of destiny. When you grow up in a spiritually open family that exposes you to Reggae music from an early age, when you travel regularly to Jamaica and, on top of all, when you are gifted with a talent for words and music, it would be a shame to refuse the cup passed on to you. Joseph Montgomery Fennel aka Joseph Israel endorsed the way thus laid out for him with open arms and, over more than a decade, became a strong voice in the global fight for freedom, love and justice. A devout believer in God, many of his lyrics talk about faith and trust. The glimpse of hope he shares with Reggaeville in an interview talking about his new album Paradise and about his view of religion and politics is a golden spark in these dark times. Let it ignite you!

Greetings! I catch you on tour, right?
Yes, we are on a month-long tour for the Paradise album. We had three shows so far in the first week and we have three more weeks to go. I'm just excited about being out there this summer and sharing this new music with the people. (bass-player Chris Meredith shows up and waves a quick hello in the Skype-cam).

On your Facebook-account, some live action is announced for today. What will you do?
We've been doing tour-updates on Facebook for the fans every once in a while, talking about the tour and the album. We just found out that we are number 12 on the Billboard Reggae charts after just one week, so we'll talk about that this time. Giving thanks to the fans!

What response did you get from the fans so far on the new album?
The new music is being received very well. We are playing almost all the new songs in our sets, and the people love it. They are buying our new album on the shows, so the energy with the crowd is really really powerful. It seems like this album is reaching the people with messages for this time, the message is right!

Is there any plan to tour out of the US as well? Europe, Asia, some other places?
Yes, it's been a long time dream of mine to come over and play in Europe, you know, France, Germany... we're getting some attention from over there now, we are really thankful. I can't wait to get to Europe, for a long long time I've been wanting to do it, so hopefully it will happen really soon.

That would be great, to see you on some festivals!
Yes it would... I'm keeping up with the community. I watched my brother Gentleman doing a show on Summerjam with Ky-Mani Marley, it was really a great show. We are feeling the vibes from over there for a long time, I really love how supportive everyone is for the music, great vibes!

How did you link up with Gentleman for the track People Need Hope?

Gentleman and I kind of first crossed paths in Jamaica, maybe 11 or 12 years ago, with his first manager. We met once in a while when we did some festivals in the United States, but then we reconnected two years ago when he came out and did a California tour, and I reconnected with him there. When Gentleman was doing the MTV Unplugged with Dean Fraser, Dean was part of my album, he arranged all the horns. I said 'Dean, I have this vision for this song People Need Hope. I was sitting in my yard, playing my guitar, and I had this vision in my mind that this is for Gentleman and Tarrus Riley, these are the two artists that are supposed to go on it.' So I told Dean see what you can do, and then Gentleman instantly responded and reached out to me and was so kind, he went out of his way from his busy schedule and put a lot of love in this song, and Tarrus Riley likewise. So it really came out as a beautiful song, I give thanks, you know.

Where did the inspiration for the song come from?
Because of the struggle that human race is facing right now. I mean, all the violence, the civil rights issues and environmental issues that are really going on… so the first verse is about civil rights and the second verse is about the environment. Basically, when you see the way the system is set, it's not really working for mankind. Thirty years later, fifty years later, and still much hasn't improved. The environment is getting worse and worse and there is poverty at an all-time increase, there is still no justice in the court rooms and all those things, so I felt like people are losing hope for life. Depression is all around and people need hope to overcome the issues that we are facing as a human race, as mankind on earth, and that's why I say (sings) "People need hope today, so we can work it out!" You know, so that we can work it out, because it's up to us!

All your songs are very spiritual and carry a message, but is there another song that is very close to your heart, that has a special meaning for you?
As you already said, every song is special. The title track Paradise, for instance, the hook is taken from the bible, Psalm 67. The English version is 'God' and in Hebrew it's 'Elohim', the title for the Almighty, so we say 'Elohim, be merciful unto us, bless us, make your light shine on us.' So ultimately we come to shine the light and truth and bring the Almighty's messages of hope to mankind, so the whole album is kind of based on that theme. If the Most High allows that message to go out, we will carry this message to mankind – it's the good news! It's not for any religion, it's a spiritual message of truth for all people! It's not for any one class, rich or poor, we are all one human race, we gotta rise up together. There is one creator who made us all, who gave us life, so that's the album Paradise. And then, I mean, Shalom Shalom, it is the really deep to my heart. Every song of the album… Fire Burn Them, I have to burn some serious fire in one song, but the fire we burn is love, because love ultimately purifies, the fire is a purification agent, you know...

There are a lot of biblical references and even Hebrew words and phrases, is it that you have a Jewish background, or your family?
I'm a Hebrew, I'm an Israelite, you know, and basically for me… Judaism is a religion and also being a Jew is a tribe, but Israel has many tribes, you know, 12 tribes because of the 12 sons, so we as Israel I'm just one with all tribes of Israel. But yes, of course there's a Hebrew background, I have a spiritual background where one tree, one Olive tree bearing fruit for the kingdom of the Almighty and it goes back to these ancient times, Abraham, Isaac, Jacob and Moses. Ultimately the purpose is, if we look in Isaiah 49, chapter 49 verse 6 it says that Israel is a right to the nation, so the purpose is not to say 'I'm an Israelite and you are not an Israelite.', it's not about that. I don't want to draw a line and make myself different, because I'm just a human, we are all one blood on the earth, so it's not about your heritage, your background, it's about your heart condition. If you love the Most High in your heart, if you love your brothers and sisters, then you can be part of the Israelite family, you know. Because Israel actually means those who strive, with the blessings of the Almighty, so we are praying for his blessings.

Have you ever been to Israel?
Not yet. It's my hope to go very soon.

You mentioned having been to Jamaica, what is your experience there?
Jamaica is deep in my family. My grandparents used to have a house down there before I was even born, my mom was born there and my Dad was going to Jamaica, so I grew up with the love. My Dad loved Reggae music, so I grew up listening to Burning Spear and all these things, he took me to Jamaica for the first time when I was like 13 and I basically went every summer after that. I spent a lot of time down there, and as soon as I reached I started to reason with the Rastas. Any Rasta man that I could find as a youth, I would just sit down and talk to him and ask him every question. For me, I was already a big Reggae fan, I loved Bob Marley and Jimmy Cliff and Toots and Gregory Isaacs and all these brethren, so when I came there it was like the soundtrack came alive. And Reggae music, they sang about the scriptures, so I would hear the message of the bible, but not the way they teach it in any kind of church, it's a spiritual thing. It reached the heart of me! It really woke me up, so that's why it really combined together in that beautiful way. To me in a way, Reggae music is very special, and it's really a great honour to be part of this musical family and perform and all... I love Jamaicans, they are beautiful people!

Have you performed there?
I have! I performed Rebel Salute with Luciano and a few other little festivals around there.
How was the response? They tend to be very critical of foreign Reggae Acts.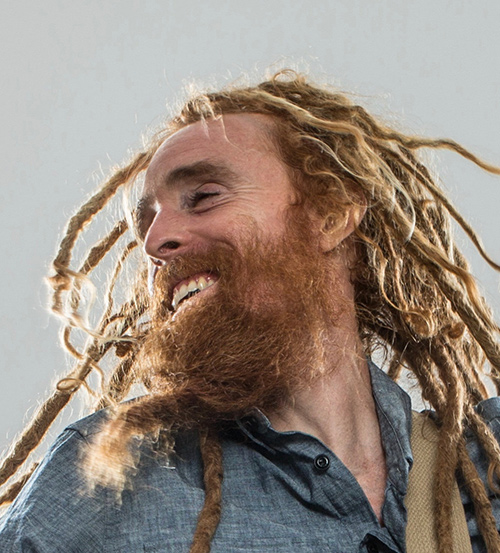 (laughs) You know, when I had to perform, people said 'Don't watch the crowd. Don't worry about the crowd.' What was amazing was, I just went on and did my thing, and at first everybody just stood up like this (folds his arms in front of his chest) and said "Who is this guy?" But at the end, the flags were waving and we got some nice forwards... it was beautiful! One thing about Jamaican people, they are real. They are not fake! If you come with a realness from your heart, they're gonna feel it, you know, and that's why... like this brother Chris Meredith or Dean Fraser, when we met, there was a connection. And Luciano! Years ago, he took me under his wings and showed me the ropes, took me on tour and all...

Are you still in contact with him?
Yes, for sure.

Are there any other Jamaican artists you'd like to work with?
Well, I'm interested to work with people who are positive. Off the top of my head… it's nice to see this new band Raging Fyah coming up, I like what they are doing. I like the fact that there are still bands like them, and of course you have Chronixx and Jesse Royal and Jah9 who are coming with a nice new message. There's some great artists, Jamaica is full of talent. I mean… I've always liked Morgan Heritage music a lot, so it would be nice to one day do a song with them, they have some nice harmonies and stuff, Peter and Gramps. We'll see what the future holds.

You know, I'm an artist, I go out as Joseph Israel, but I have my band. It's actually Joseph Israel and the Jerusalem Band, and these brothers and sister Rachelle Bradshaw and my wife Christy, we all work together. I just wanna say that this music, especially this album, is a collaboration of great musicians and singers. This band is so special to me, and if you listen to the album, you don't just hear Joseph Israel. I mean, I wrote the songs and so, but these guys play the drums and the organ and so on… it's a family vibration, so I wanna big up the musicians that are with me because without them, it would only be me and my acoustic guitar (laughs). I really love to work with these great musicians! And I want people to know we are family. So if we come to Europe next summer, Jah willing, we will come as a band, as a unit, it will be love and vibration. This Paradise is from all of us, from the heart to the heart.

Who did the artwork for the album?
His name is Ryan Lion Zion, that's what we call him (laughs). He lives in Southern California, he's been a good friend for years and he's a fantastic artist. Really great and talented individual, it's an honour to work with him.

A few years ago, you did an EP for an organisation called Restore Humanity. What do they do?
Oh, Restore Humanity is run by my sister, it's an NGO that she's running. She has an orphanage in a village in Kenya. They have around 20 children and they pay the school fees and such for the kids, they just really restore the dignity of the children and the community. They built a centre and it's... you know, some of the children have even grown up now and come to America and go to college! A lot of really great stuff she's doing, so www.restorehumanity.org it's really a great thing, I'm really proud of my sister. She's the real star in the family, you know, the real superstar (laughs).

Can you imagine doing community work yourself?
Yes! That's the real work. I don't know if I would run it, but I would support it in any way I can. We have to be there to take care of one another, you know. The thing about... especially in America, everyone is worried about their own family, and if they see someone who needs something, a lot of times they're afraid to help them. It's a strange thing because everyone is so worried about taking care of themselves. But if you realize, we all are dependent on each other and if we have a little extra, we need to take care of someone else. That's the thing, the mentality, we could say Babylon mentality, it creates selfishness in our minds, you know, 'I want I want, I need I need!', but truth is that it's better to give than to get, so… that's the vibes.

How do you feel about the upcoming votes in the US, with Trump as a candidate and all… does that make you feel scared for America's future?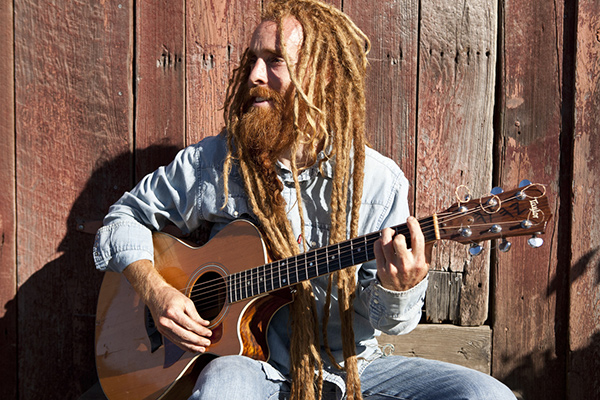 I don't really get involved in politics, because I don't really see a solution from politics. Either way it goes. I'm not afraid o the future because I know that ultimately, the Almighty's will is done on this earth and there's nothing that man can do to stop the truth from covering the earth, just like the waters cover the sea.

Do you do anything else beside music?
I also do some health counselling, nutritional consultations. I've done some lectures at an acupuncture clinic here in California, and the lady who runs it is actually from Berlin, she's really great. So, you know, I work with natural things and I like to help people with their diet and physical training. For me, the reason I do this natural healing stuff is because… we do music to bring healing, to bring a positive energy, but people need a positive life style, too. It's not enough if they only listen to positive music, at the same time we need to help people, get them in a positive lifestyle, eat healthy food, set up an exercise program, change the way they think. The reason why we are playing music is the same reason why we do that, just to bring a better vibration, to help people improve their lives. If you play for 5.000 people, they all hear you, and some of them get touched by the message, but then they go home and go back to their lifestyle. So if you take a few people every year and help them discover how they can make choices in their life to make life better, even one or two, that's a blessing, and then they might talk to others… I just wanna be useful, you know, the Most High has given me a lot of knowledge so I wanna use it to help my brothers and sisters on earth.
Selah!