Review
Album Review: The Banyans - For Better Days
02/23/2015
by Gardy Stein
For Better Days will capture you with a golden glow and conscious lyrics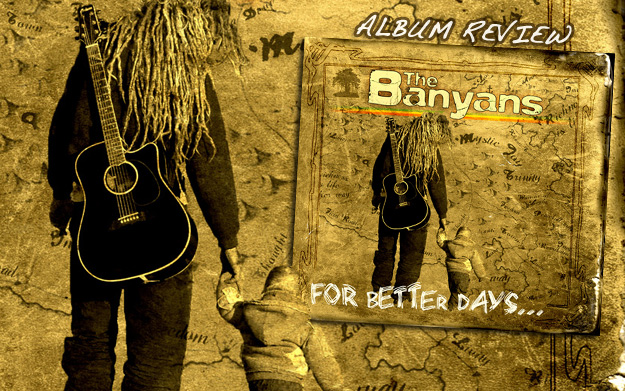 "You can't judge a book by its cover, you have to read it!" is not only a well-known truism but also a quote from Big Youth on track 11. Only that, in the case of For Better Days, it is not entirely true. This album is one of the rare instances in which the cover conveys perfectly the overall mood of the music it encases: soft, warm, golden and full of promise flows the image from the picture, and likewise flows the music from the speakers. The Banyans (a common name for the fig tree Ficus benghalensis), creators of this sun-drenched piece of honey, might not ring a bell yet, but this is certainly about to change. While they were known locally around their hometown Toulouse after their formation in 2010, the release of Steppin' Forward in 2013 earned them countrywide connaissance in France and beyond; since then, Devi (lead vocals), Mael (keyboard/ organ), Jay (guitar/ vocals), Peter (bass), Clement Sticky (drums), Martin (saxophone/ percussions/ vocals) and Irie Raffy (guitar/ vocals) have come a long way.

But back to the music. Recorded at Studio Davout in Paris (except for the additional recordings of the features, which have been done in Jamaica), the organic sound of the entire album has an almost Zobel-esque feel. As Martin, Fully and the Soulrise Band so skilfully accomplished in Keep Planting Seeds, also The Banyans understand to create music that doesn't hurt the ears - you can turn up the volume to di max and still enjoy the sound. While, vocally, Devi might yet miss the deep timbre of legendary Reggae singers, this band of seven is on top musically!

They show their capability in 13 tracks that are sufficiently different to keep your attention until the end. After a measured One More Time, there is the uplifting Fearless which will make you smile with its beautiful melody and bass-line. You'll get some teachings from the solemn voice of an elder in the title track Better Days before, in the first of three combination tunes (the other two are What's Going On feat. Maranto and Judge I feat. Big Youth), Johnny Osbourne invites you to Follow You Light.

Transported to the rain forest in I Miss You (I think the "crickets" heard at beginning and end are called cicadas), this song is especially captivating when the bass starts. A nice change is brought about by Like Before - some Country vibes add to the rural flavour of the band and you'll feel at once enticed to sing along.

"Let me tell you something about my heaven's corner..." croons singer Devi over minimal instrumentation and indeed, Mystic Joy (Part 1) seems like a wonderful introduction to the present work. And if this was the prelude, then Mystic Joy (Part 2) is the climax. Boom! With powerful bass, brass section and an infectious melody you can't help but skip along to the beat.

Wasting Time, instead, creates a melancholy mood with an intro of rain and piano. "Who is helping me to focus on Jah?" Message, melody and Nyabinghi - greatness! It's just a pity The Banyans only sing in English. Understandable if you want to reach a worldwide audience, of course, but in my opinion the lyrical expressionism loses a lot if you use a language other than your mother tongue. Plus, there lies a deep fascination in discovering other languages! I remember comfortable rainy sunday afternoons in my teenage years, spent with the latest CD- or tape-booklet and a dictionary, cracking the code of the songs. Let the linguistic diversity of our world live!

For Better Days will capture you with a golden glow and conscious lyrics. For once, you may judge this release by its cover, but, please, listen to it as well.
---
Release details
The Banyans - For Better Days
DIGITAL RELEASE / CD [Khanti Records]
Release date: 02/23/2015
Tracks
01. One More Time
02. Fearless
03. Better Days
04. Follow Your Light feat. Johnny Osbourne
05. I Miss You
06. What's Going On feat. Maranto
07. Like Before
08. Wasting Time
09. Mystic Joy (Part 1)
10. Mystic Joy (Part 2)
11. Judge I feat. Big Youth
12. Spiritual Justice
13. Everything is Nice
Featured artists
Big Youth
/
Johnny Osbourne