Review
Album Review: Mungo's Hi Fi - No Wata Down Ting feat. YT
03/18/2016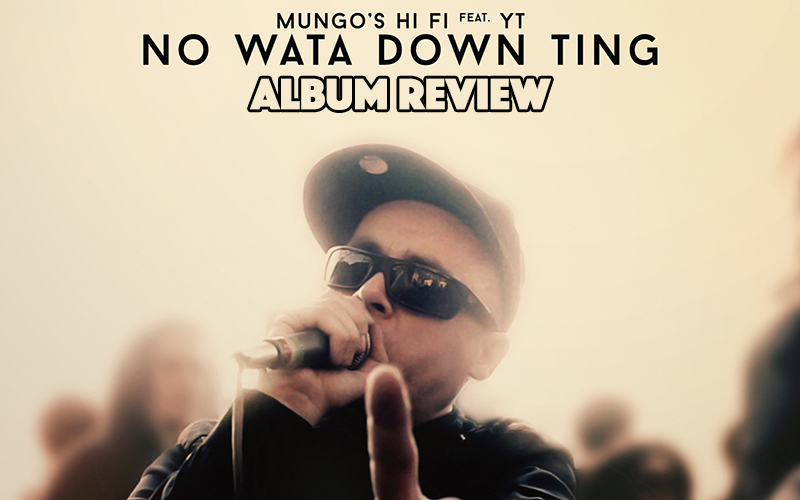 In the same way you would never add water to a glass of a nice Scotch whisky, you don't want to water down a clear sound by diluting it when it comes to productions. The statement No Wata Down Ting is not only the highest premise of the Scottish production house and sound system Mungo's Hi Fi but also the title of their most recent album No Wata Down Ting feat. YT. No medium quality sound no weakness, strictly the full set of purity, originality and professionality.

Mungo's Hi Fi are known for working with well-selected UK and Jamaican singers and artists, such as Charlie P on their previous LP You See Me Star (2015) or Mr. Williamz, Solo Banton, Soom T, Cornel Campbell and more on Serious Times (2014). Sugar Minott, Earl 16, Ranking Joe, Brother Culture and many more are also included on the long list of collaborations.
This time, the Glasgow collective teamed up with their long term associate Mark "YT" Hull from Ipswich for a full-length album of 10 tracks, released on their own record label Scotch Bonnet. For the last finishing and the guarantee of a full retro experience of their productions, they also took on board no other than UK-engineer and producer Prince Fatty who is well-known for his retro all-analogue skillset. The vintage Prince Jammy's / King Tubby's style is central on this record as it is typical for Mungo's Hi Fi productions. Vintage 80's elements refined with cross-genre features and a 2016 touch leads to their distinctive sound.

The dancehall singjay YT is well respected for his tough lyrics and vibrant live performances and shares the same love to classic 80's dancehall, rub a dub and veteran deejays just like Mungo's Hi Fi. Hence, the equal musical commitments of the people involved in this project ensure a harmonic interplay between riddims and vocals.

Contentwise this record is bursting with strength. YTs lyrics come straight up, he's not afraid to come along with a strong showing-off attitude. This boldness runs through all tracks. One soundkiller tune follows the other. "Boomsound inna di dancehall / idiot sound no stand no chance" as stated in the single Boomsound or: "Real Reggae music which is undiluted/ champion sound and it is undisputed" as YT chants in the title track No Wata Down Ting. A little over the top? Not really. The musical achievements in the careers of both Mungo's Hi Fi and YT are impressive. No reason for false modesty! A little teasing here and some dissing there are allowed, especially in dancehall music.

Title track No Wata Down Ting feat. YT and Johnny Osbourne is a re-recording of Osbourns classic Ice Cream Love on the He Prayed Riddim. While his famous line "I don't want no ice cream sound, it is too soft for me" reminds off his hit, YT makes sure that the song gets a modern touch through his bubbling lyrics and presents Mungo's as the ultimate champion sound. Very nice combination!

Further big tunes on the record are the opening track God Bless Pickney, that displays the self-belief of the singer and the unstoppable power under the assumption to be one of God's blessed children, and single Work to Do, a collaboration with the Kingstonian reggae veteran Little John and YT on the Gunman Riddim.

Mungo's Hi Fi offer yet another great enrichment for all lovers of the original dancehall. Nothing can be missed here to enable the album to move straight forward on the ranking lists. No signs of dilution, this is a full sound aroma.
---
Release details
Mungo's Hi-Fi - No Wata Down Ting feat. YT
DIGITAL RELEASE [Scotch Bonnet Records]
Release date: 03/16/2016
Tracks
01. God Bless Pickney *
02. No Wata Down Ting feat. Johnny Osbourne *
03. Bumpercart *
04. Raggamuffin Girl *
05. What You Got to Do *
06. Work to Do feat. Little John *
07. Cokehead *
08. Run Like a Tief *
09. Boomsound *
10. At Dem *
* feat. YT
Featured artists
Johnny Osbourne
/
YT