Review
Album Review: Major Lazer - Free The Universe
04/12/2013
by Munchy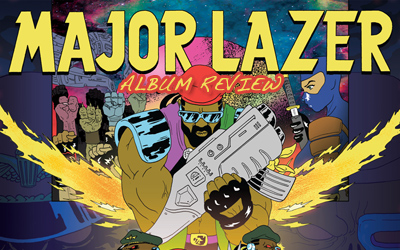 Free the universe – and free your musical mind. If expecting a dancehall record rightfully misled by names like Shaggy, Elephant Man, or Vybz Kartel chances are, you're frustratedly going to press stop long before this records has reached its end.

Even though both producers and critics still love to use words like dancehall, reggae, or even roots when talking about Major Lazer's new album, I am still wondering what this is, and even worse for a journalist: how I could put in words what I am listening to on Free The Universe. Let's just quote mastermind Diplo on this one. "Six of the songs are rootsy, six are clubby, and three are outer-space records that I don't know what they are." he told the Rolling Stone in January. Luckily his production skills are better than his maths. Indeed the 14 (...) tracks are diversified: a cornucopia of guest artists hailing from indie rock to dub step, recycled and re-filtered audio pieces from past decades and various genres, rich bass, dramatic climaxes, ear-buzzing drum fills and a huge range of whomp whomp and bang bang – nameless electronic samples in all its glory. From 60 to 130 bpm, anything that can hold between moombahton, and reggae. Yes, I admit it – I think some parts of this album have something to do with reggae. Still, please don't pin me down on it though, and remember what I told you first: free your musical mind! If you do so, chances are, that you can really enjoy this record.

Dancehall fans will have an easy start with it. Many familiar aspects welcome us in the first track You're No Good: our dear world boss Vybz Kartel, gunshots and sirene samples, and the voice of Santigold who already supported Mr Lex on Major Lazer's first album and the smash hit Hold The Line. On a tough, minimalistic drum beat with in-your-face snare fills and some echoed digital claps she, Haim sister Danielle , and Yasmin team up for an hypnotic choir that is longing for their Jamaican man. Dr Evil's unmistakable laugh, a high-pitched vocal sample, and 128 wicked beats per minute take us onto the next Jet Blue Jet, a classic Major Lazer fusion of rave hall or dance house. Again, the lost dancehall fan will feel a bit familiar thanks to Razz' and Biggy's instructions – yeah, that's something we know. Dirty Projectors, Amber Coffman, indie rock from Brooklyn – don't judge the book though... Diplo took her to Jamaica for the recording, and she apparently catched the vibe. The result is the following Get Free an under water-like filtered, reggae-ish meditation subtly decorated with some horns and a tender flute. It gives you the right rest before recycled Johnny Osbourne's Mr Marshall carries you away on a raving homage to Prodigy, a collaboration with British dub and bro step producer Flux Pavilion.

When electro clash meets dancehall, or Peaches and Timberlee to be more precise, the result is a refreshing fusion that both artists, producers and luckily also listeners can benefit from. More melodic, lyrically a tiny bit more sophisticated (it's all relative) and beat-wise less minimalistic than many of the album's tracks Scare Me bubbles in your ears just like the sample used in the song. Speaking of interesting fusions (again, but I told you it's diversified): indie rocking Vampire Weekend lead singer Ezra Koenig creeps in next with a little nursery rhyme-kinda ode on Jessica's face on an old school reggae rythum. It's partly German, it's partly high pitched, it's largely bizarre or interesting, depending on the freeness of your musical mind by this point in time. All reggae and dancehall listeners who made it that far in the track list will now be rewarded with the definite highlight, already party mashing up Watch Out For This (Bumaye). A good old Major Lazer, a textbook example of why I still love this whatever type of music even if I can't find the words to explain it – and even if large parts of this song should be credited to Dutch-Mexican The Flexican. A fancy moombahton drum beat, funky horn segments, a tight lyrics spitting Busy Signal on the classic dancehall issues: hot girls, dead sound boys and the Dj's mad lyrics.

There's a thin line between progressive and monotonous. In between some real musical highlights Free The Universe might have a few hard times really convincing its listeners – even musical weirdos like me, that can still remember that very moment when they heard Guns Don't Kill People for the first time in this record store and just couldn't wait to buy it, carry it home, and eventually blast it in the whole neighbourhood's ears. For those who are willing and able to just totally unbiased listen the record, you will surely find some musical joy – and remember, Jah Nuh Partial, so should you.



---
Release details
Major Lazer - Free the Universe
CD / DIGITAL RELEASE [Mad Decent]
Release date: 04/16/2013
Tracks
01. You're No Good (feat. Santigold, Vybz Kartel, Danielle Heim & Yasmin)
02. Jet Blue Jet (feat. Leftside, GTA, Razz & Biggy)
03. Get Free ( feat. Amber from Dirty Projectors)
04. Jah No Partial (feat. Flux Pavillion & Johnny Osbourne)
05. Wind Up (feat. Elephant Man, Opal & Chippy Nonstop)
06. Scare Me 8feat. Peaches & Timberlee)
07. Jessica (feat. Ezra König of Vampire Weekend)
08. Watch Out For This (Bumaye) (feat. Busy Signal, The Flexican & FS Green)
09. Keep Cool (feat. Shaggy & Wynter Gordon)
10. Sweat (feat. Laidback Luke & Ms. Dynamite)
11. Reach for the Stars (feat. Wyclef Jean)
12. Bubble Butt (feat. Bruno Mars, Tygra & Mystic)
13. Mashup the Dance (feat. The Partysquad & Ward 21)
14. Playground (feat. Bugle & Arama)
Featured artists
Vybz Kartel
/
Leftside
/
Johnny Osbourne
/
Elephant Man
/
Busy Signal
/
Shaggy
/
Ward 21