Festival-Report: Reggae Geel 2012
08/07/2012 by David Katz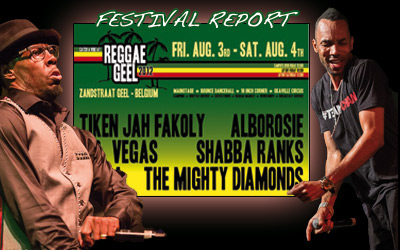 Reggae Geel 2012
As reggae festivals go, Reggae Geel always has a lot to recommend it. Belgium's biggest reggae festival has been going for an incredibly long time, and as the decades pass, the festival still endures because it continues to deliver. Geel is a nice size for a festival -- large enough to accommodate its core audience, which make the annual pilgrimage from all over the 'low countries', yet not too large to be unmanageable. The same committed team that have been running things from day one are still running it, and that 'family' atmosphere prevails in the way Reggae Geel is managed and delivered. Yes, there may be some small shade tents provided by cola companies and energy drinks firms, but sponsorship is low-key, and it is all about the music. In fact, head man Rigo Verwimp told me it had taken five years of his life to line-up Shabba Ranks for the opening night's action this year, on the Friday, when Geel is not yet full to capacity.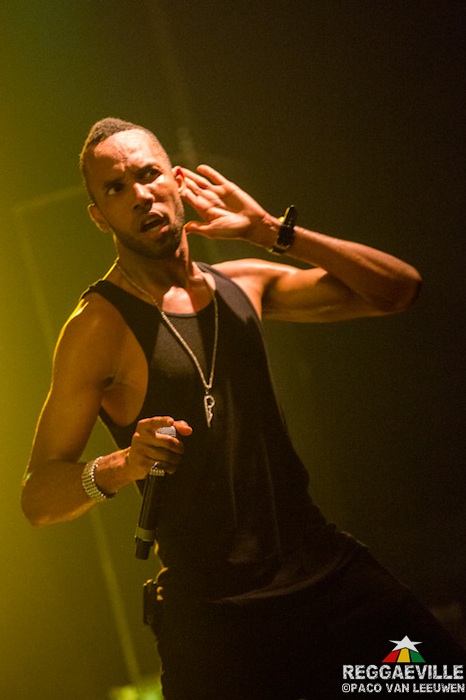 When I arrived at the site, Cham was taking the stage in the dancehall tent to deliver an action-packed set of fearsome dancehall. Cham still has all the energy that characterized his early performances on the international scene; to my mind, the only thing that has changed is the hairstyle, as he has recently joined the Mohican tribe, a la Sean Paul. 'Ghetto Story' had the crowd in ecstasy and Cham maintained the action throughout his lengthy set.

Over in the Skaville Circus tent, there was a tribute to Studio One, featuring live on the mic, the one Lone Ranger in a toasting style, as well as the man Carlton Livingston, singing away. Their combination always works well and the few moments I caught sounded dependable as always, despite no live band on hand.

Of course, there was a massive sense of expectation in the air as everyone awaited the arrival of Mr Ranks. Backstage there was a kind of electric energy around, and when Shabba turned up, he looked really striking in a crisp black and grey suit, with matching tie, and neat, thick plaits just visible beneath his hat. Both Cham and Johnny Osbourne were on hand to embrace the man's return to the European stage, coming hot on the heels of his lauded return to Jamaica the other day.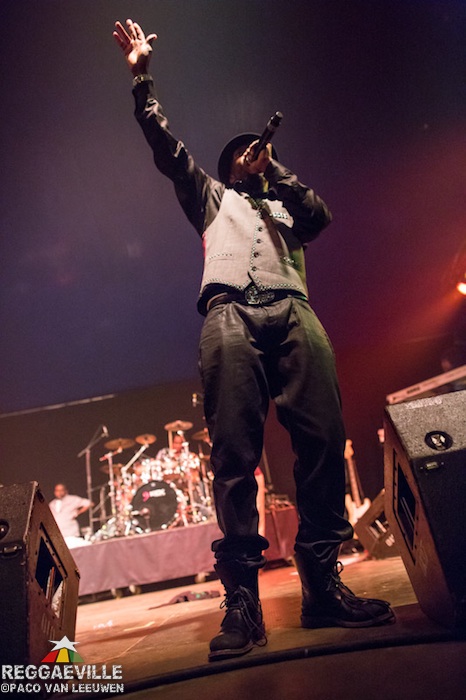 When he strode out on stage, backed by a top-notch set of dancehall players, including keyboardist Nigel Staff, he began on a high with a very hard-sounding Peanie Peanie; the place went ballastic, with pure rewind on demand. Then, X-Rated needed a double-rewind, before Shabba extended it into a salute to the Tight Pum Pum. By the time he launched into Wicked In Bed, Ranks had the crowd in the palm of his hand, and so it stayed for the rest of his performance. His vocal tone was level and he seemed certainly pleased to be back in the limelight; if there was any room for criticism, it could only be noted that Shabba sometimes broke off verses in mid-sentence, expecting the crowd to finish his lines for him. But then, this is a dancehall artist trying to perform on a stage show, and the two forms don't always gel 100%.

On my way out of the venue on the Friday night (or should I say, in the early hours of Saturday morning), I caught some moments of Bobo Black Star at the '18-inch Corner', known locally as the 'Dub Forest', where locals lie in hammocks, beneath the trees, to take in dubwise sound systems. On this night, Bobo and crew were treating them to the UK steppers style, in a very different mode and manner to that being belted out by Shabba in the dancehall next door, but still a sound that commanded plenty of listeners, nursing their spliffs or downing strong Belgian ales in the moonlight.

On Saturday, the main event got underway on the main stage in the early afternoon, but for logistical reasons, I missed Tanya Stephens' performance, which I'm told was well-received, a fitting showcase for her versatility. Veteran vocalist Winston Francis, who had sung on Friday night,then addressed the public in the Skaville Circus tent, speaking about his work at Studio One and recent recordings with Prince Fatty, before the Mighty Diamonds appeared on the main stage, sounding very fresh in the vocal department as they went through classics such as Right Time and I Need A Roof. Then Pablo Moses came out to deliver his non-standard take on roots reggae, with tracks like I Man A Grasshopper sounding as strange and wonderful as ever. The Handcart Band's horn section was crisp and the sound was the right one for a warm day of fine sunshine. Back in the Skaville Circus tent, some local dub poets delivered a few numbers, backed by some niyabinghi drummers.

Then, one of Jamaica's all-time greatest backing bands took the stage: Lloyd Parks and We The People, featuring guitarist Bo-Pee Bowen, keyboardist Robbie Lyn, and Mr Parks himself on bass. Parks gave them his Mafia for starters, before the great Bob Andy came out on stage, dressed all in white, to deliver a long set of hits. Andy has been recovering from a serious illness, and at the age of 68, it was a wonderful thing to see him on the main stage, launching into 'Sunshine For Me', his original hit which was memorably covered by Gregory Isaacs. 'Too Experienced', another original, which Barrington Levy eventually successfully covered, came next, before 'My Time,' and the lover's rock diversion of 'Honey.' Then, back to the very powerful freedom song, 'Unchained', as well as other classics such as 'Life', 'Desperate Lover' and the castigating 'Fire Burning' -- one of the original 'fire burn' tunes. For the encore, it was a real treat to see Mr Andy in collaboration with Winston Francis, toaster Dennis Alcapone, and the one Winston Reedy, formerly of the Cimarrons, for the intense repatriation number, 'I've Got to Go Back Home'. Since he's been fighting illness, it may be fair to say that Reggae Geel saw Bob Andy a bit more subdued than usual, in terms of his on-stage movement, but the crowd loved his performance and his highly original songs have lost none of their power. Bob Andy is a true reggae one-off, and it was simply wonderful to have him back.

Then came one of the festival's true highlights: Johnny Osbourne, currently on tour in Europe for the first time in 14 years. Coming out on stage with Rock It Tonight, which he delivered in a dub plate fashion, extended to incorporate his Murderer, it was already clear we were in for a treat: his voice sounded just the same as it did when he recorded the tune some decades earlier, and his phrasing and delivery were non-standard, harnessing spontaneity in our midst. What A La La came next and everyone was singing along, then his version of Pretty Blue Eyes, on the Tune In rhythm, was once again in sound system territory, since Johnny aimed it at the head of Little Sound Bwoy. Can't Leave Jah was a playful take on the 'Solomon' rhythm, but then, a very emotive moment came as Purify Your Heart rang out, with We The People providing an excellent backing to this spine-tingling tune. Folly Ranking sounded totally spot-on as well, with trumpet and sax breaks spicing things up, as well as choral backing vocals. No Icre Cream Love got a wheel, and then morphed into the excellent Give A Little Love, before the unexpected version of Earth Wind and Fire's Reasons, delivered on the Unmetered Taxi rhythm. After that, wham! Here comes 'Sleng Teng,' this time for Buddy Bye, which was given a wheel and then counted back in, in military fashion. Great! A shift of style gave us more chilling moments with the devotional Jah Promise, on which Mr Osbourne showed off his broad vocal range and command of timing, while the closer was a hard cut of 'Real Rock', which Johnny harnessed for The Chopper, roping in lines from 'No Ice Cream Sound' as well. For my money, Johnny Osbourne was the real star of Reggae Geel 2012...as far as I'm concerned, on the main stage, which saw plenty of talent on the Saturday, he really stole the show. Go there Johnny!

Then, after a brief interlude of Mission Impossible from the band, on came John Holt with a mellow Love I Can Feel. Stealing Stealing sounded fully on-form, as did Stranger In Love, Stick By Me and Sweetie Come Brush Me, perfect sounds for a warm afternoon outdoors. If I Were A Carpenter with its heavy keyboard accompaniment signaled that we were headed towards the cheesy zone and after asking for requests, he hit us with schmaltz: 'I Want You To Want Me' with some bars of 'Let It Be' and 'Help Me Make It Through the Night' were a bit over the top, then thankfully more back on form with the Paragons' 'On The Beach' and 'Police In Helicopter.' For the encore, the inevitable 'Tide Is High' and a great cut of 'Wear You To The Ball.' All in all, Sir John still sounding mighty fine and the backing band added a lot to his ease of performance.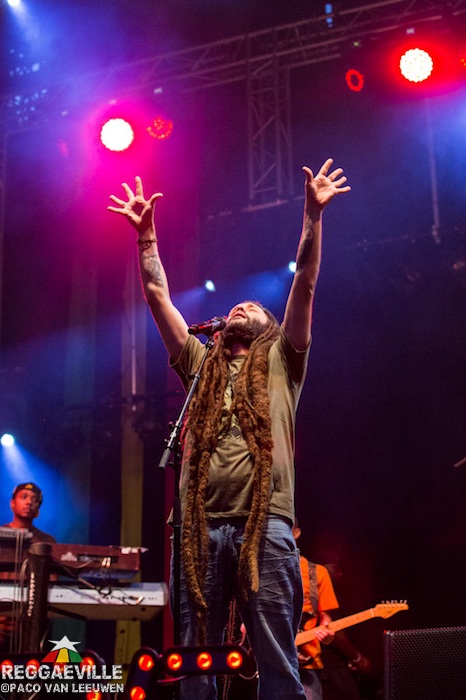 After Bob Andy tried to address the crowd in the Skaville Circus tent on some of the inspirations behind his incredible career, Alborosie came out on the main stage to deliver a fine set of mostly new material -- International Drama sounded particularly fine, and the high quality of his backing musicians was again very evident. Then Mr Vegas delivered a strong set of mostly dancehall hits, such as She's A Ho and Hands In the Air, with a few new renditions of roots reggae classics from his new album, including a fine version of Desmond Dekker's 'Israelites.' I heard the opening action from Tommy Far East's ska selection in Skaville Circus, but was not on hand to witness the closing act on the main stage, West African reggae star Tiken Jah Fakoly. I'm told Tommy Far East and Tiny T were then back in Skaville, thrilling the diehards until the plug was pulled at 4:30am... which no doubt would have been a lot of fun for the youth in attendance.

In all, there was nuff enjoyment at Reggae Geel 2012 and it felt like a real blessing for no rain to be upon us for the entire duration. Hats off as usual to Rigo, Toon, Dee, Pascal, Roel and all the crew for making this year's event so enjoyable; looking forward to seeing what delights they pull out of the bag for 2013.