Best Moments... Bababoom Festival 2019
07/23/2019 by Angus Taylor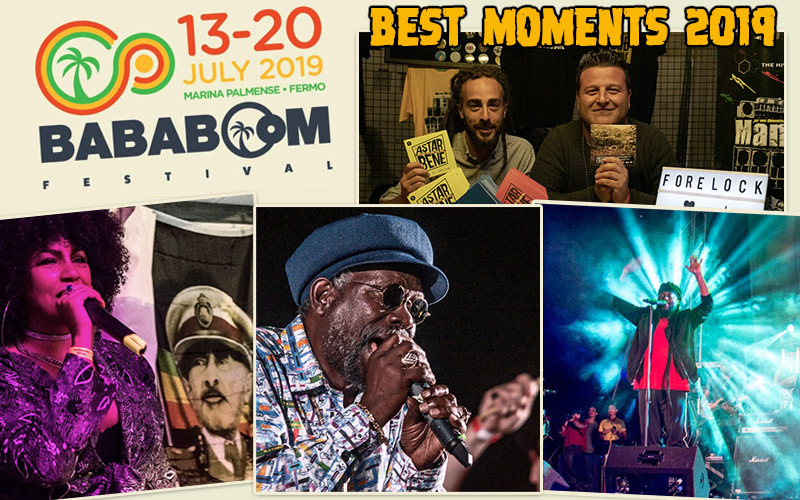 In 1967, harmony group the Jamaicans won the island's annual festival contest, with their rocksteady hit Bababoom. Little did they know that, five decades later, the song would be the name of an equally warm and uplifting reggae festival on a beach near Fermo, in Italy.

What's also remarkable is that Bababoom Festival, the brainchild of a group of Bologna University graduates that grew out of their Labo sound system, has worked tirelessly to build a reggae scene in the Fermo province. Now in its 8th year, the 8-day Bababoom 2019 edition assembled daytime sound system selectors on the Marina Palmense beach, a main stage with live band performances in the evening, and dub and dancehall tents in the early hours.

Bababoom's philosophy is "peace through music" – and a big part of the sense of peace one feels when attending this small, friendly festival, is the tranquil location. The site is flanked by green hills on one side and the lapping sea on the other. There are no multifarious wristbands, arduous queues and constant security presence like at a larger event. The local food and brewery offerings are excellent. There is the vibe that many of the attendees know each other. Bababoom makes a point of giving back to the community: on the Friday a party was held for the Montepacini Farm, a workplace for people with Down Syndrome and various learning difficulties – whose employees performed on the Main Stage.

Due to prior commitments Reggaeville attended the second four days of the festival, missing earlier headliners such as US rap group Onyx and Lion D. But there were still plenty of great musical moments. Sicilian hip hop dancehall crew Shakalab fired up the audience on Wednesday. Salento veteran pioneers Sud Sound System – whose importance in Italian reggae/dancehall cannot be overstated - and UK dub legends Channel One drew huge crowds on the Thursday. French singer Naâman closed his set by jumping into the throng on the Friday. Below are a few more segments that were personal favourites or had a special emotional significance…

FORELOCK AND ARAWAK – MAIN STAGE [WEDNESDAY JULY 17, 2019]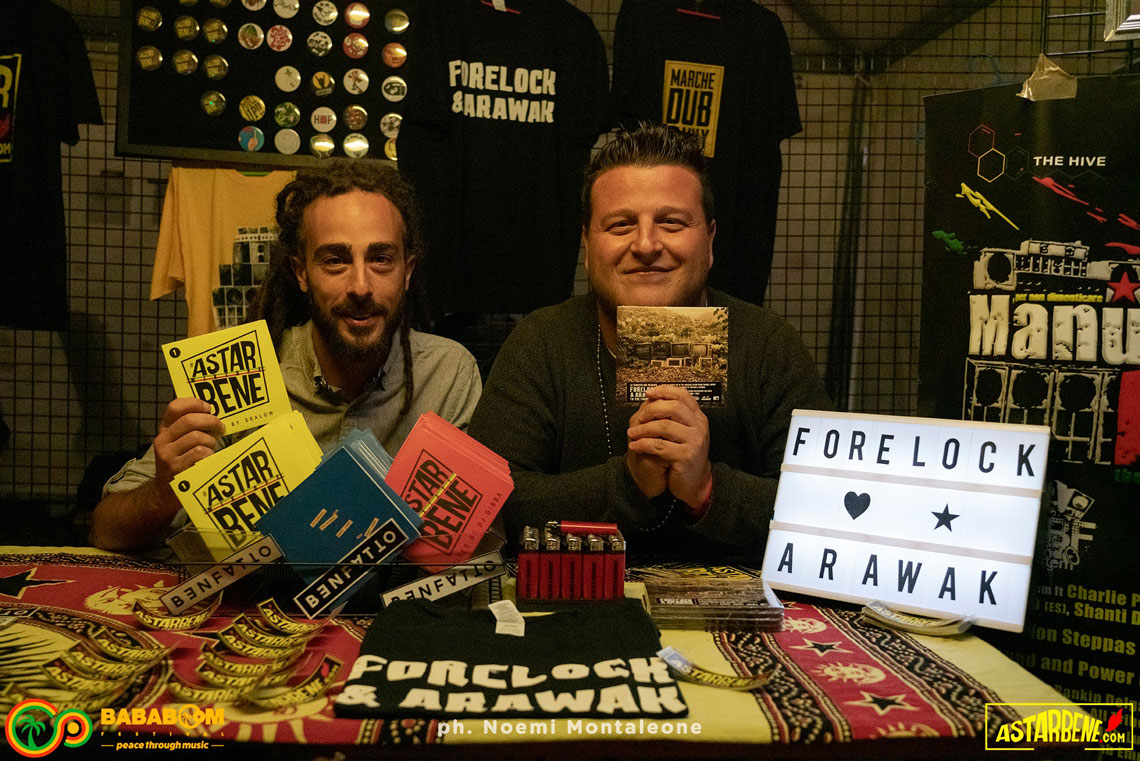 Sardinian singer Alfredo "Forelock" Puglia has always been a naturally gifted performer. It was easy to see his potential watching the Arawak band perform in 2010 Rototom Reggae Contest. Likewise, in 2013, where they had the unenviable task of stepping for last-minute cancelled headliner Don Carlos at Sardinia festival. And in the years since, it seems Forelock and Arawak have become an entertainment machine.

The five-piece band (still featuring Forelock's brother Raffaele on keyboards and harmonies, rhythm guitarist Franco Canu, and drummer Carlo Manca) move effortlessly between roots, rub a dub and dancehall, demonstrating not only study but deep love of the music. Forelock's voice, similar to a calmer Peetah Morgan, is an incredibly soulful instrument (although, like a Tarrus or a Chronixx, he can deejay too). It takes a brave vocalist to release a tribute album to Dennis Brown, as Forelock and Arawak have with last year's To The Foundation. Yet Forelock sang his heart out during Prophet Rides Again, Should I, and Deliverance, in a way that could fail to move only the hardest-minded purist.

The late start at the Main Stage and the on-time start of the tents meant that half-way through, Forelock yielded some of his crowd to Mungo's Hi Fi and Eva Lazarus. What the Sardinians lost in quantity, however, they made up for in quality. The remaining fans showcased the most energetic dancing, cartwheels and hand springs, plus repeated blasts of the foghorn-like contraption of local Italian reggae scene celebrity – Mr Pull Up. Before his set Forelock invited another very soulful voice to the spotlight – Washington's Christos DC, who shared his forthcoming track on the World A Reggae Riddim.

MUNGO'S HI FI FT EVA LAZARUS – DUB AREA [WEDNESDAY JULY 17, 2019]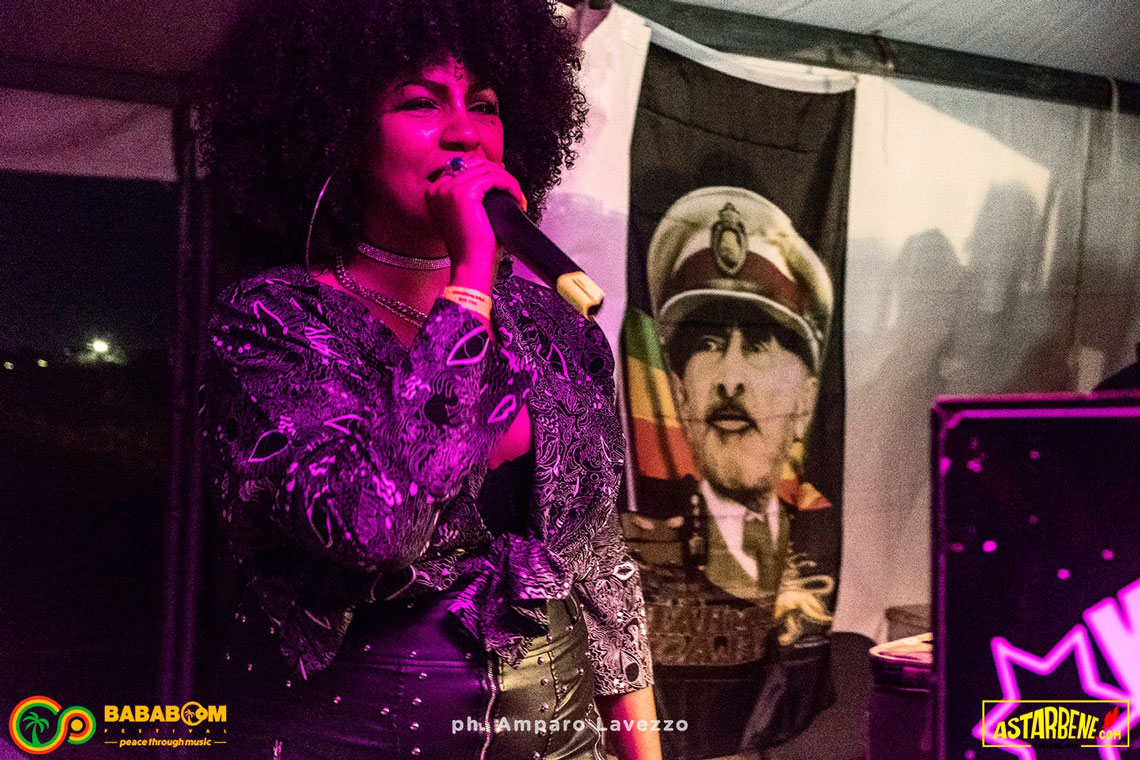 It's rare at a festival of this size to be so torn between two areas that it was necessary to travel back and forth constantly. But after 1am Forelock and Arawak and Mungo's Hi Fi and Eva Lazarus were locked in a pitched battle for supremacy.

Glasgow's Mungo's, represented by founder member and original producer Tom, are poised to release their latest album More Fyah featuring Bristol-based singer and rapper Eva. It's a versatile record and something of a departure even for the very open-minded Mungo's crew. So there was the slight question of whether its mix of hip hop, electro ska and dancehall would go down so well in the Dub tent, powered by the Netherlands forebodingly heavy King Shiloh Sound.

In the end, all quibbles were negated by an exodus from all other areas because the young crowd wanted basslines and lyrical fire. Eva Lazarus was on formidable form, despite a long journey from Bologna earlier that day and a looming early morning flight home. The tent bawled for forwards during the hard dancehall numbers, and - fittingly for the name of the new album - a trio of fire twirlers practised their art just outside.

Traditional roots music made a brief reprise via latest single Babylon Raid, sampling Max Romeo's Three Blind Mice. Eva came in on the drop for her part, and the seamless transition into bass music made perfect sense. "Give it up for Mungo's Hi Fi" she cried as she put down the mic to huge cheers, showing any concerns about the material and venue were misplaced.

JOHNNY OSBOURNE – MAIN STAGE [FRIDAY JULY 19, 2019]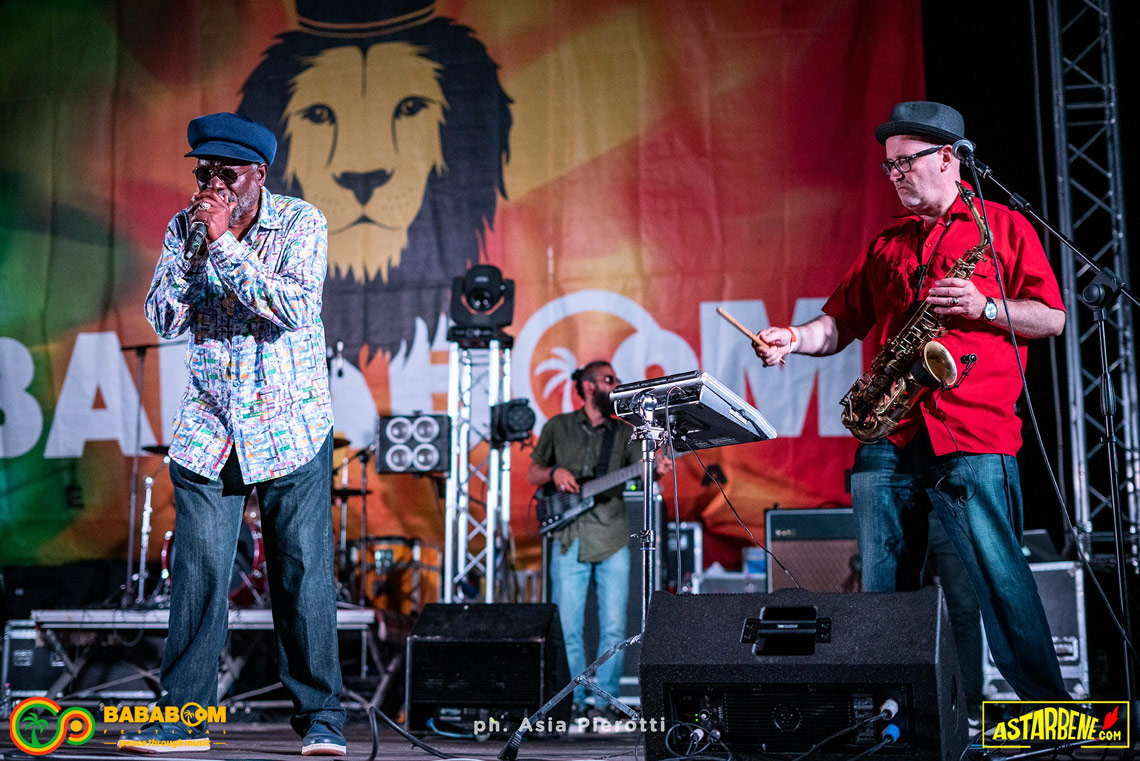 There were many memorable moments on the penultimate night of the festival. The Montepacini Farm staff gave their annual concert. Salento's Rocky and Dangeroots (including original Sud Sound System founder Treble on guitar) notched a victorious performance in the band contest. Parisian singer Naâman loved the Italian crowd so much that he leapt into the front rows to join them. But nothing quite matched Johnny Osbourne snatching triumph from disaster, after a power failure plunged the festival into darkness and silence just as he was about to perform.

For some 40 minutes the people waited – as the festival team worked to reroute the power. Then, as the fans were starting to drift to the campsite, the lights came back on. The Arawak band, featuring the Taxi Gang's Stepper Briard on sax and synth percussion, struck up to welcome Johnny Osbourne, one hour after his set was supposed to have ended. If the ex Alpha Boy was irritated by the delay, he certainly didn't bring it to the stage. His pealing bell of a voice rang out louder and clearer than in recent memory, as he delivered his myriad hits that straddled the roots and dancehall era like no singer before or since. He sang all the favourites: Truths and Rights, Water Pumping, Folly Ranking, Buddy Bye, and an awe inspiring Purify Your Heart that sent a jolt of spiritual electricity through the hearts of everyone present. Arawak were as tight as on the Wednesday, their muscular rhythms rippling, as Stepper blew his horn and fired ricochet shots from his drum.

"Do you know why I'm singing so hard?" asked Johnny after holding notes for extraordinary length during Ice Cream Love, "We had a slight technical difficulty. You waited so long that I'm going to give it to you!" It was not just one of the best moments of the festival, but one of the best moments ever.

MORGAN HERITAGE – MAIN STAGE [SATURDAY JULY 20, 2019]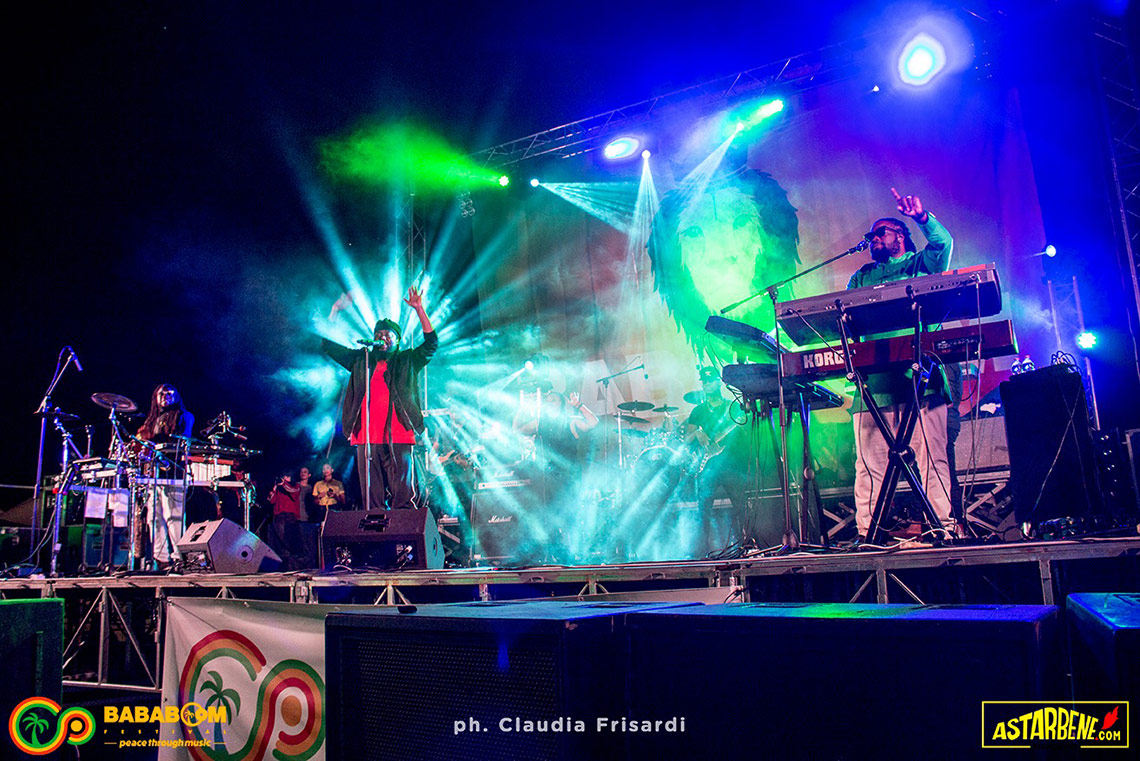 Following the drama of Johnny Osbourne the night before, it was nice to witness a closing headliner who were a safe bet to run smoothly from start to end. Morgan Heritage's stage manager setting everything painstakingly pre-set, was a sign that the Jamaican-American family would give a typically slick and honed experience to the record crowd who had gathered for the final date. Opening for Peetah, Gramps and Mojo Morgan was Mojo's son Esh. Packing only an acoustic guitar, it was immediately apparent from the way he addressed the audience that he has that savvy Morgan confidence. He sang his own Day By Day and a cover of Ed Sheeran's A Team, where his expressive voice imbued Sheeran's slightly twee lyrics with extra meaning.

Morgan Heritage are to roots reggae what Van Halen are to rock. If you buy into the theatrics and everything turned up to eleven, it's joyous. Gramps' deep bass baritone and Peetah's citric tenor cut through crunchy, divebombing guitars, fluorescent synths and furious drums. Embellishments aside, the Morgans stuck mainly to the rootsier end of their considerable catalogue – sharing the Grammy-winning Strictly Roots, and time-honoured hits Liberation, Don't Haffi Dread, Nothing To Smile About and Down By The River (which finally yielded an actual wheel to Mr Pull Up). Gramps' son Jemere came on to sing their combo Try Jah Love, and Troddin', the single from his new album Self Confidence (enduring some affectionately embarrassing dad banter in the process!)

Then it was time for the senior Morgans to preview their own new material. "We have a new album and it's called Loyalty – are you ready for some new music?" asked Peetah. They shared fresh songs Beach And Country and the World Is Yours – both of which gave Mr Mojo plenty of space to showcase his rapping skills. As soon as the group finished they were gone – on the way to Switzerland for the Reeds Festival.

Those that found Morgan Heritage's brand of roots music too progressive were likely to be at King Shiloh's dub area afterwards. Meanwhile in the dancehall, the Italian sound system scene couldn't have had a better exhibition than a friendly clash between Sicily Rebellious, and Puglia's Shanty Crew and Pushman. In particular, Pushman's box of specials, pairing top bashment deejays with Studio 1 rhythms, showed extraordinary creativity. As music gave way to peace in this tranquil seaside town, it was sad to see it end.