Johnny Clarke Interview - From The 80s to Today (Part III)
03/25/2018 by Angus Taylor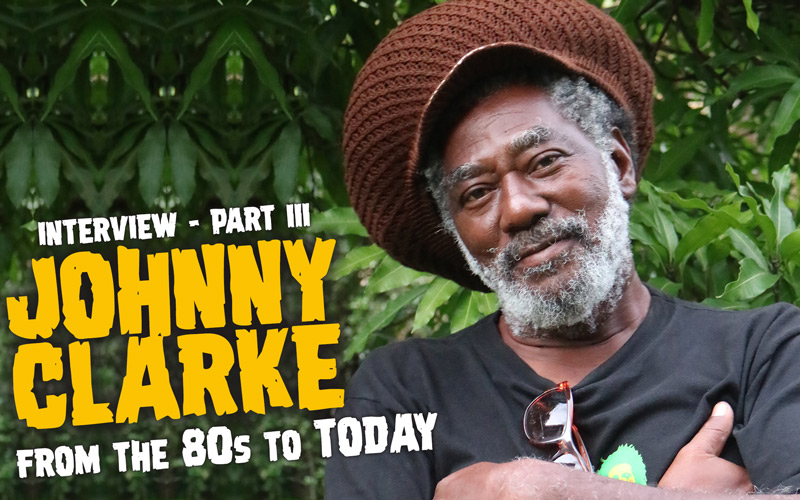 In the final part of our exclusive interview with Johnny Clarke, he tells his story from the 1980s until today. He explains why he left Bunny Lee and Virgin Records, and how his self-production Babylon ended up being released by Jah Shaka in England. Ahead of his April 1st performance at the London International Ska Festival, he explains his main income these days is from concerts, singing back his many hits…
How did you decide to start your own label?
I started my own label from long. You hear a song named Fancy Make Up? A label named Barbell label. That's Robert Shakespeare. Because me and Robert Shakespeare first toured and went to England, you know? We were going to appear in a club named the Apollo in Willesden. I'll tell you that was the first time I ever walked on top of people's heads! To go on stage! It was the first time Robbie was going abroad on tour. It was him and Johnny Clarke.
It was a little place but the club was so packed up that when I reached there and reached the door I couldn't pass through the crowd. And some man just lifted me up. The man was strong and he just lifted me up onto people's heads so that they could carry me because I couldn't walk through the crowd! Yeah! Believe me! And they dropped me off right on the stage.
A memorable experience!
In those days I used to sing for Chinna because Chinna was like family. An Elvis Presley song where I did (sings) "Every time I hear you're still not certain" for Chinna Smith. And then I used to sing for Robbie. I sang a song for Robbie named (sings) "Take my hand I'm a stranger but I love you" and then a next one named "Ju Ju Wa Wa" and the next one again named (sings) "Don't watch those pretty dress" on Barbell label. I eventually made a song named African People. So when I sang for them, in return when I had a session they would come and play for me. Because we would work for one another. You understand?
How I got to do all those productions was when I came back from England I'd usually get some sterling money. JoJo at the Channel One studio, if I would come and change out my money with him he'd usually give you studio time free. So I capitalised on that and I carried people like Roots Radics and so we did a song like Every Knee Shall Bow with U Roy and we did one or two tunes like African People and the same Babylon and Sweet Reggae Music. And even Firehouse Crew when they were youths I would bring them. The first experience was a tune named Rosie in that time they were young and I had to tell them how to play. I had to arrange it with my mouth. And they would listen to what my mouth said and play. Round by Tubbys.
So really and truly with all my experience I did all of those productions and they were my personal thing. And even with Tubbys I would get time because I'd sing tunes for Tubbys too so you would get time. Now studio time is important but if you do something for a person they can in return give you a bly. It's like with Bunny Lee when he used to work for Duke Reid and Duke gave him a bly and let him use the studio. So with me and JoJo who owned Channel One, when I would come from England he would want some pounds so instead of me carrying it and going to certain other places I would carry it to him. He gave me a rate and on top of that he would give me free studio time so I could work in the studio.
If he's going to give you a bly like five hours free, wow, that's actually half a day - you'd better have some tunes to work on and capitalise on that. And then I could get the musicians and I didn't have to pay them because we all worked with one another and I'd sing a tune for them as well. So Chinna would come and play for me. Because I would sing tunes for Chinna and Chinna would not really have anything to give me. Like give me a money. Even now I still sing tunes for him same way. Even now we have a tune with him, a herb tune about weed, Babylon A Follow which he has right now. If a man will come and work for me and I don't have to pay him, it's because in return I can do something for you also. That's how the thing goes still. So that's how I came in with the production part.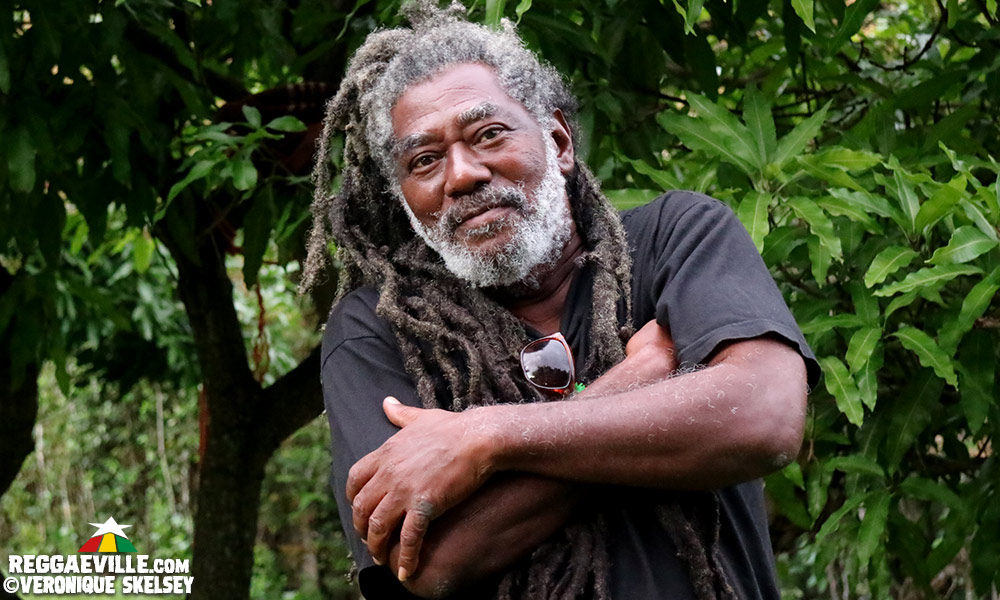 How did you come up with the label name Hit Machine?
First I had a label after my tribe name Naphtali. Because through the 12 Tribes we have Naphtali the first month of the year so I decided to use that. With the Hit Machine thing, they have a series of shows out here that they call Heineken Star Time and when they advertised me they used to call me the Hit Machine. So I just decided to come with that label. The Hit Machine. And it is true because there were a lot of hits. And the reason for the hits was because I stuck with my tempo because I would create the change in the upbeat. So we capitalised on it with other songs. Left With A Broken Heart, True Believer In Love, None Shall Escape The Judgement, the same Gun Court one we were talking about. So there wasn't the room space for any other artists really. Because I left and then after that they went back to the one drop.
But they kind of did decide to change the tempo a bit. It really a good thing because in those days the people did welcome changes. If you're too much on the one thing, anybody can come with something fresh then they will grab onto it. And you might be the lucky one. The people were waiting for that change. Who is going to step up to the plate? A young man like I, a breath of fresh air, to arrive on the scene. I mean there are certain shows that like Heineken Star Time where not every artist is qualified to be on that show. Because if you don't sing a certain amount of hits you're not going to end up on that show. Those people choose artists to demonstrate class, to have a catalogue of songs.
Even on tour if you don't have a catalogue that you can sing for one hour or an hour and a half the promoter might not be interested. It's not like here in Jamaica where they have like 20, 30 or 40 acts and you can just go and sing for 15 minutes and then it's somebody else. So you can be there for an hour and after you leave the people say they want more and you can still come with the next half an hour. So that is all because of what we had done in the past. Hits.
And give thanks for this moment because I can express myself and tell you the real thing. Because I try my best to keep it real and truthful. And if you go to other people and talk it who know it they going to tell you what I'm going to tell you.
Why did you stop recording for Bunny Lee and start to work other producers in the 80s?
What really happened with Bunny Lee and the vibes with Virgin was they created a thing and mashed up that. We had a nice thing going with Virgin but he went to them and took it back because they had some flaring up between them. So all of the royalties, the money that was being sent with each album, they wanted to stop that so we went right back to square one. So I had to go and scout again. There was a halt because of confusion between the producer and the distributor. They had differences. And the producer decided that he didn't decide to continue. I don't know why - some reason I can't speculate.
And I had to look it because I am a human being and a grown-up and I have a family and I have kids and a place and I have bills. Because Jamaica is a place where you have to pay bills. I had a place. I'm not like a man on the street who can just go saying "I beg you, I beg you". I was a man who had responsibilities and each month bills would come around. When you'd see the postman sometimes it could be the PRS but sometimes it's bills you have to go pay. So I had to do things for other people like the Mad Professor and Fashion Records, Dub Vendor John and them and a couple of other people. Plus I was doing my own thing too - my own recording. So I had to scout because as I said nothing was happening here.
You were doing more things in England?
Yeah. Because survival is the thing and we were here and I'd gone so far already and nothing was going on on his side. Bunny Lee was not really doing anything. So when Virgin came on board and decided to link up that's when something started happening. But maybe the thing flowed too sweet and the man just went in there and stopped the thing. I don't know the reason why but it worked out bad for me because each time money was coming in and that's how I could manage to do my thing.
So in the first part it still worked out because I could get a roof but remember getting a roof you have to maintain - it's like having a car not maintaining it. I mean if you have your house and it's in darkness or no water? You have it there but it's still shabby. So I had to still try to keep those things up. And he was doing his thing but when the time comes when you're really in need I had to go and find someone who's going to pay me. Bunny Lee never paid me because he would get Virgin to fill that gap.
Alright I'll tell you the truth now… I love these people because you know what these people did? The other person that he took it to put all the money into his hands and he could determine whether he was going to give me whatever. But these people at Virgin they decided to split it so they sent mine to me and his to him so everybody will get and it won't go into his hand alone.
That's how it goes my brethren. That's what we went through because give thanks we are still here and we give thanks to the good people them. Because you must recognise the people who are good, don't be stupid when you're moving and know them too. And I'll tell you Virgin were good people. And the good thing again about it, when the CD was invented they took the two albums and put it on a CD. I think I was the first person to come on a CD in 1991 when Virgin put out Authorised Rockers because they released two albums with me - one was Rockers Time Now and I think the other one was called Authorised Version because the CD could take more tracks so they just combined the two albums in one CD. That was like a next fresh release.
And the man says the quality of the record is better and more solid but on the productive side of it and benefit we were getting ripped off with the records. Because the pressing plant out here these people out here doing the distribution, they used to press up the thing and we didn't get anything on them alone got the thing. So when the CD came that locked them off. That's why they had to go send them out of business. They can't do that anymore. They were thieves. They would give you nothing. We got nothing from it. So when CD came in it parked them. Put them up on halt. It's stopped up and they had to stop thieving.


Tell me the story about your self-produced track Babylon and how Jah Shaka put it out on his label.
Babylon - that was my production now. I did that song because I had a group named Jah Minstrel. I went to studio and I did two songs for myself, one for a guy named Burley Brown and two songs with a group named Jah Minstrel. Babylon and a song called Sweet Reggae Music. In those days Shaka was a sound where when I'd do a song I'd usually take up the whole 2 inch tape to be mixed, in England. So we bleeched in a place called Saint Peters Square in London where Island records had a studio. And we usually used that studio to mix - that's why he had so many different mixes and he would mash up sound system when he had that. He could play a lot of pieces of Babylon. When we mixed I took the 2 inch tape up there and he had an engineer and we worked all through the night. We were finishing work when the ladies were coming to clean up in the morning so we'd have to leave now! Because England is a raving place you know? When we are in England we don't sleep you know? Most times we are working.
That's why Mad Professor, I like his vibes. When you're in England at the studio it's his studio so you don't have to worry yourself about studio time. You just go there and most of those songs, it's me playing piano. I played half of the instruments because you're just free. You just spend the night in the studio and just have food and weed with Mad Professor. The same thing we'd do usually do with Shaka because Shaka is a man who knows the brethren and it's him who carried it down there. When he does this thing he has to mix thing different. So he'd want to mix with raw drum and bass, with pure bass and drum upon the rhythm. He'd want a next one with Akete you know? (Laughs) So the engineer would mix down.
Babylon was a song Shaka was playing up a lot. That's why it's him playing it in the Babylon film when Brinsley Forde comes in. Because a company named Chrysalis did the soundtrack and they released it as well. But Shaka did good things still because he linked me up with a woman name Nicky who is my booking agent. And he made me get to do this festival named the Essential Festival in Brighton over in England. So it still worked out with two plusses.
Because Shaka is a man who will give you things but he's not a man where you can go and he'll give you a lot of money. Promotion is good too because people used to complain about how he'd never usually want to release the songs – he'd just keep them to play on his sound. Just like how Tubbys used to do because when he'd release it, it wouldn't be so strong on the sound any more. He'd want to keep it as pre-release every time because it's not commercially out there playing around and other people can play it. Soundmen like to play tunes that are for him alone. If you come in the dance and go in the yard you want to hear tunes but you never heard play anywhere else. And you wouldn't get that.
There are no more pre-release or no special types of songs that a man is going to come to hear now. Like most of the songs you hear - you will hear upon the radio also. So you come in there and everything is regular like commercial, not like years ago when a man would come in the dance and carry his tape because when he'd go home and leave the dance he'd have to come back to the next dance to hear those tunes there. So that time was so important and different.
It was a different experience with Shaka man. You're there and you'd keep active. You're not just there sitting down doing nothing. You'd have some kind of studio to go. Yeah we love that. Yeah man, good vibes right through the night and then when you're done you can sleep and wake up again.
So that's how we were able to create it so the movie people would get attracted and get involved and want him to play that song. The movie even became the name of the song. And then Shaka is in the movie also playing it. I wasn't in the movie because I wasn't there at the time. But the song was and I did get some kind of money from the company that was doing the soundtrack. Each time I go they always give me some royalties. Sometimes that can help because living in Jamaica you're not growing up with any foreign currency. So you drop out there and you realise some people have royalties and you have some pounds that you can move around.

What are you working on at the moment?
Well, at the moment, I mostly just work on live performance. Most of those concerts, whether clubs or festivals. Because the songs are already made and done in the early 70s that they are saying are the good old days. The roots. They say it's never going to die. I remember I was doing some video down by Half Moon in Montego Bay and I met a brethren named David Rodigan. He was there and I had a new album by the name of Rock With Me. And you know David Rodigan is a top radioman from the BBC, Capital radio and so on, but we're friends so whenever we meet we have a good vibe you know?
So I had that CD there and I handed it to him as a compliment so that he can play it as a radio man and he took it and he said to me "Johnny Clarke, you don't have to sing a next note because all those songs that you did already - it still stands out". So you know, I always remember that. But that's just to show that I'm still active. Because I do have a CD now that's the latest one called Jamaica 50 Sing, Then Dub Them. I made it when there was the Jamaica 50th anniversary of independence when there was the difference between the Union Jack and the Black Gold and Green of independence. So 50 years after that they wanted to know what am I doing?
So I made that album to show that I'm still in action. I'm still working in the studio. If you get it you'll notice after each track there is a version mix. Because in my time when you turned over you usually had the B-side the flipside was like the version, the dub. I put it all and laid it on one CD - sing, dub, sing, dub. On my own label Hit Machine. My production, yeah. If you go on iTunes and you want to support me, you can find Johnny Clarke Jamaica 50 Sing, Then Dub Them. And if you want the album itself it's at Derrick Harriott and it is at Music Mart.
When you perform - how do you choose which of your many songs to sing?
Well, it depends on the area. Because the other day I was in Brazil and when I go to places like Italy and Brazil sometimes they send to me a show list and I find out that it works. Even when I go to California I find out that it works well because they are the ones that know what they like and Johnny Clarke sang so many songs - and most of those songs are not songs that you would sing here in Jamaica on a show. Yhey have some songs that you would figure as just an album track. Not a song for a 7 inch. But those are their favourites.
But if I'm here in Jamaica I normally find the right songs that the people would want to hear because these are songs that people have been listening from the days of the vinyl records. And to them it's like a revival because they know them, they played them all along at home and now they are live and direct, you just have to know the songs that the people would want to hear. Some of their favourites are also some of my favourites. So the connection is sensitive because the sensitivity is important to the audience. And I find I always come over great, with that selection, good choices.
You've talked a bit about England. You're performing at the London International Ska Festival this Easter.
Yeah. Nicky is my real agent there. So she told me about it that I'm doing all of that. And then I'll be back here and then maybe in June or July onwards I will be doing other things in Europe. As soon as I drop in I will be very much adjusted and know what to do with whichever musicians. One thing with the musicians is they know to do their homework because every time when I arrive in England they have their thing well sat. All I need to do is just run it down and that's how it always goes. So I don't expect any different this time around.
So we are here waiting and that is on the 1st of April! Yeah man because it's going to be great to and I really welcome it. I have heard of it and I've seen other people on it and I hoped that I will find my way there too and it eventually happened. So time is the master and there is no need to rush.
Ska music is up-tempo and as you said the kind of reggae that you broke out with is up-tempo.
Yeah! (Laughs) It's true really. Love that. It's too nice and let me tell you I'm ready for it. Because really and truly, a place that I really respect is England. England really is my place. It's like when they say "Your mother and father forsake you, father will take you". Enough times when nothing has been going on and we're leaving the publishing thing and the songwriting thing there, sometimes nothing is there and then sometimes out of the blue something just appears and something is coming into good time you know? Well you can go and sort out something and say "Bwoy!"
You've kept on recording the UK over the years. You mentioned Shaka, Mad Professor and then a bit later you did Soothsayers and even Mungo's Hi Fi in Scotland where you did something for Record Store Day.
Yeah Bad Boys! And yeah man good brethren, Mungo's in Scotland. And don't forget you have a guy named Jerry Dammers. He has some stuff there because he is a professional you know? He has his studio and he works and he is very knowledgeable and he does his thing professional. Yeah we work with Jerry and we put on harmonies and he believes in me. I respect him and he respects me too. And I love that, so through that now I feel like he's someone to deal with proper. Solid.
You have a couple of other people who every now and again they might send through email you have people who send things from abroad and we sort it out for them. It was like they were here! So we take care of them so much that they don't have to be right beside us. You can trust we. A man will send his money through Western Union and you have some people who rip off and take peoples things but we will do the proper thing and we send back the man's thing and everybody is happy. Yes! We leave no red marks in your name. Bad vibes mash up for the future. I don't care how much food you eat today, tomorrow you're going to be hungry again. Tomorrow you're going to need more food.
So you have to live for the future and no matter what we do today won't be the last day. Every man wants to see tomorrow. Because the Father says if you just do your thing he'll make you wait your turn. He knows when. We don't fight. He runs the thing. So we don't jump the line. Because maybe milk and honey is on the other side. Who can tell? But don't rush it wait and you go and get your milk and honey.
Because I don't know any man who is here for the last 500 years. All of those people are not around. So None Shall Escape The Judgement. Everybody has to face it. You will get that experience. I would love it if we could live for 300 years but boy that's not going to work out. So just leave it to Jah Jah. What we have to do is try to live the right and proper way and try to keep healthy. But no matter how much health food you eat how you keep yourself there is going to come a time when, boy, it's the departure lounge, you know what I mean? You tried to do everything to keep healthy, no meat, no fish, no salt, exercise every day, but age? Boy.
So that's why we go on and do our works. That's why the works are important. So don't waste, don't loaf around, do your work because we don't have a whole heap of time to loaf around. The time that we have is for work to do it for the people. Who love you and respect you. The fans. That's who we are there for. That's why we don't run competition and do better than who? We have to do what we do.

PHOTOS BY VERONIQUE SKELSEY