RIP John Holt - October 19th 2014
10/20/2014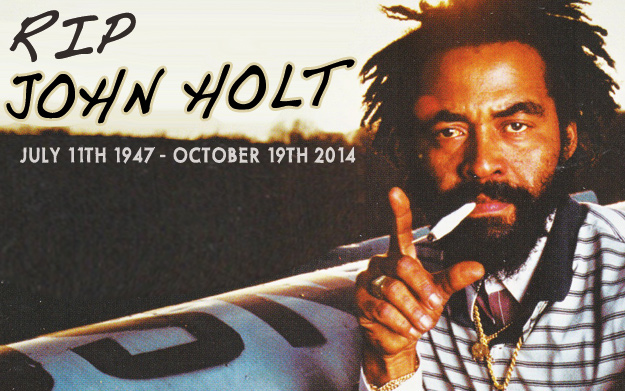 Veteran Reggae singer John Holt is dead! He passed away in a London hospital on sunday October 19th.

Copeland Forbes, who managed John Holt since 2006, confirmed the passing to the Jamaica Observer.


On August 16th, Holt collapsed onstage during his performance at the One Love Festival in the UK. Three weeks later the news of his death went viral, but were denied by road manager Teddy Davis: "He is 100 per cent fine. He had his operation and is now at home recovering." [Jamaica Gleaner - September 10th 2014]
Today all social media networks are filled with condolences & tributes to one of the biggest Reggae voices ever:

TARRUS RILEY via Facebook
100.000 Volts of Holt. Sir John Holt...Never Ever will u be forgotten!

SHAGGY via Facebook
WE HAVE LOST A LEGEND!!! RIP JOHN HOLT! Very instrumental part of our reggae history! You'll be missed ... Thank you for the legacy and the great music. The 1st number one reggae billboard hit was "tide is high" by blondie .. Written by John holt!

DAVID RODIGAN via Facebook
RIP John Holt. Was one of the greatest voices ever in Jamaican music and his sad passing will be mourned by his devout fans worldwide. John's brave battle against ill health has ended but he leaves us a wealth of truly magnificent recordings.

JOHN MASOURI via Facebook
It was so sad to hear of Sir John Holt's passing this morning. I met him a few times over the years but watching him perform with a full size orchestra was an unforgettable experience and a genuine milestone for reggae music at the time. May his songs live long in the memory, and heartfelt condolences to all of his family and friends.

IN THE PRESS
Veteran singer John Holt is dead [Jamaica Observer]
Reggae Legend John Holt Dead at 69 [RollingStone.com]
Tide is High writer and singer John Holt dies at 69 [BBC]
Veteran reggae singer John Holt dies aged 69 [The Guardian]
John Holt Dead: Former Lead Singer Of The Paragons Dies In Hospital [Huffington Post]
Reggae performer and 'The Tide Is High' writer John Holt dies [NME]
Reggae singer John Holt dies at 69 [Hollywood.com]


On august 9th this year, John Holt performed at the Reggae Sundance Festival backed by the Royal Philharmonic Concert Orchestra. Watch a clip here: