Bob Marley @ Riddim Magazine #77
12/18/2014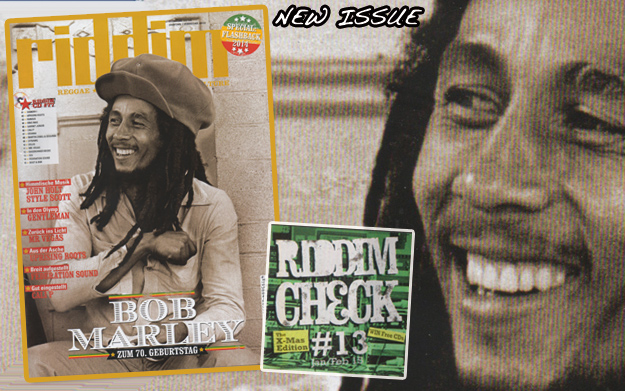 Bob Marley's 70th birthday is in February 2015 and for the first time Riddim magazine puts him on the cover of their regular issue. Back in 2009 a special issue was livicated to Marley - 100% Bob Marley.


For the 70th birthday a selection of authors including Vivien Goldman, Louis Chude-Sokei, John Masouri and Dutty Bookman shared their thoughts, headlined Memories & Bob Marley Incorperated, in a 8-page feature.



Also featured in this edition:
Gentleman
Mr.Vegas
John Holt
Style Scott
Uprising Roots
Cali P
Federation Sound
Tiwony
Garnet Junior
King Mas and more...

If you can't get RIDDIM at your favourite press store in Germany, Austria or Switzerland, you can order it online here.


The new Riddim Check is now available as download: