Review
EP Review: Jo Mersa Marley - Eternal
05/19/2021
by Gardy Stein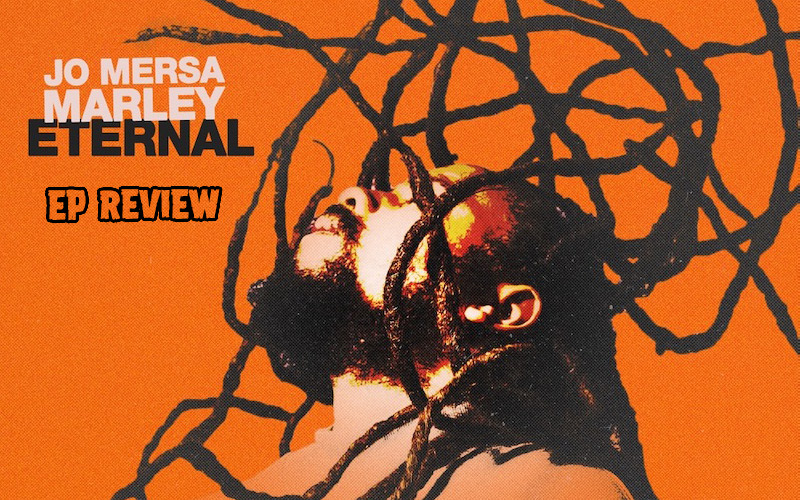 Eternal is not only the music of the great Bob Marley, but also the title of the sophomore EP of his grandson Jo Mersa Marley, who thus continues the legacy in the third generation. Surrounded by Reggae from birth, the eldest son of Stephen Marley had a thorough musical training both in studio and on stage. While evolving into the artist he is today, Jo Mersa was coached and advised not only by his father, who is a phenomenal singer and producer, but by the cumulated expertise of his uncles Damian, Julian and Ziggy as well.
It comes as no surprise, then, that Jo Mersa's new EP is released on the family's Ghetto Youths International, a prestigious label founded by above-mentioned brothers which houses both the Marleys themselves and other Reggae legends such as Third World.
Time to dive deeper into the new oeuvre. Before we take a look at the individual songs, I'd like to draw your attention to the numerology involved. Eternal is released seven years after Jo Mersa's debut Comfortable (2014), the title has seven letters and there are seven tracks on the EP. Three times seven makes 21, the exact publishing date. Intentional or not, the connection to the highly spiritual number 7 is there, a number that is described as "analytical, inquisitive, perfection-seeking, often critical. It asks why and travels within to find out." (source: Sheelaa.com). And this, in fact, is a perfect description of Jo Mersa's music.
The journey starts with Guess Who's Coming Home, a rootical track produced by the artist himself and long-standing friend and colleague Llamar "Riff Raff" Brown. With lyrical force and a Jamrock-like delivery, Jo Mersa rides the powerful riddim, announcing his return home after having fulfilled his mission. "Return a di Natty Dread is like I neva lef, badmind straighten out di speech dem weh dem neva mek, cah two wrong nah make a right and so me make a left, fire ever scorching whenever di Natty step!"
On a whole different level, Yo Dawg reflects the artist's affinity to bass-heavy Dancehall vibes. Producer Jazzwad has created the perfect playground for him and featured artist (*drumroll*) Busy Signal to tell the world how "di ting set", giving us an insight into their day-to-day lives. The track is peppered with little sonic surprises that reward those who listen keenly, from multi-layered choruses to Busy's trademark 'brrrrs' and 'bzzzzs' and a ringing phone.
The only other strictly Dancehall track on the release is Thinking. Riff Raff obviously experimented with some old-school styles for this one, computer drums and sirens and all. The result is a fast-paced riddim on which Jo Mersa lets out the "bedroom king-pin" - I count at least six ladies that are desperate to get a piece of the singer.
For the first time on bord is the Costa Rican producer Sebastien Del Gallego aka Bombocat (as well as Silent Addy and Disco Neil). His home waters are Reggaeton, Moombathon, Dancehall and Trap, all of which influence the driving track Company. The deft juggling of the double meaning of the word throughout the track, including related terms such as 'LLC' and '9-to-5', make for an entertaining piece, especially since Jo Mersa invited Bronx-based singer Melii who adds some spice.
The second tune outta Bombocat's feather is the inspiring Made It, featuring none less than "the lyrical deity" Kabaka Pyramid. If you like the track, wait till you see the video (shot by Drefilms) - watching the two artists ride a slick wide convertible and pose infront of a villa will convince you that it's worth sticking to your dreams! "Tell dem that they need to find a replacement, I pack my things up and moved out of the basement, since I made it!"
Last but by no means least feature is Black-Am-I, a label-mate to Jo Mersa on Ghetto Youths Intl. Together they let us know that "none shall escape the judgement" of the Most High, and embedded in a beautiful, brass-driven Roots track, the words really stick.
Final entry is That Dream, and daaaamn did I fall in love with that tune! It's perfection on so many levels, from the immaculate production by Cedella's son Soul Marley (chapeau!) via the important message included to the grand vocal performance of Jo Mersa, who not only flows like a surfer on the waves so potently provided by his cousin, but also sings the melodic chorus smoothly and on point.
With Eternal, this young Marley has created a musical monument that establishes him as an independent, creative individual full of determination and talent - one to watch fi sure!

---
Release details
Jo Mersa Marley - Eternal EP
DIGITAL RELEASE [Ghetto Youths International]
Release date: 05/21/2021
Tracks
01. Guess Who's Coming Home
02. Yo Dawg feat. Busy Signal
03. Company feat. Melii
04. Made It feat. Kabaka Pyramid
05. No Way Out feat. Black-Am-I
06. Thinking
07. That Dream
Featured artists
Busy Signal
/
Kabaka Pyramid
/
Black-Am-I