Review
Album Review: The Skints - Swimming Lessons
05/17/2019
by Gardy Stein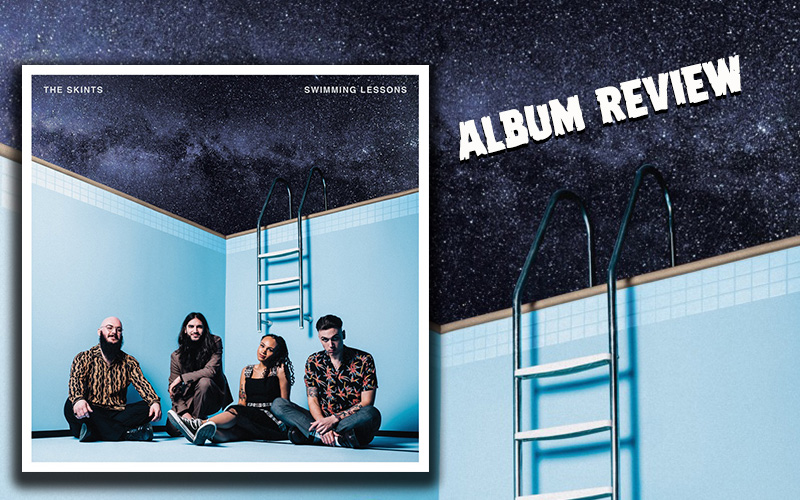 "In the 4 years since our last album, 'FM', the band has toured globally non-stop. The creative hunger in us has been building up so much (...)" (Josh Waters Rudge, The Skints)

Has it really been 4 years since FM? It seems like yesterday that the infectious sounds of The Forest For The Trees, This Town or Tomorrow have enchanted us, and the band's many live shows have hardly allowed for any feeling of deprivation. Still, we are more than excited that The Skints are finally blessing our ears with new material!

Their album Swimming Lessons comes in MP3, CD and a beautiful blue vinyl edition, and apart from working with their former release partner Easy Star Records, they teamed up with Mr Bongo for the first time, a Brighton based label that's home to the likes of Hollie Cook, Seu Jorge and Prince Fatty.

The Skints feeling is back as soon as the first track Learning To Swim starts to play. Next to their usual bouncy, bubbling sound sweetened up by Marcia Richards' angelic voice, however, the chorus highlights a different side of the band's musical socialisation: Punk Rock! The stark contrast between melodic calm and wacky pogo is graphically captured in the accompanying video that plays in an empty swimming pool, a direct connection to both album title and cover artwork. More powerful rock is heard in The Island, sung by guitarist Josh Waters Rudge whose vivid, saucy voice is a perfect fit, and, with a more indie notion, in What Did I Learn Today?, this time with drummer Jamie Kyriakides on the mic.

His vocal timbre adds another flavour to the album, as warmth and emotion fill New Kind Of Friend, Donkey Brain and Stop Looking Back and make them the counterpole to the overall more up-tempo pieces - most notably Gets On Top. That song instantly throws me into the feel-good-vibe of Sean Paul's Like Glue, despite its serious and relatable lyrics about our "existential dread" and "apocalyptical feelings" because "the world seems a long way from healing". With clever allusions to both Reggae history ("Sometimes I wonder, is it me or the Sensi I'm under?") and drum'n'bass elements, this track is a prime example of The Skint's effortless ability to weave different inputs together to form a whole new creation.

Speaking of... La La La is another of these creative masterpieces (special shout-out to bassie Jon Doyle!), the climax of ingenuity massaging my brain at 2:42. And while I'm A Fool almost sounds like a tribute to the harmonic rock & pop ballads of the 60s, it's Reggae core making it one of my favourites, Oh My Love is so typical Skints it doesn't feel like a new song at all, rather like an old acquaintance.

Acquaintances of a different type are, for me, the biggest surprise of the release: The Skints have managed to win three of the most exciting Jamaican vocalists of our times for three phenomenal features. Thus, Protoje joins the three singers of the band on Restless in their criticism of government and media, the subtlety of which turns more explicit in the exceptional video. Just you read the subtitles of the news and find out about horcruxes, mithril, brexit and a smart reference to The Island ("there's polar bears in Scotland, there's vampires in London, there's dinosaurs across the UK...")!

In Armageddon, not only is Marcia paying hommage to Sister Nancy's I Am A Geddion, but we also encounter a remarkable Runkus who, as is his habit, lends a depth to the anti-materialistic lyrics that only becomes accessible with repeated rounds of listening. Finally, Jesse Royal adds his skills to Jamie's musing about a painful relationship in Love Is The Devil.

The wait was long, but well worth it. Colourful, enigmatic, dazzling and an absolute pleasure to the ear, Swimming Lessons is another high-quality release by The Skints who are rightfully described as "the torchbearers for modern British reggae music" by the Clash magazine. As Marcia says, "(...) we're really trying to push all ends of the spectrum of what The Skints music is and can be." Mission: accomplished!


---
Release details
The Skints - Swimming Lessons
DIGITAL RELEASE / CD [Easy Star Records]
Release date: 05/10/2019
Tracks
01. Learning To Swim
02. Restless feat. Protoje
03. Gets On Top
04. New Kind Of Friendd
05. This Is An Interlude
06. What Did I Learn Today
07. Oh My Love
08. The Island
09. I'm A Fool
10. Armageddon feat. Runkus
11. Donkey Brain
12. La La La
13. Love Is The Devil feat. Jesse Royal
14. Stop Looking Back
Featured artists
Runkus
/
Protoje
/
Jesse Royal