Review
Album Review: Irie Souljah - Immigrant
11/22/2015
by Gardy Stein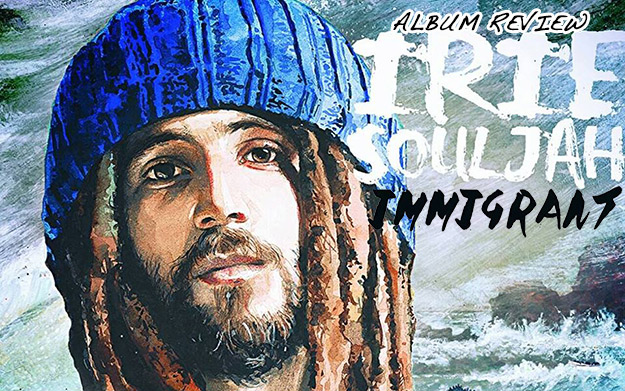 "Who is the immigrant?"

The question raised in the haunting title track of Irie Souljah's debut album Immigrant has been a hot iron in politics worldwide for a long time, culminating in a situation that has been called "refugee crisis" in Europe. A crisis calls for answers, and Irie Souljah is coming up with some very elaborate ones: "Different countries and different lives, but we share the same land."

Josep Jordi Grau Saula has been born and raised in Catalania, Spain, and just recently moved to the island of his dreams – Jamaica. He never felt a stranger there, and maybe that's why he has been received with open arms into its musical universe. That he has an undeniable talent certainly helped as well, and by now, counting on the support of the likes of Cocoa Tea and Chinna Smith, he has firmly established himself as singer and producer in Kingston. As such, he set out to craft his 13-track debut Immigrant, ensuring the participation of Spanish sound-colleague Genís "Genious" Traní as well as a whole array of Jamaica's finest musicians. Apart from Sly & Robbie, Flabba Holt and Robbie Lynn, even the great Style Scott contributed his skills before he was sadly killed in October 2014.

We can thus expect high quality from this release – an expectation that is not disappointed. The success of the single Learn And Grow tells its own tale, accumulating more than 200.000 views within four months on YouTube (WATCH BELOW!) and making it onto the Riddim-Magazine-Compilation-CD #81, but there are other gems worth discovering. First and foremost, the features: with Jesse Royal (Jah Jah Children Rise Up) and Kabaka Pyramid (Inna Di Mood), the Souljah managed to invite two of the most popular lyricists whose valuable input makes these tracks quite extraordinary.

Other highlights of the album are the pensive Far Away and Elevate Your Thoughts, a vocally very well-ridden herb tune on a harmonica-driven, up-tempo riddim. We thus have one for the Ganja, one for the ladies (Inna Di Mood) - what else is missing? Exactly, a Mama-song (Mama Don't Worry) and a track praising H.I.M. (Rastafari). As much as this set-up follows the traditional "recipe" of what to anticipate in a good Reggae album, it lacks a little innovativeness, something that could have easily been achieved with the title topic.

In Guidance and Middle Of The Street, the lyrics once more pick up important social issues; the hard computerized riddim track of the latter, however, disrupts the hitherto organic flow of the album, a break the subsequent three dub versions only partially manage to fix.

With his debut album Immigrant, Irie Souljah is one of the few artists in Reggae who manages to put into focus the important subject of immigration – and hopefully many more will follow. We desperately need people like him who step up and reflect on urgent questions concerning refugees, migrants and their integration in so-called Western countries, and make the answers heard. "The world is there for every one, we must try to live as one!"


---
Release details
Irie Souljah - Immigrant
DIGITAL RELEASE [Nice Time Productions]
Release date: 11/24/2015
Tracks
01. Learn And Grow Intro
02. Who Is The Immigrant
03. Jah Jah Children Rise Up feat. Jesse Royal
04. Elevate Your Thoughts
05. Far Away
06. Inna Di Mood feat. Kabaka Pyramid
07. Rastafari
08. Mama Don't Worry
09. Guidance
10. Middle Of The Streets
11. Learn And Dub
12. Jah Jah Children Dub
13. Rastafari Dub (Melodica Version)
Featured artists
Jesse Royal
/
Kabaka Pyramid