Interview with Jesse Royal
05/29/2014 by Angus Taylor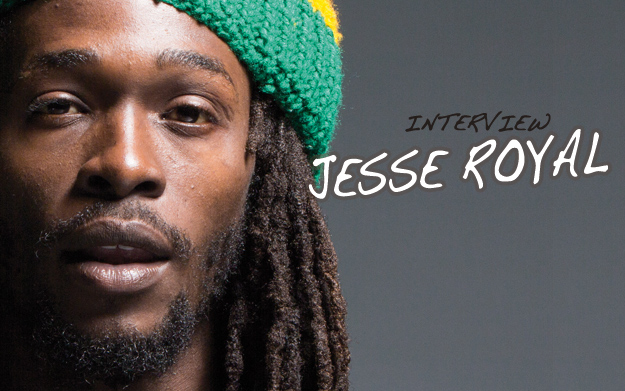 With his dry gritty tone, desert attire and love of rhythms that sample the tough major key early roots reggae era Jesse Royal "the small axe" is something of a chip off the old block. He's released two well received mixtapes – Misheni and In Comes The Small Axe – and big singles like Modern Day Judas (produced by Overstand) and Greedy Babylon (by XTM.Nation).

He's been grouped in the new wave of roots artists dubbed the "reggae revival" – and has followed his fellow revivalists Chronixx and Kabaka Pyramid by touring the UK. Reggaeville caught his debut appearance in London with the Mad Professor, Jah Youth Sound and Finlay Quaye. He was backed by an innovatively minimalist guitar free band comprising the drum and bass duo Unga Barunga and Jason Welsh of Notis productions and Jazzwad on keyboards and sampler. Observing it all from the rear of the stage was Kareem Burrell of XTM.Nation – son of the late Fatis Burrell.

Angus Taylor interviewed Jesse while he, Burrell and the musicians were shopping for Clarks shoes in Camden. They talked about Jesse's early life, musical and spiritual education and the importance of unity in everything he does.

You were born in St James Parish – do you have Maroon ancestry?
I'm from the hills of Maroon Town. Maroon blood runs through I and I veins.


Is there music in your immediate family?
My grandmother was choir director at Sudbury Baptist church. My mother has been a member of her choir forever. So even as a little youth I was always at church on the off days. I was at church on Wednesdays and Thursdays for choir practice so I would learn the songs. So on Sunday even though I wasn't on the choir I would still be in the congregation singing the songs and hitting the notes because at I was at the choir practice learning it the right way.

Why did you move to Kingston in 1997?
My father had to relocate because he got a job working at the telephone company. So we all moved to Kingston to try to keep the family unit together. But as time goes on people's feelings change so mummy and daddy split but we still stayed in Kingston. My father went back to Mo Bay but me my mother and my brother stayed.

How you get into music in Kingston with your friends Daniel Bambata Marley (son of Ziggy) and Curt from Crash Dummy productions?
Well from church business, music was always a part of my life. As we progressed and grew the urge got a little more serious and intense. Your feelings get a bit more defined and you know where you want to go. So me and Daniel used to always to lean up sledge hammers and rakes at the back of the yard and sing Tomorrow People and One Good Spliff and Everyone Wants To Be and some wicked Ziggy Marley & the Melody Makers. Enough of those things were an influence for I and I at a young stage of 10, 11, 12.

DAMIAN WAS LIKE A BIGGER BROTHER TO US

Bob Marley had a series of musical father figures growing up – were the Marley family like family to you?
Yeah man. They were big influences on my life musically, spiritually and livitywise. Uncle Stephen is a great, great influence to me. Uncle Damian is a great, great influence to me – Damian was like the bigger brother to us because he was younger than everybody else but he was still older than us. He was like the big brother we could reason and chat with. Naturally he had a lot of knowledge to input in I and I life which today is more than valuable.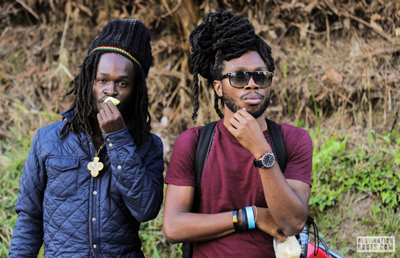 Another uncle figure for you is the guitarist Earl Chinna Smith.
One of the greatest souls to ever walk upon Jah land – musically, spiritually and mentally. Uncle Chinna was such a great influence on my life that I can't even put it in words. He was another man who helped carve out the seriousity of what we do with the music. As a young lad it was lovely for me to have such impressionable elders around me who know and overstand the importance of ensuring there is a message in the music and whatever we do. All I can really say about Earl Chinna Smith is that he is truly one of the greatest individuals that passed through earth because he has been a blessing to so many people in more ways than one - whether it's the reasoning or whether it be the guitar riff that gave them a hit. It's hard for me to put him in words.

But the mentor that people really associate with your career was the late Fatis Burrell – whose son Kareem you are on tour with today.
Me and Reemus used to go to the same high school back in Jamaica. Me, him, Daniel and a couple of other friends. So as time progressed, because Reemus has a musical mind too, we did connect later down on a musical level and we used to bounce ideas and vibe until through the passage of time it developed into something even more refined. I and I kept him close to I and I so I checked for uncle Fatis who was one of the greatest influences in my life too. He was a man who had genuine love for I and I, and taught I and I certain things about the music of music.


What did Fatis teach you?
It's hard to select one thing because the lessons he taught were not really worded. He wouldn't come to you and say "X Y Z" but if you observed you'd notice. Like how you deal with people, how you handle people, how you handle your business, how you relate with people. How to be like water – soft but hard. How to live like a mirror – I am to you what you are to me. A great, great influence on many different levels.

How did Rasta come to you?
I born a Rasta still. It's just how they say "How it take for you to realise this is who you are". Because everybody is who they are and I and I is the offspring of The King, so naturally as time progressed we kind of realised who we are. I and I King of Kings is Emperor Haile Selassie I the First. He is our example of how to live like God on Earth because he is the only man who came perfect. He is the only man who said "Let us love each other". Every other leader came and said "Conquer". Every other leader said "Take". Every other leader said "Rape". But the King of all Kings came and said "Until the colour of a man's skin is of no more significance than the colour of his eyes". I and I was born in a different time but when I saw words like that in that time I said "This is who". So that's why I say it's not like saying "when I find Rasta" it's when you realise what you are.

Like the song you cover says So Long Rastafari Call You.
So Long Rastafari call you. And like I said, when I came to that realisation it was such a drastic change in I and I life. Everything became… it's almost like you get a jolt through your fingertips. Because now for the first time you have a reason to live. There's a purpose to your life. More than just being here. That is Rastafari for I and I.

I DON'T MAKE FAST FOOD MUSIC

You've put out two mixtapes – is that the modern way to get noticed now rather than an album or an EP?
No, for I and I that was just a deliberate thing to whet their taste-buds. Like in a meal you have an appetiser, entrée and then dessert. Some people rush it and don't enjoy their meals but for me, I don't make fast food music. I like to ensure that people have a little time to enjoy it. If you check I and I mixtape it's not really a mixtape – it's some songs and some reasoning. I don't know what you would call it but the world called it a mixtape. For me it was just a little introduction to get them ready for what is to come.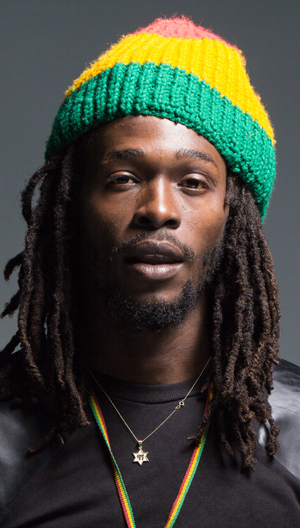 How did you take the name Jesse Royal?
Jesse Royal is my name. Jesse is Hebrew for God's Gift. I was born on my mother's birthday so me and my mother share the same birthday. April 29.

I was born on my mother's birthday also. December 1.
For real? Bumboclaat! A lie! You're the first person I ever met who is like that.

Likewise.
So you see we have a connection – we're both different. So Jesse is God's Gift and my middle name is David – so it is King David and Jesse. My third middle name is actually Leroi and if you know French Leroi means the King. The slave ship name was Gray but I and I don't know who raped and looted my grandmother so my name is Jesse Royal. Gray – I think that is Scottish and I and I is not Scottish. I and I an African.

How about the Small Axe?
The Small Axe is just what I am affectionately called by people. Because they know that we don't really cater for the big trees. We represent the voiceless. We are the voice of the voiceless and the people who need to be heard. So I and I will be willing to put I-self on the line for those people.

When are your first EP and album coming?
It will be coming soon man (laughs). I don't like to let too many cats out of the bag but just get yourselves ready because we have some lovely music we come to push out very soon. Keep your ears open – we have a nice little tune Frenchie just released called Raising Your Voices For Freedom [on the Imperial Crown rhythm] and we have a project we have been working on with Major Lazer and Walshy coming up. So keep your ears cocked and your eyes peeled man.

This is your first time in the UK. How do you compare the vibe in the different cities?
To be honest it's just a lovely feeling all round. Because I and I gets to release there are people all around the world who feel it. I and I won't lie – I was a little bit shocked at first by the response and how much love there was for I and I because I had never come here before and never knew there was so much love. As time progresses you just soak it in and see people over here send love to you and are truly waiting for this. A whole heap of people who need that oil for their revolution. To keep their lamp burning through times like these. I and I is just grateful that I and I can come and put a little oil in their lamp to keep their fire burning and know the table is turning. Once we unite and come together they're going to have to respect us.

You are on tour with Mad Professor – have you reasoned with him at all?
Yeah man. Great, great mind. A knowledge box that. A history box that.

Do you feel like you are part of a movement of reggae music from Jamaica?
Yeah man. It is a conscious movement of conscious people. We come from Jamaica but as I said there are a lot of conscious youth around the world too. People look to we as the fire burner from such time so in that sense we overstand. But in reality Jamaica alone can't do it so it's really about connecting dots with all of the youth round the world who feel like we feel and feel the woes that we feel and really know this thing is real and we can really rule our destiny. It's up to us to be the change that we want to see on a global level. It's not just a Jamaica thing where we just sing music it's about connecting with people to get some real change going on. Rastafari knows that sometimes it hurts my soul to say that the same system Bob Marley came to sing about is the same system that I and I came to sing about today. It's very sad but that's the reality so we must work on that and forward ahead with a vision and a mission.

What's the change you want to see?
We want to see global unity defunct of racism and classism. Breaking down all these walls and systems, getting some of these nepotist people out of power, holding leaders accountable and also holding our generation accountable. Because we can't always look to them. There will come a day when we will be making the decisions so we must get our mentality right so when the day comes when we make the decisions they will reflect that love. Not nepotism or ego or power greedy monkeys. We have to come together as lovers of love and look towards raising the bar. Because you and I know the world is such a great place and there is so much greatness to come out of it. But until we unite it will be a fleeting illusion to be pursued but never attained. (laughs)

Unity is very important in your lyrics and philosophy and reggae is a very unified and integrated music. No one instrument dominates. Every one must play its part.
Yeah man. We have to force it in their forehead. Some people in this world deliberately push their agenda of segregation and divide and conquer. So we have to deliberately push our cause of uniting and standing strong. So whenever I get the chance I am going to make sure I deliberately sow that seed in someone's head. How beautiful unity can be and how much we can really do when we unify.

You are on the recent Living Heart Volume 1 compilation where both Reemus and Fatis Burrell productions come together to continue the legacy of the X-Terminator label through XTM Nation. How did it feel to be part of the story?
It's a great thing. I will do nothing but strengthen Reemus and everything we do together. As I said it is a unified push. Uncle Fatis was too great an influence on my life so Living Heart is uncle Fatis.

SLY AND ROBBIE ARE THE BACKBONE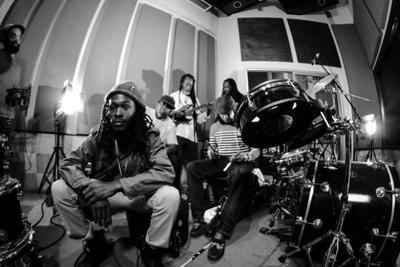 Finally, one of the songs on that compilation is Little Do They Know which is based on Dennis Brown Halfway Up Halfway Down and has Sly and Robbie playing on it. You also reference Sly and Robbie's work with Black Uhuru on the song Hatred is the Obsolete Route.
Yeah man. Because in reality Sly & Robbie are the backbone of this. Musically they have a mission so lyrically I and I must have a mission too. So when we connect the dots it's magic.

Is Dennis Brown a big influence?
Dennis Brown, Daddy U Roy, Brigadier Jerry, Bob, Peter, Curtis Mayfield, Gil Scott Heron. So many beautiful souls who came through earth with a real mission and a real purpose. So to I and I it's important to respect and follow through as a generation. Because they brought it so far now it is up to us to take up that baton for some other youths after us to come forward and carry it further a little bit more. At the end of the day it's one goal, one love, one destiny – unity. How long are we to fight before we realise we should unite? The only way we can start working on solutions is if we come together collectively and start using our brains for progress and not for digress.