Review
Album Review: Jemere Morgan - Self Confidence
05/18/2019
by Gardy Stein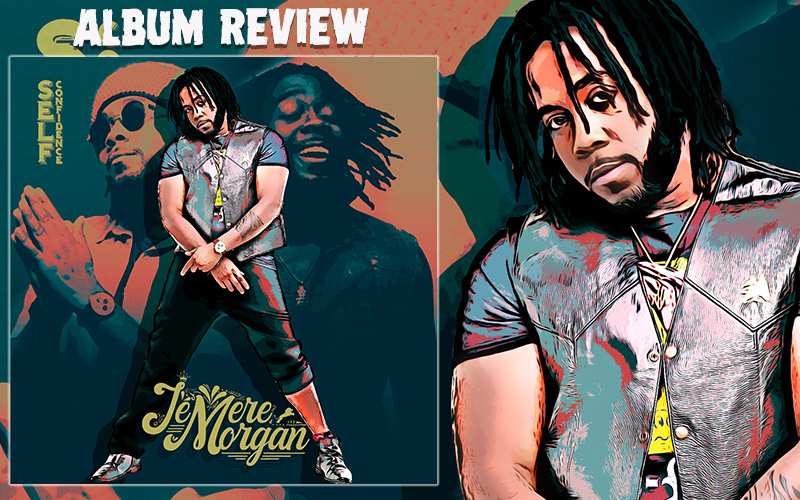 Six years ago, on a freezing cold January night in Hamburg, I've first seen this artist perform live alongside his father, Gramps Morgan. Jemere was only 17 at the time, but already a promising talent, a talent that manifested in his debut album Transition 4 years later.

Now, in 2019, he piles the fire up with another release called Self Confidence, executively produced by Daddy Gramps and Miami-based Gennaro Schiano. The 14 songs were all written by the young artist himself, except those parts that are not sung by him. For instance, we hear the distorted voice of Stu Stapleton in the introductory Troddin, which however doesn't contribute much to the song as it only repeats Morgan's words.

The whole Morgan Heritage and a singer called Jadria "Satori" Wenstrom join Jemere on We Are Gonna Be Alright, an uplifting track filled to the brim with a booming bass by producers Maroon Riddimz. Or take feature guest King Koahi, possibly a brother or cousin to Jemere (he is called Denroy Morgan III), who adds his voice to the very Rockerz' styled Mind Your Business, in which both singers insist that they live their lives their own way, no matter what other people say.

Fourth and last featured singer (there is an additional instrumental guest appearance by saxophonist Sheldon Palmer on Cool & Bad) is Keba in Self Confidence, the title track, which is very motivating lyrically but doesn't impress me as much as Transition's title track did.

Songs that do leave an impression abound, though. With a pleasant, feel-good vibe, Good Time invites all ganja-smokers to skank along to, an energy that permeates Blank Page as well, although this track transports a much deeper message of new beginnings. Music Lesson is a beautiful declaration of love to this deliberate arrangement of tones we call music, as is Favorite Song. "Turn the world off and put the music on!"

A special mention deserves the innovative way sounds are created and/ or applied to the songs throughout the album. Can't Leave You Alone is a fine example of this instrumental creativity, a ladies' tune like the soft Be Mine, but more interesting in this aspect is Follow Your Dreams. This personal favourite is not only a convincing display of Jemere's vocal and songwriting abilities, but also a great piece of production. Shout-out to percussionist Seraiah "Spanky" Rajkumar!

Self Confidance is a well-conceived, versatile album that will appeal to new-wave Reggae fans and leaves only one question open. What does Jemere Morgan's Victory Dance look like?
---
Release details
Jemere Morgan - Self Confidence
DIGITAL RELEASE [Dada Son Entertainment]
Release date: 05/17/2019
Tracks
01. Troddin feat. Stu Stapleton
02. Good Time
03. Music Lesson
04. We're Gonna Be Alright feat. Satori & Morgan Heritage
05. Mind Your Business feat. King Koahl
06. Favorite Song
07. Blank Page
08. Cool & Bad feat. Sheldon Palmer
09. Convo With G (Interlude)
10. Self Confidence feat. Sheldon Palmer
11. Can't Leave You Alone
12. Be Mine
13. Proud
14. Follow Your Dreams
15. Victory Dance
Featured artists
Morgan Heritage