Review
Album Review: Snoop Lion - Reincarnated
04/29/2013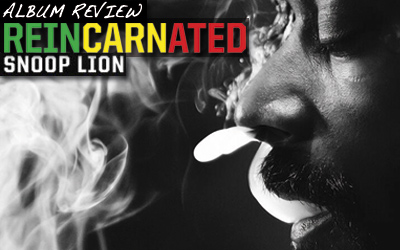 Many times the Rasta music messages have, over the years, been peppered with comments regarding the use of the word "dog" to describe one's male homies in ebonics, the language of America's Black community. There is a sense of concern and caution, the dog being the lowest animal on the evolutionary scale in Jamaican culture, and an unlikely comparison for the defenders of Marcus Garvey's prophecy and teachings of upliftment for the descendants of African royal dynasties and empires.

So one only has to assume that Snoop, after several tours of duty with the Marleys on the Smokin' Grooves tour and endless hours of reasoning and guidance from their camp on his own journey to Rasta, would naturally have been called "mi lion" by the likes of Damian and Steve more than once, thus began his reincarnation.

What is troubling about the release, and what likely is the root of the dispute between Snoop and Bunny Wailer concerning this proclamation by Snoop that he is Bob Marley's reincarnation, is that no straight reggae artists, no roots and culture, Rasta oriented performers are featured here on the release. It is really an amalgam of pop artists and those that have been in reggae, really as a fledgling artist in their own right, no big names are present from our heavy roster of talent available at this time.

Reincarnated the film, follows Snoop Dogg on a spiritual journey as he immerses himself in Rastafari, explores musical and religious histories deeply rooted in Jamaica, and reemerges from his experience as "Snoop Lion". Recording an album with world-renowned hitmaker Diplo and his Major Lazer production team, Snoop draws on recent personal experiences for lyrical inspiration. An exploration of modern Jamaica and meetings with the Nyabinghi Rasta and the family of urban legend Christopher "Dudus" Coke among others also influence Snoop's new view of the world. He is leaving behind his days as a gangsta rapper and re-emerging as an avatar for peace, extolling the virtues of the Rasta lifestyle.

Our reggae crowd has always been a most sophisticated community. Their cherished musical genre competes with hip hop on the dance floors, on TV and on the airwaves, and in the mainstream media where it is often misunderstood or misrepresented. Many of our reggae fans have actually made the pilgrimage to Jamaica or to reggae festivals around the world to experience total immersion in the culture and heartbeat of the music. Which is why Snoop, Jah bless him, is so sincere. He made his pilgrimage, and was inspired to make a film about it, which is the companion to this album. He truly wants to "do it the rebel way", just like all of us have over the years, making our trips, seeking the latest mixes, and ultimately developing life-long friendships associated with this unique cultural phenomenon known as reggae.

The album starts with Rebel Way which appears to be a personal expression of what Snoop is doing career-wise. He opens in the spoken word with a direct call to action for his fans, to get love, and to do so is to give love. Pointing out all of the lost pop icons we have today like Whitney, Michael Tupac, Biggie and their lot. This seems to be the central theme of this "reincarnation", to ask for forgiveness, for changing from his gangster ways…to something more redemptive or life changing, chanting, "No time like the present, you can't run away, you gotta face this".

On Here Comes the King, Angela Hunte joins the artist as she does on several tracks as the "female chorus" type of vocalist. Her vocal delivery is remarkably similar to Gwen Stefani, lead singer for No Doubt. This feels a bit deliberate since she is featured on numerous tracks. She doubles Snoop as he sings, "If you love me come and join the revolution, one King one faith one religion…" I am unsure if this is intended to be a reference to Haile Selassie I Emperor of Ethiopia, the symbolic "Ras" or head of Rastafarian faith, since there is no direct reference to H.I.M. anywhere on the release by name. It seems that Snoop Lion sees himself in the image of Ras Tafari, and thus announcing his arrival on the scene, transformed as a rasta.

The 420 message is a constant theme, and has been for some time for Snoop, this reincarnation is a way to repackage it in time for all of the recent legislation implemented in the U.S. On Lighters Up Snoop basically suggests that weed will promote all-around unity chanting "Ain't no divided we choose our destiny, we don't need no negative to get the best of we". Mavado and Popcaan are the guests here. Perhaps a dream come true for both of these artists, Mavado joined Snoop at a South by Southwest conference showcase recently to perform this tune. The "Gully God" made use of the turf war zone themes of gangster rap to establish himself in dancehall, recording a combination with Jay Z and inking his own record deal with Cash Money and Lil' Wayne.

Finally by track four So Long we hear some roots and culture and the vibe of original one drop with live instrumentation including horns and bubbling organ. This rhythm is actually produced by the Zion High Kings, who produced the brilliant Jah Golden Throne album. This rhythm is featured on Lloyd Brown's Just So That You Know on the Golden Throne release. The song, that also features Angela Hunte, seems to be his call for loyalty and pride in self, or in one's personal relationships, chanting, "so long we have been on this journey and I know we can make it, stay strong, our hearts' still yearning and no one can break it."

It is at this point on the record, Get Away that I lose my way. This is a straight up dance-pop tune, not a ragga, or dub step or anything that matches what we have heard so far or what is to come…just out there. Snoop is joined Angela Hunte and also Elan Atias, the singer best known for his single with Gwen Stefani, Slave to Love on the 50 First Dates soundtrack in 2004.

Snoop is joined by Canadian rapper Drake on No Guns Allowed, he is also joined by female singer Cori B (Snoop's daughter) who sounds a lot like Gwen actually too…. The groove is pretty, the idea being a non-violent party jam, infused with melodica and vocals delivered in patois from the Lion, Drake giving his chant from the perspective of the friend in trouble talking about his case. Drake actually says "got my dog on the phone" using the canine term with ease.

By track seven Fruit Juice we get some actual ragga muffin bumping groove going, straight from the Sleng Teng riddim to your tastebuds. This song describes a litany of all of the great natural fruit juices our earth has to offer as metaphor for sensual pursuits. In an attempt to point out his transformation, however, Snoop Lion appears to be singing a "sipping" song, that directly references to the cough syrup addiction that is rampant in hip hop culture. He brings up Red Bull and bigs up the gals that wont believe the hype and drink this beverage. The best part of this song is that the great Mr. Vegas comes in with some vibes in his powerful falsetto, adding more to the hot gal personification theme.

Next up is the mighty Collie Buddz from Bermuda on Smoke The Weed, apropos to this theme, is this artist. Snoop opens the track with a sped-up sample and the chorus of Michael Palmer's version recorded for Channel One back in the day, indicating this as a cover tune. Collie does his usual tight-as-a-drum phrasing, transitioning smoothly from chant to vocals. Snoop sings some esoteric lyrics here, more of a freestyle than a hook or chorus.

Akon and Snoop link to sing Tired of Running, a great tribute to where the two of they come from and how they "are tired of running from the law." The groove is a smooth one drop that is seeking a bass line, the groove is populated by a spartan rhythm track and keys. Here I would like to hear Snoop actually rap, but instead he is singing, and Akon is really just singing the same thing over and over. There is a pretty guitar solo, where Akon should be giving his rhyme.

The best female vocal delivery combined with a sultry dub rhythm is performed by Rita Ora on Torn Apart. She knows how to ride the riddim and peppers her singing with some well timed badda bing bings, as she a sing-say " Say goodbye to the one that gone away." Snoop is almost an afterthought on this tune, not sure what the producers where thinking here…where is the chant?

On Ashtrays and Heartbreaks, Snoop's doubled vocals sing, no rapping again and he is joined by Miley Cyrus of all people. The personal irony here is that I used to watch her act when she was a teenager on Hannah Montana while babysitting the daughter of a certain lead singer of a roots reggae band… a bit surreal that we are seeing her "blossom" into a song about getting her buzz killed. I appreciated the riddim, an organ-driven subtle one-drop number, but the vocals sound like they are sung through a cell phone….not sure exactly what she is aiming for with this combination, but good luck with that! Definitely smoking something, is what the mission seems to be and the obligatory heartbreak victim message sung by the ladies in pop.

Boulevard is a combination with Jahdan Blakkamore of Guyana, vocalist from the group Noble Society and part of the Zion I Kings family. Jahdan makes the grade on both this and the Snoop Lion combo Harder Times, actually lending street cred for this release, representing the true Rasta cultural singer, and bringing the best from Snoop out of any other artist in combination on the album. Jahdan chants, "Lord me would a love to see the day when we burn racism jealousy and hate, from mental slavery we want to emancipate." For the first time on the album, we hear Snoop finding his reggae voice and burning inequity and we hear a rhythm with some original flavor.

On La La La Snoop chants over one of the best grooves, the rhythm for the Ken Boothe classic, Artibella. This one has been released as a single with its accompanying video. The video has a heap of children in a costume party format, with a behind the scenes interview session with the kids about Snoop's new name, then a series of playful images, with both kids in costume mingling with girls in bikinis, and mini skirts while wearing tails and such. A pretty weird coffin scene is the sort of climax of the video, with the death of the "dog" theme as its feature. The credit is given to Major Lazer as the producer, but this distinct rhythm track is by Clement "Sir Coxsone" Dodd of legendary Studio One.

The album closes with Harder Times, a true anthem to the mothers of all of the ghetto youth. Jahdan Blakkamoore and Snoop sweetly sing over a nyabhinghi drum and acoustic guitar. "Breaking down is not an option, make it happen somehow, look how hard Mama work just to get by." Jahdan takes it a step further, explaining how the system a "make it so hard", addressing the artist visa situation chanting, "can't get a visa to fly over the borderline, everywhere I go they are facing much harder times."

As the saying goes, God helps those who help themselves. One of the things about success as that people are gonna hate. Take what you will based on the deeply embedded disputes that have evolved from the "reincarnation" in the reggae community about Snoop Dogg, but this is giving reggae music some great exposure however distorted it may be in essence. After numerous notorious appearances on the interview circuit, Snoop says his intention is to bring some attention to reggae cause it is "great music" and also to promote his own transformation and willingness to take this message of peace to the ghetto community and stop violence and destructive elements from having an influence as in the music and lifestyle of his past.


---
Release details
Snoop Lion - Reincarnated
DIGITAL RELEASE
Release date: 04/23/2013
Tracks
01. Rebel Way
02. Here Comes the King feat. Angela Hunte
03. Lighters Up feat. Mavado & Popcaan
04. So Long feat. Angela Hunte
05. Get Away feat. Angela Hunte
06. No Guns Allowed feat Drake & Cori B
07. Fruit Juice feat. Mr. Vegas
08. Smoke the Weed feat. Collie Buddz
09. Tired of Running feat. Akon
10. The Good Good feat. Iza
11. Torn Apart feat. Rita Ora
12. Ashtrays & Heartbreaks feat. Miley Cyrus
13. Boulevard feat. Jahdan Blakkamoore
14. Remedy feat. Busta Rhymes & Chris Brown
15. La La La
16. Harder Times feat. Jahdan Blakkamoore
Featured artists
Mavado
/
Popcaan
/
Mr. Vegas
/
Collie Buddz
/
Jahdan Blakkamoore