Review
Album Review: Blakkamoore - Upward Spiral
05/01/2020
by Steve Topple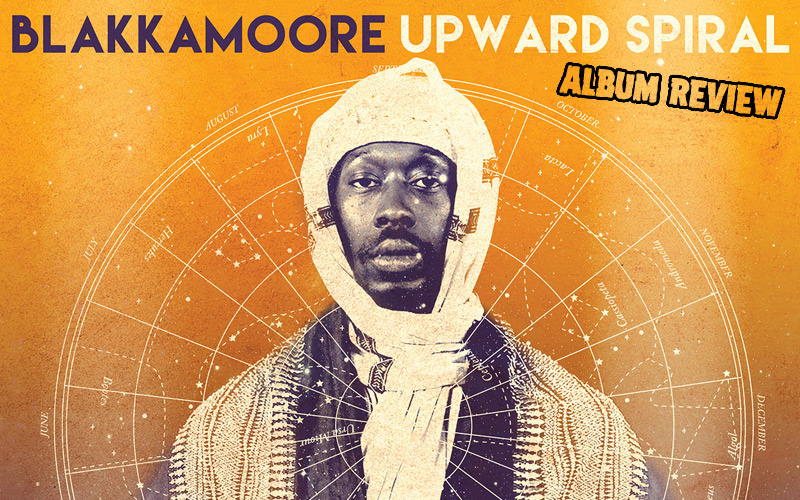 It says a lot when the teaser track to an artist's forthcoming album features one of the greatest rappers of all time. This sets a pretty high benchmark for the project. But fortunately for Blakkamoore, his latest release exceeds that standard across the board.
Upward Spiral, released via Lustre Kings Productions and Baco Records, is a staggeringly diverse project from Blakkamoore (who previously released music under the fuller name Jahdan Blakkamoore) and the top-class production team of Paper Stars, Moon Bain and Zion I Kings. Given the wildly expansive nature of the genres the album encompasses, you could be forgiven for calling it "precocious". But the fact that Upward Spiral's lyrical and thematic content is anything but this, means that it feels more like Blakkamoore showing us the sum of his artistic parts, while ensuring he is wholly relevant in 2020.
There are several overriding musical influences across the album. The first comes in the form of Toronto RnB; that ambient, blissed-out but somewhat brooding and edgy sound pioneered by Drake and artists around and to the side of him. The style, musical devices and production values are littered across various tracks.
But it takes its most prominent form on Body Talk (especially the bridge): the low-passed, dampened engineering; the heavily elongated reverb; the layered string orchestration and the addition of Trap-style buzz rolls on the snares. But Blakkamoore also goes more old skool RnB with the backing vocals and acoustic guitar's clipped riffs. And he nods to Dub and Afrobeats with the various synths. Deliciously Ambient and ambiguous with a side-order of traditionality.
Then, Roots also gets a heavy look in. Take Earth Cry, with the late Akae Beka and its purposeful bubble rhythm keys and the bass on a one drop riff. Golden Lights is another appearance for Roots, with the traditional Rocksteady bass rhythmically mimicking the main melody but still dropping the 'one'. Amazing Grace sees dual purpose electric guitars, flipping between skanking and riffing. And Red Ites moves into straighter Soul/Roots territory, with its somewhat smoothed out, 80s vibe coupled with some very modern synths.
But Blakkamoore's creative hand is still all over these – and the instrumentation and arrangements are so complex that they move up from standard Roots into something more Soul-driven: the staccato, plucked string arrangement on Amazing Grace being the perfect example.
He's also introduced some modern Dub elements into other tracks. On Mash Down Georgetown, while the bass is on the authentic beat dropping riff, the usual Ska horns have been completely engineered almost out of existence – becoming some ultra-high-passed, super decayed, futuristic, stinging and scratching wasp in the mix. Skyscrappers with the excellent Biga*Ranx is another example of this – heavy on the futuristic Dub synths, light on the traditional Roots devices.
Dance-led music also features. Afrobeats gets a brief look-in on Spotlight, as the genre gets slowed down, plumping for that RnB sound that's been hot in recent years. But then Underneath The Lights takes Upward Spiral in another direction, combining Dancehall percussive hardness on the verses with sudden RnB smoothness on the choruses. It shouldn't work - but it does.
Dancehall is represented again on The Code, where the usual bass clave is halved in time and repeated by the kick, and some brooding Toronto RnB techniques are added to the mix. Meanwhile, on Change, Blakkamoore has introduced Soca elements, like the heavily syncopated percussion, the repetitive, beamed bass clave and the improvising, Latin-feeling acoustic guitars – coupled with more soulful sensibilities.
Upward Spiral also travels to bang-up-to-date Neo Soul. Tomorrow Belongs To Us with the superb Alandon is one example of Blakkamoore at the peak of his musical powers. Again, the Toronto RnB sound is back, but with Hip Hop drums, funky electric guitars, heavily syncopated strings and a distinctly grimy, distorted bass. A stunning track.
The album features two previously released riddims: its opener, Play The Role across City Kay's Big Slap riddim, and its closer, Take Time, which comes from I Grade Records and Zion I King's Perfect Storm riddim.
The most recent single, Get Down Tonight featuring Rap royalty Snoop Dogg, is another curious hybrid. It's styled almost like a 90s West Coast Hip Hop track: funky string and horn orchestration, pointed breaks and the double hi-hat roll. But to bring it kicking and screaming into 2020, outer space-like Dancehall/Afrobeats synths with stuttering, offbeat arrangements feature too. And it's perhaps endemic of the album more broadly – that Blakkamoore has consistently looked backwards in time, while permanently driving forwards as well.
Much like the music, the lyrical and thematic content is sweeping and broad. From the somewhat radio friendly Get Down Tonight and the sexual-yet-spiritual Body Talk, Blakkamoore has managed to mix this light with an awful lot of philosophical shade. Amazing Grace is perhaps one of the standouts of this, with Blakkamoore discussing the state of the system and how we, as conscious and sentient beings, should address this. And with the late Beka on Earth Cry, he ponders the noxious and toxic way we as a species, not only interact among ourselves but also with the planet. Look past the musical precociousness, and Blakkamoore has also delivered a raging narrative against the dying of the light.
Upward Spiral is a comprehensive look at everything that has influenced Blakkamoore to this point. Exquisitely expansive, it's a technically brilliant project from composition to engineering. Quite how he managed to encompass so much, musically, in one record is credit to his visionary tendencies. And if this is Blakkamoore on top form, goodness knows where he may go next.
---
Release details
Blakkamoore - Upward Spiral
DIGITAL RELEASE / CD [Baco Records]
Release date: 05/01/2020
Tracks
01. Play the Role
02. The Code
03. Spot Light
04. Get Down Tonight feat. Snoop Dogg
05. Change
06. Amazing Grace
07. Skyscrappers feat. Biga Ranx
08. Underneath The Lights
09. Mash Down Georgetown
10. Golden Lights
11. Tomorrow Belongs to Us feat. Alandon
12. Earth Cry feat. Akae Beka
13. Red Ites
14. Body Talk
15. Take Time
Featured artists
Snoop Lion
/
Biga Ranx
/
Alandon
/
Akae Beka