Review
Album Review: Jahbar I - Jahbar I Deya
12/18/2018
by Gardy Stein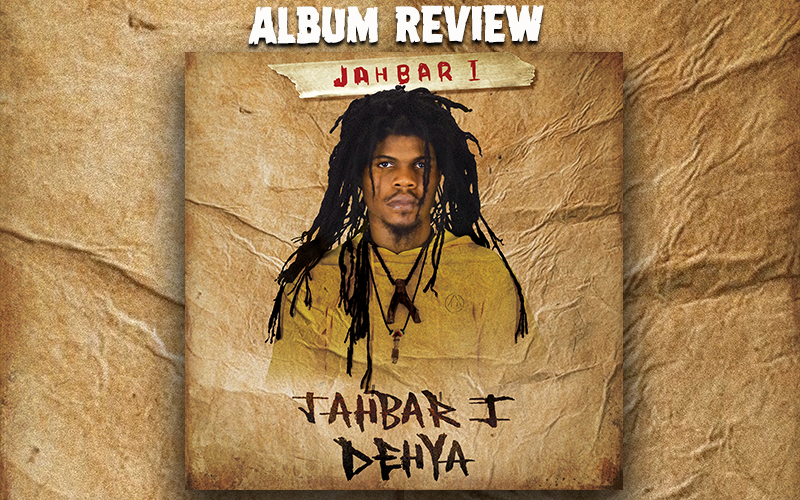 A new lion deya pon di scene! At age 23, Jabari Miller aka Jahbar I releases his debut album Jahbar I Dehya. His involvement with music is no coincidence: his father is Melbourne George "Dusty" Miller, drummer & bandleader of the famous Firehouse Crew who provided riddims and live backings for artists like Buju Banton, Luciano and Sizzla. Jahbar I seems to have inherited both the talent, convictions and work ethics, as well as the insights into how the music biz is run - family ting!

For the production of his first full release, he teamed up with his Dad whose extensive network assures an elevated level of instrumental delivery. Thus, members of the Firehouse Crew and other fine musicians such as George "Dusty" Miller himself, Michael "Mega Bass" Fletcher, Mitchum "Khan" Chin, Donald "Mr Biggs" Dennis, Andrew "Stringy" Marsh, Paul "WrongMove" Crossdale and Dean Fraser created the sounds of tracks like Legal Scamma, Steaming From Mawning, Bakklefield and Long Live Africa, the beautiful beat and message of which make up for the fact that it's not the strongest piece vocally.

Others, however, are perfectly ridden by the young artist, whose refreshing flow becomes clearly evident in Nuh Paper Soulja (produced by Kirk Bennett for Kirkledove Records). Prime example of his skills in vocal, lyrical and melodic arrangement are the sweet vibes of Love A Flow or It's The Feeling, which is an instant favourite due to its infectious beat. Another highlight for me, both in riddim and content, is Powaz Of Luv, a very special, deep production by Zion I Kings, a group of fine producers and musicians from three respected roots production houses (Zion High Production - Florida, I Grade Records - St. Croix, and Lustre Kings Productions - New York).

The various producers make for a welcome diversity of sound anyway, whether it's a more digital input by Shavor "Shavarr" Richards in Blessings Flow or a Modern Roots approach as in Keep My Soul, produced by Andreas "Solomon" Källstrom for Blazin Fyah Music. Also worth mentioning is My Spliff on a fast-paced re-lick of the timeless Full Up Riddim played by Jonathan "Styl1st" Lambie, a song that talks about the Jamaican mannerism not to share a spliff - maybe the reason why it's not called 'joint' over there?!

16 tracks in total are an impressive number for a debut, and while the overall opus is great, some fillers could have been left out (e.g. Deliver Me, Many Talking, Upendo or Friendly Foes, all of which don't quite reach the high quality standards set by the other tracks when it comes to production, despite good lyrics). In every other aspect, Jahbar I Deya is a wonderful debut of a promising artist who'll be perceptible on stages in Jamaica and all over the world in 2019. Rockaz Lifestyle!
---
Release details
Jahbar I - Jahbar I Dehya
DIGITAL RELEASE [Wizkilful Productions]
Release date: 12/14/2018
Tracks
01. Blessings Flow (Conquer All)
02. Legal Scamma
03. Deliver Me
04. Steaming From Mawning
05. It's The Feeling
06. Powaz Of Luv
07. Keep My Soul
08. Bakklefield
09. Long Live Africa
10. Many Talking
11. Upendo
12. Friendly Foes
13. Nuh Paper Soulja
14. Love A Flow
15. My Spliff
16. High Tonic