Review
Album Review: Jah9 - Note To Self
03/13/2020
by Steve Topple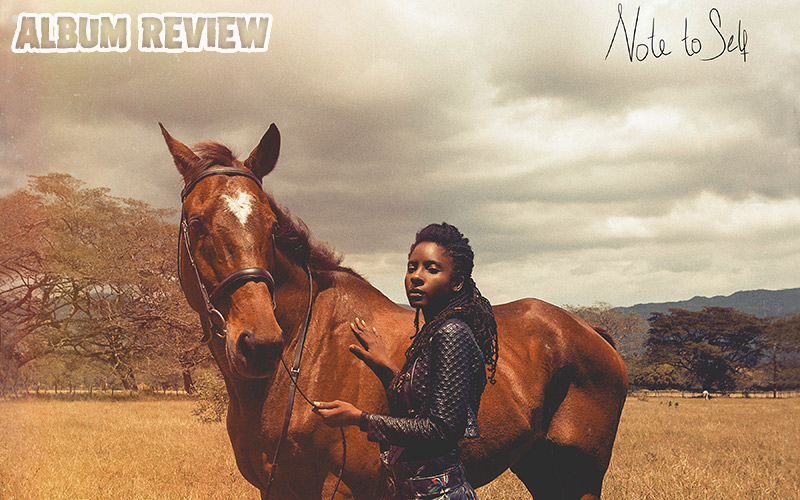 Almost a decade after her debut single dropped, Jah9 is back with her latest, and third, album. She has certainly previously made her mark, with a unique sound and equally unique and profound, poetic lyrics. And the latest release from this multitalented artist takes that talent up a gear, to perhaps her highest level yet.

Note to Self, released via VP Records, is a complex, expansive and sweeping project. The production is sterling from the likes of Clive Hunt, Jeremy Harding, Romario 'Runkus' Bennett and Iotosh Poyser. But Jah9 doesn't do any half measures on the album, either – having co-written and co-produced the majority of the tracks herself. This extremely hands-on, personal approach shows. As Note to Self is a musical and thematic triumph.

It would be remiss to call this a Roots album, although it's a clear influencer. Because Note to Self's musical hybridity fails to cement itself in any one genre. Some tracks are more stylistically set in stone; others are fluid, and some stand as almost genre-creations in their own right.

Roots features heavily across various tracks. It's clear from the off, with the opening cut Heaven, how important the genre and culture is to Jah9. It's a sweeping, posturing track, full of Roots' devices. But it's Jah9's tightly enunciated, assertive vocal which really takes centre stage. She powers through Heaven, taking no musical prisoners and barely stopping for breath. Her performance is interesting, insomuch that she switches between a melodically jumping and running vocal, and a singjay that at times verges on a rap. It's a strong opener, which sets out Jah9's stall well.

Jah9 certainly has a flare for 21st century Neo Soul, which is also distinct on the album. Could It Be is a clear example of this. It's a gorgeous, brooding creation, centred heavily around organs, a melodica (a brief nod to Roots) and electric guitars. The percussion focuses on a Hip Hop downbeat, and a lazy bass gently riffs. The chord progressions, working around the root, the fourth and the fifth but with the major third used during each brief bridge, are pure Soul. Meanwhile, the stuttering, beamed chorus coupled with Gospel call and response backing vocals lift Could It Be further into Neo Soul. But Jah9's vocal is revelatory. Sitting somewhere between a singjay and full-on smoky Soul, she delivers a controlled, expressive performance full of interesting intonation, inflection and dynamics. Pure bliss.

Field Trip and Highly (Get To Me) also take Note to Self into Erykah Badu territory. Meanwhile, Ready To Play featuring the legendary Tarrus Riley takes some Soul influence and smashes it together with modern Roots.

But it's the hybrid, genre-busting tracks which truly demonstrate Jah9's power as a creative force.

The title track, featuring the incomparable Chronixx, busts straight into the Revival movement. Hip Hop meets Ambient RnB meets Roots meets Neo Soul in some ambiguity worthy of Protoje.

New Race (A Way) featuring UK rapper-turned-academic/historian Akala is an incredible mix of Hip Hop and Neo Soul-meets-Roots. It's another fascinating arrangement, with the percussion and drums fusing elements of Trap/Drill (that snare roll) while keeping the focus more on the upbeats. This drives home Jah9's Roots basis, as do the guitars dipping in on the first upbeat. Meanwhile, the bass has been engineered down, to push the focus onto the drumline. The exquisite vocal arrangement harks back to the 90s glory days of Hip Hop fusing with Soul, as do the synth strings. And the trombone is a delicious inclusion, occasionally jutting in, sometimes intentionally in another key - bringing some Jazz into the mix.

Akala is a really solid artist, always on point and his section is first-class. But again, Jah9 impresses. She delivers a well-enunciated, pointed and rhythmically colourful rap juxtaposed with strong, flowing vocals – and she bridges the change from one to other with aplomb. It's almost Lauryn Hill in her prime. Sublime, exceptionally classy and possibly the album's highlight, which given the sheer quality of everything else is a difficult call to make.

But it's perhaps Hey You which sums up Jah9's musicality the best. So, it's not the most fused track of the album, with basic Roots musical devices and Soul instrumentation. But it feels just so Jazz. And it perhaps demonstrates Jah9's vocal ability the best. She utilises the full melodic range of her voice, covering a rumbling alto to full blown soprano. Her flipping between head and chest voices is effortless, as are her dynamic fluctuations; her use of highly syncopated rhythms and harmonic improvisation on the verses give the feeling of a one-take record, and this coupled with her mixture of vertical and horizontal embouchure, deliberate yet unexpected syllable accentuation and powerfully controlled vibrato result in an exceptionally polished performance. Jah9's unique and intuitive talent really is awe-inspiring.

Note To Self is a triumph in every sense of the word. The production and engineering are extremely solid. But it's the sheer skill and inventiveness of the compositions, and profoundly thought-provoking lyrics, which elevate the album to a higher plane. And these, coupled with this hugely talented artist's naturally precocious talent, have created an extraordinary piece of work. It is, in no uncertain terms, The Miseducation Of Jah9.
---
Release details
Jah9 - Note To Self
DIGITAL RELEASE / VINYL / CD [VP Records]
Release date: 03/13/2020
Tracks
01. Heaven (Ready Fi Di Feeling)
02. Ma'at (Each Man)
03. Mindstorm
04. Note To Self (Okay) feat. Chronixx
05. Field Trip
06. Never Race (A Way) feat. Akala
07. Hey You
08. Highly (Get To Me)
09. Feel Good "The Pinch"
10. Love Has Found I
11. You And I feat. Pressure Busspipe
12. Ready To Play feat. Tarrus Riley
13. The Reflection
14. Could It Be
15. In The Beginning
Featured artists
Chronixx
/
Pressure Busspipe
/
Tarrus Riley