Jah9 @ Global Reggae Charts - Issue 20 (January 2019)
02/08/2019 by Gardy Stein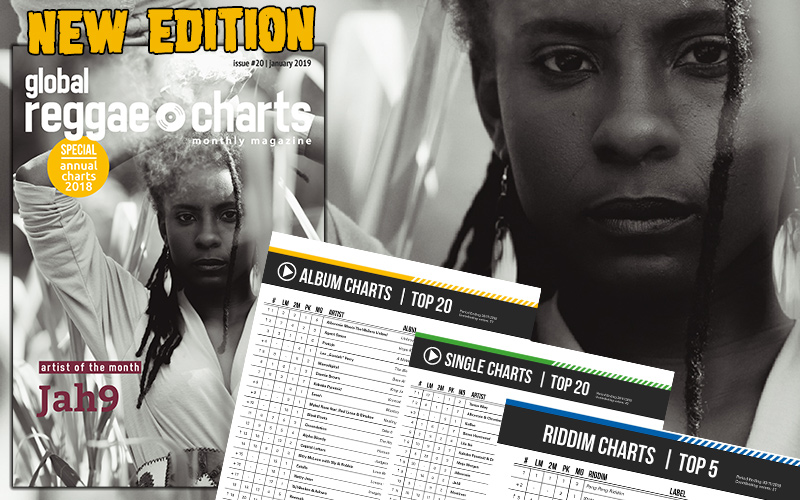 What a treat! The new issue of the Global Reggae Charts Magazine gives us a summary of the Top 50 Single and the Top 25 Album Charts of 2018! Also, of course, the newest votes are in and thus January sports a few new entries:

"Our cover this month belongs to the inimitable Jah9, whose mystical and poetic approach to reggae music continues to impress audiences as well as our voters. Her latest track Field Trip is on the rise, currently sitting at #9. Other songs of note on the singles chart include Tarrus Riley's Guess Who right at the top, just ahead of the Alborosie and Chronixx collaboration Contradiction. Koffee's Toast in its debut month, Beres Hammond's I'm Alive, and Lila Iké's Second Chance wrap up the top five. Albo and Beres join forces on Too Rock at #8, Mortimer sits at #10 with Careful, plus there's another new entry at #14: Ras Demo's Dreader Than Dread."

For more details, check the mag below and discover the following and more. And, in case you are a radio moderator or music journalist and you feel your vote is missing in this, visit globalreggaecharts.com and register!

SINGLE CHARTS TOP 20:
1. Tarrus Riley feat. Mykal Rose - Guess Who
2. Alborosie & Chronixx - Contradiction
3. Koffee - Toast
...

ALBUM CHARTS TOP 20:
1. Alborosie meets The Wailers United - Unbreakable
2. Agent Sasco - Hope River
3. Protoje - A Matter Of Time
...

RIDDIM CHARTS TOP 5:
1. PengPeng Riddim
2. State Of Emergency Riddim
3. Militant Step Riddim
...