Review
Album Review: Jah Works - Believe
05/01/2016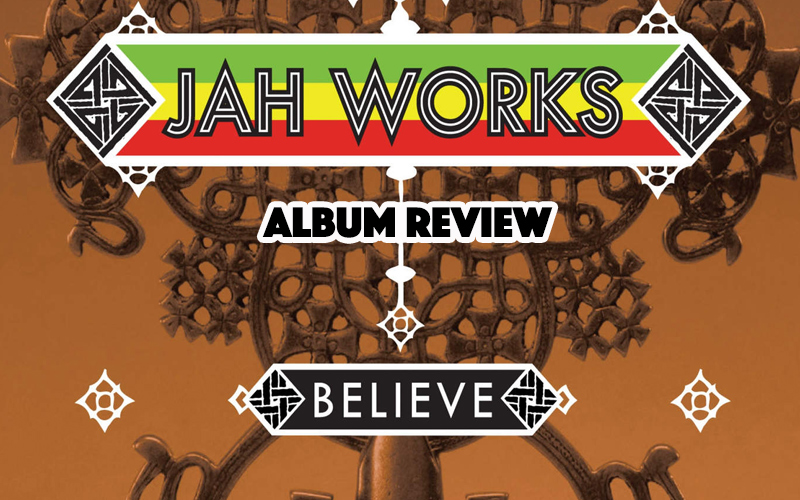 Jah Works is a group based in Baltimore, Maryland in the Eastern United States. For their 10th album Believe they bring forth deep roots reggae after 20 years of performing and recording together. Believe was recorded by an all star grouping of some of reggae music's greatest producers including Jim Fox of Lion & Fox Studios and Laurent "Tippy" Alfred of I Grade Records. From John Brown's BodyJason "Jocko" Randall of More Sound Recording Studio and Nathan Sabananyagam and Will Holland from Chillhouse Studios in Boston as well as Steve Wright of Wrightway Studios all worked to lay down these 13 tunes.
The lead track Water features a horn- driven intro numerous Biblical references and the healing aspects of water. The lyrics sing "wash me clean cleaner than I have ever been". For So Lovely (By My Side) the lead singer Scotty P's vocals ride in a rub a dub style. This is a true love song- delivered like a crooner from the 40's, think Frank Sinatra. The horn lines echo that era and give it a cinematic feel. This segues to another lover's tune, Show Not Tell with lyrics that discuss actions speaking louder than words in romance, a dreamy melodica sound threads throughout. 
On Greener Pastures the lyrics allude to the 23rd Psalm "….Lord Is I Shepherd" as catchy keyboards and fun horn lines set the pace for an upbeat mantra about going to work, school, going to bed and getting rest for "another day ahead." The groove in the song Too Much Love reminds the listener of the Sade song: Why Can't we Live Together. Perhaps it is inspired by that song with its lyric "I can see your arms are folded your body language deaf and dumb….its true you never have too much love" The tune has a solid bass line, with a heavy groove along with guitar holding the rhythm until the verse as horns drive the bridge.
Believe In Yourself provides the inspiration for the album title Believe, the song offers encouragement for those seeking their path in life and career: "You could be a lawyer, doctor, singer man…rise up in the morning put your head top on…that's all we are asking of you, the people are waiting on you." Gravity is recorded with an evocative groove with well recorded drums, cymbals and snare crashing and bumping. A reminder that quarreling and focusing on your problems and other people, not being mindful, is not productive, remaining conscious of your meditation and staying centered, focused on gravity and the present, aware of your surroundings is the message.
For Wasn't Meant to Be more romantic themes and couples and relationships are explored, "all the little things I did for you, imagine how I felt when you were untrue." The groove is on point with horn driven percussion sounds and guitar sweetening the one drop style. Still Going On discusses false pride and issues surrounding it: Life is but a veil of tears - I know some people that don't get over their own fears. There is a guitar solo type of meditation during the bridge as the lyrics sing "no matter what they throw our way, never get weary yet" a nod to Toots and the Maytals' Never Get Weary.
Rumbling Time is a cautionary tale, reminding us to cultivate love and progressive actions with the young and old. The bridge "time to get the troops in line" is a rallying cry for togetherness and unity. The song has a great dub/instrumental bridge and ethereal delay effect horn lines and organ builds. As the album comes to a close, Tonite's The Nite brings the motivation to rock and reggae with a horn line reminiscent of Exodus by Bob Marley and the Wailers. Delivered in a style that is reminiscent of Damian Junior Gong Marley, this anthemic tune invites everyone to step right up and take off with Jah Works, a journey through a day in the life of a musician.
On Take The Place a soulful rhythm is the backdrop for a devotional to a loved one, "there is nothing in the world to take the place of you." Organ and guitar season a ballad groove of reality. Still Dubbin On- the version of Still Goin On in a dub style closes out the set. This allows for the horns, percussion, keyboards, guitars, vocals to stand apart and interplay with each other on the tracks as the levels come in and out, effects are layered.
The effort put into this recording shows from a band who have made their mark in the live setting over the past few decades, this is a strong set of songs and powerful message dose for the deep roots reggae lover.
---
Release details
Jah Works - Believe
DIGITAL RELEASE [Riddim House Productions]
Release date: 04/29/2016
Tracks
01. Water
02. So Lovely (Right By My Side)
03. Show Not Tell
04. Greener Pastures
05. Too Much Love
06. Believe In Yourself
07. Gravity
08. Wasn't Meant To Be
09. Still Going On
10. Rumbling Time
11. Tonite's The Nite
12. Take The Place
13. Still Dubbin On