Review
Album Review: Jah Cure - Royal Soldier
08/30/2019
by Gardy Stein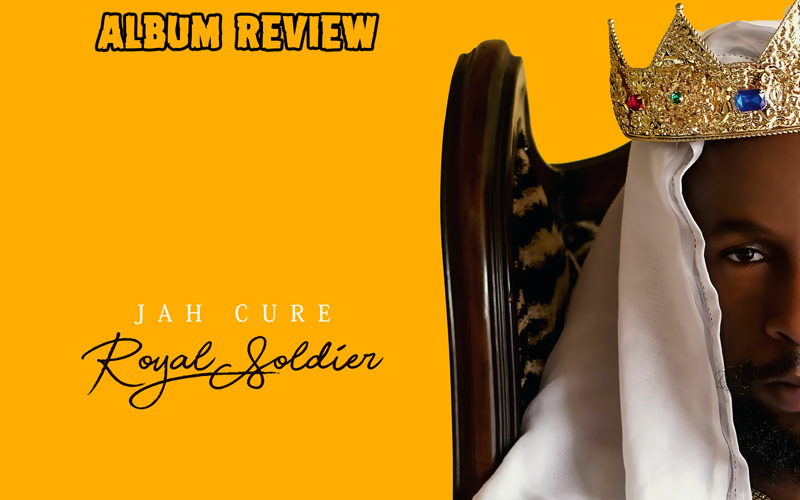 "I'm on the verge of making history, ain't nobody stopping we, we're on the move right now!"
With these words, Siccaturie Alcock aka Jah Cure introduces his new album Royal Soldier. After his last album The Cure, which even earned him a Grammy Nomination in 2015, the artist has obviously been working diligently on expanding his style even more, surprising us with a new and modern but consistent sound, despite the many producers who participated in the album's creation.
That music is a constant and undeniable force within him, the singer has already proven in the past. Despite all obstacles, Jah Cure has continually released songs and albums - even from behind bars. He was one of the first artists to do so, and his eight years of imprisonment have resulted in Free Jah's Cure: The Album – The Truth (2000), Ghetto Life (2003) and Freedom Blues (2005).
One of the major differences from his last release which was strictly Jah Cure (as the name The Cure implies), Royal Soldier has an impressive array of features. While some of them are well-known household names in Reggae music (we'll come back to those later), most others are immensely interesting artists who, for some reason or other, are not yet standing in the international spotlight, at least in a Reggae context.
Mya, for instance. Apart from an appearance on Beenie Man's Girls Dem Sugar and a joint appearance with Wayne Wonder on Reggae Sumfest in 2011, she hasn't been on the international scene much, but she's definitely an artist to look out for. On the meltingly smooth Only You (produced by Llamar "Riff Raff" Brown), she manages to create a sweet and tender vibe in duet with Jah Cure. Likewise, Canadian R&B singer Melanie Fiona adds some powerful vocals on Work It Out, while Miami-based Phyllisia Ross casts her spell on the lovely Risk It All.
Produced by Bahamian Tracy "BDA" Knowles, both Pretty Face and Eyes On Your Body praise female charms, though the latter is a bit more diverse due to the inclusion of Dru, Sketch Carey & Alx. Also from the Bahamas, Rory Bowe aka Padrino produced My Wish, based on a re-lick of the Showtime riddim and bowing to Cure's mentor Beres Hammond, whose lines of I Wish are quoted here, complemented by Canadian rapper Tory Lanez. Padrino's second contribution is Life Is Real, and with Popcaan as featured guest, we reach the aforementioned Reggae celebrities.
Produced by Frederick Seymour and Anwar McDonald, Damian "Jr. Gong" Marley features prominently on the laid-back Marijuana, a different kind of ganja tune. Last but not least, Street Kings unites four phenomenal singers and is definitely a gem of the album, not so much riddim-wise, but undeniably in the vocal section. Bringing Yami Bolo and Junior Reid in the studio together must have made for a historical recording session already, and capturing "the Fireman" Capleton on the track just tops it off beautifully.
Apart from these collaborations, Jah Cure is on his own on some of the tracks as well, which is a big plus for his most fervent fans. Soft chords are struck in Brighter Day and the rootsy Don't Walk Away, while the danceable Telephone Love as well as the reflective title track Royal Soldier round off the diverse playlist.
With this release, Jah Cure proves to be on the move more than ever and, according to a statement by the artist in our recent interview, we can expect some fine visuals for at least one of the tracks soon!
---
Release details
Jah Cure - Royal Soldier
DIGITAL RELEASE / VINYL / CD [VP Records]
Release date: 08/30/2019
Tracks
01. On The Move
02. Brighter Day
03. Marijuana feat. Damian "Jr. Gong" Marley
04. Telephone Love
05. Magic feat. Tory Lanez
06. Risk It All feat. Phyllisia Ross
07. Pretty Face
08. Work It Out feat. Melanie Fiona
09. Eyes On Your Body feat. Dru, Sketch Carey & Alx
10. Only You feat. Mya
11. Don't Walk Away
12. Royal Soldier
13. Life Is Real feat. Popcaan
14. Street Kings feat. Yami Bolo, Junior Reid & Capleton
Featured artists
Popcaan
/
Damian Marley
/
Capleton
/
Yami Bolo
/
Junior Reid