Jah Cure - The Royal Soldier Interview
08/01/2019 by Dan Dabber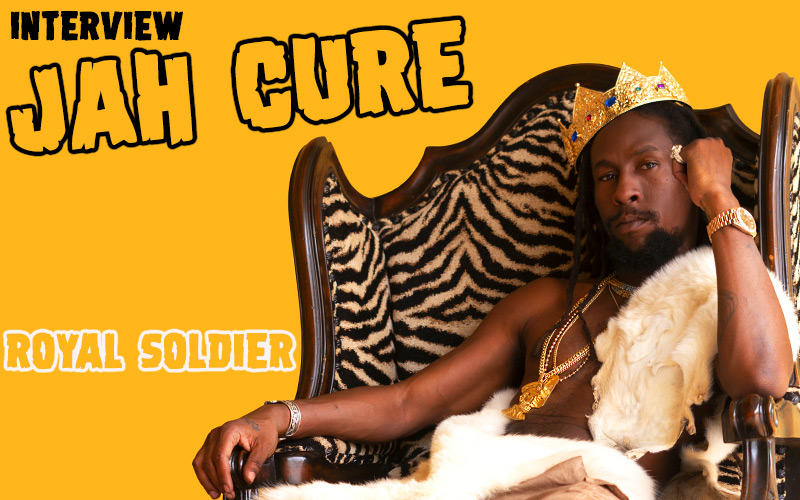 Jah Cure has been at the forefront of Jamaican Reggae music for 22 years due to his incredible talent and relentless work ethic. From the time Beres Hammond produced and released his debut single, a duet with Sizzla called King In The Jungle, Cure has proven that he can compete and collaborate with Jamaica's most revered vocalists and consistently put out some of the best music in the genre.
Jah Cure entered the scene in '97 and became Reggae's hottest young prodigy, recording and releasing three albums while imprisoned - Free Jah's Cure: The Album, The Truth in 2000, Ghetto Life in 2003 (also produced by Beres Hammond), and Freedom Blues in 2005. True Reflections... A New Beginning was released in 2007, just three days after Cure was released from prison. The success of the albums and the controversy surrounding his imprisonment kept the young singer in the spotlight, despite his incarceration. "Free Jah Cure" became a rallying cry. Not even prison bars could contain the artist's larger-than-life persona.
Never one to be boxed in, Cure's music slowly spread off the island and into R&B and Hip Hop markets for decades, earning him music industry clout in the US, even though he does not have a visa to travel there. His influence on the US hit a high-water mark in 2016 when his last album, The Cure, earned a Grammy nod for Best Reggae Album.
In the build up to the new album, Cure has released multiple singles and videos, including collaborations with Phyllisia Ross (Risk It All) in January, Popcaan (Life Is Real) in February, and Damian "Jr. Gong" Marley (Marijuana) in April. Jah Cure's new album, Royal Soldier, is slated for release on 30th August on VP Records. During a recent chat with Reggaeville about the new project, we had a chance to speak with him about Royal Soldier and much more.
When I heard the new album, I was impressed by how unique the overall vibe is. How would you describe the sound of this project?
Well this one I named it Royal Soldier just to give it a royal vibe, but it is a mixture of everything. The last album was only a single Jah Cure, so I call it The Cure. This one is, you know, me and friends. A lot of people. Me and Capleton, Yami Bolo, Junior Reid, Popcaan, Tory Lanez, Damian Marley, Mya, Melanie Fiona…. It's just a diverse album with a mixture of different things… Creativity, you know? Nothing sounds alike, or even close.
Are there any producers or musicians on Royal Soldier that you were particularly happy to have on the project?
Well, yeah, my bredrin Riff Raff, [aka] Llamar Brown. He's a youth that I liked to work with on this project. Definitely, as a producer… Because what I don't produce, I co-produce. I mean everything, no matter who's producer on it, because I still play my part. Because the guy will come with this beat, but I will do everything else - analyse the beat and put the artist on it that I would want on it.
I like to work with Riff Raff and then there was one dude called Padrino from the Bahamas that I work with [on Royal Soldier]. He's cool, you know what I mean? And this guy called BDA from the Bahamas too… I work with two or three Bahama's producers on it.
One thing that stands out to me about Royal Soldier is the wide variety of featured artists. They represent different countries and genres and cultures. I assume many of these collaborations are recorded hundreds, or maybe thousands of miles apart. How does the process work in a situation like that?
It's basically that somebody's got to start it. If I have a hook… And I just make sure that I have a hook that this person would like and this person would like. As long as you have a hook first, you send them the MP3 and they listen. And so technology and miles apart make music work.
And then some people we will be able to fly in, and we'll meet and we'll put the song together… Together in the studio. Or we have to end up sending it to someone, from miles apart, and they put in their part. Like me and Mya, we record together. Me and Damian Marley, we record together. Me and Tory Lanez, we didn't record together. Me and Melanie Fiona, we didn't record together. But me and Capleton, Yami Bolo, Junior Reid, we recorded together. It's how it is and how it works.
I think there's a nice mix of current and classic vibes on Royal Soldier. I think Street Kings with Junior Reid, Yami Bolo, and Capleton is a great example of that. There's even a Half Pint sample in the hook, but everything's flipped into something new and fresh.
Yeah, man… I bring back some of the legends with a mixture of this time. Because a lot of people are just remaking their songs, you know? People are remaking their songs, but they're not really remaking something. Some people are remaking the beat, but they're not remaking the entire song with the artist to say "Yo, let me just make that song over there… The artist, for this beat…" You know what I mean? It's nice to use back some classic beats or create something in that sense.
Yeah, man… I enjoyed that aspect of the album immensely. I imagine Junior Reid, Yami Bolo, and Capleton must have had some sort of influence on you throughout your career.
Yeah, definitely… Definitely. Capleton is like a big brother. He takes care of us until we can find our own way. And Junior Reid is always showing me crazy love. He's always "Yo, man. You remind me of me when I was young. You remind me of Hugh Mundell." When I was younger, the first time Junior Reid saw me he said "Yo, you remind me of Hugh Mundell, man."
And he's always giving me support, everywhere. He said "Yo, I like your sound." It's like he's saying that there's a lot of artists that comes through that have something stable… And he said "Yeah, you're one of them that comes through with the sound. You have this sound, you know?" He said "Yami Bolo has the sound. Michael Rose has the sound."
There's a sound… Like there's a wave of artists that come through with a sound. So he's always telling me about how I have this sound. And he's saying that it's the wailing sound.
And then Yami Bolo is always showing me love, way before I make it big. I used to see Yami Bolo and hang out. And I used to admire Yami Bolo - buy his CDs and just listen to him all day, man. And when I grow in the music, Yami Bolo becomes like a brother and he respect me so much. I flew him in, he stayed at my house for one week. And, you know, I get him to deliver… Him and Junior Reid in the studio at once. I put Capleton on it after. And Capleton said to me "How did you get Yami Bolo and Junior Reid on it at once?" Because it's really not easy to get these people together like that, you know?
Another track that updates something from the past is Magic featuring Tory Lanez, which pays homage to Beres Hammond, who was a mentor of yours early in your career.
You know, Beres is my daddy, so I make a little Beres Hammond twist. You know, and Tory Lanez loves it too because it's the old Showtime Riddim. It's an old-time thing. It's a famous dancehall beat.
Yeah, I picked up on the Showtime thing… This track is really killer. Can you tell me a little bit about how you and Tory put it together and why you were inspired to borrow those specific lyrics from Beres?
Well, it was a friend of mine that honestly came up with the idea. [He's] called Padrino. He's a producer. He came up with the idea and I said "I like it!" To be honest, it wasn't only my idea. So I said "Alright, we'll work together and we'll put it together". And it comes out good! Everybody was happy.
I certainly am…
[laughs] Yeah, when Beres heard it, he was happy too. I just did have to do a little adjustment, but Tory Lanez was happy. I just wanted Tory Lanez on it. When I hear it, I just think Tory Lanez. And when I connect with Tory Lanez, he was super happy, man. I never know that he was such a big fan too. And his mother is a big fan.
When I saw Tory Lanez for the first time… When we met physically… Because I just connect with him and said "Yo, we need to do this song." And a friend of mine called Dru - thanks to Dru. He made the hook up. He's from Canada. He's part of my management team and things.
And then I meet Tory Lanez one on one session at one of my bredrin birthday party in the Bahamas, that my [other] bredrin put together. He flew me in with Tory Lanez and a couple of us.
So I was on the hotel floor and I saw someone said to me "Hey, are you Jah Cure?" And I'm like "Yeah. What's up with that?" And he's like "Yo, mi Tory Lanez brother, man. I think Tory Lanez want to see you." And I'm like "Are you kidding me? Bro, you know how long I want to meet with Tory?" Because it's hard to communicate with him by phone.
So when I go by the room, I see this little short dude, man. And he was smoking [laughs]. And because we talk on the phone, he knows me, but we never met physically, and he's like "Yo, man, my mom wants to talk."
And he called his mother. It's like 2 a.m. in the morning. And I'm like "Yeah, man? For real?" And he's like "Yeah, man. My mom is the biggest fan of Jah Cure." I was really amazed. And he was like "Man, this is the Showtime. I love this. This is so special and exciting." He was going on and on and on. So, I was happy to know that he was happy. I'm really excited about this track. And he calls me all the time. We're trying to get the video done, right now. Got to get on top of things. We've got to get the video out.
But, yeah, the Tory Lanez track, I'm enjoying that one. I love that. It's one of my favourites I think, on the album.
Is there any bit of advice or insight that Beres shared with you back in the day that you still think about regularly in 2019?
Of course! Of course! Every day of my life! He said "Sing the song like it's the first and the last you're recording the song. Because once it's out there, it's out there forever and it can't be undone." Just always put in the work. that's why when you're singing a song you just put your soul in, you know? Put your soul into the song.
How did you first discover that you had a talent for singing?
I've been through a lot of struggle, man, growing up as a youth in the ghetto. You know what I mean? We just like singing. We were just hanging out with our friends. And when rough times reach us, and people were like "Yo, you got a nice voice." One night, there was a singing competition going on in my community. I entered and I came first. My mother was looking for me in the house, and she's like "Where is this boy?" But she heard my voice somewhere in a sound system down the street, so she realised that I wasn't in the house. I was missing. [laughs]
And I'm telling you, the next day I win a food basket. I went to Sandals Hotel, me and the second-place winner. We had lunch and a few things like that. I take the food basket to my house and I said to my mother "Yeah, I'm going to be the breadwinner. This is the first sign. This is the first sign of me going to be the breadwinner, because I win this food basket and I take it to the house." [laughs]
One thing I think you might have a unique perspective on… Vybz Kartel has managed to stay on top of the dancehall charts by continuing to record music while incarcerated. You were a pioneer in this respect…
Yeah, I'm the first person to ever done that in the history of the world. That's history. No one had ever done that before. I'm the first person.
That's incredible! And I think people have a lot of questions about how that works. Could you describe to me a little bit about the recording process while you were in prison? What sort of equipment was available? What kind of limitations did you have?
How my thing worked, when I was down there… They have a band. Because we get sponsored from Food For The Poor and a lot of big corporations like that. [They] send stuff to the prison institution, so we have a set-up system. We have a PA system. And I would ask officers to help me get cables and adapter wires. I would ask them to purchase for me. It's nothing illegal, because it's part of the system to help the system inside. That way we can make music.
And then I asked a friend to bring me a thing called Mini-Studio. I don't know if they still making them. Mini-Studio. The one that I know was made by Roland.
How I discovered this Mini-Studio, I was inside of the prison, and one guy wanted me to do some dub. And he brings his own system because he knows it's in prison and we don't have the kind of studio that we would want. He would bring his stuff, and then we'd work out the dub, and he'd pay me. But he brought this new equipment and I was like "Wow! That's so compact." It's like the size of a laptop, but thicker. So I asked to get one. And a friend of mine who supports me, he made his own records at the time, he sent me one and I start to use it to record. We started making music, then comes Longing For and some of the [other] songs.
So your friend brings you this piece of gear… Would you have to leave it in the music room with the instruments and PA? How often would you get access to it?
No, it's inside my cell.
Wow! Really? Yeah, because it's a little personal item and I just keep it in my possession.
That's outrageous. I never would've thought you were recording those tunes in your actual cell.
Yeah, man…
So, it's no secret that you're a man who has often been swept up in controversy, and we've seen your name show up in headlines with what appears to be more frequency in recent years. How is it different to manoeuvre through controversy in the age of fake news compared to the years before social media?
Well, I don't know what to tell you. Just things happen in life. We live our life, and when you're famous, you can't do anything wrong because you're not human. We make mistakes, man. People always not getting it. We do the same things, man. We're all shopping at the same store. So things happen… Some of us, because nobody knows us… Nobody gets to see the skeletons in their closets. Because they're not famous. But when you're famous, your skeletons get famous too. Your skeletons in the closet, they put on their suits and they come out. That goes along with the fame. It's a part of your life. You have to carry them with you. We have to just [be] grateful for who we are, and sometimes it's just the struggle that made us into who we are.
You know, things happen, but we always seem to correct our life. But still those who are big enough, famous people, always have controversial lives… Some of us. Most of us.
You know, sometimes things just happen. You just get caught up in your social media. Because now, social media is a courtroom, you know? It's where your case gets tried. So people judge you even if you're right.
That's heavy stuff, man… To finish on a lighter note, Rihanna is reportedly working on a Reggae album that will be released sometime this year. Is there any chance that you will have a feature on that album? And how do you think a high-profile Pop-Reggae album like that will impact Reggae artists in 2019?
It'll be good. Because, you know, Rihanna's from the Caribbean, and she's related, and she loves Dancehall. She posted up a lot of Dancehall artists… Whining up, dancing to them songs. She grew up to them. She grew up on my music, Beenie Man music, Bounty Killer music. So, it's nothing new. If she's giving back some of the support to Dancehall, that would be so good.
Is she someone that you had contact with in the past?
Yeah, man… Me and her met at a party and took pictures. I did have some pictures up on my Gram. I just clean up my Gram and may have thrown them away… But me and her party together in Barbados.
Your last album was nominated for a Grammy… Do you think Royal Soldier will be the one that wins it for you?
I have a strong feeling so… [laughs] The Grammys are just something that excite me. I just find excitement in going into the Grammys. Because, you know, I don't have a US visa. And I was nominated for the first time, so it was a good thing for me to go there. You don't need a visa to come through the speakers. I say that before in music… It's just, good music. If you can't reach there, at least you can reach the people. And now, in the social age, man, you can get famous and sit in a wheelchair and don't even left your house.