Festiville 2019 - Reggaeville Festival Guide Out Now
06/21/2019 by Gardy Stein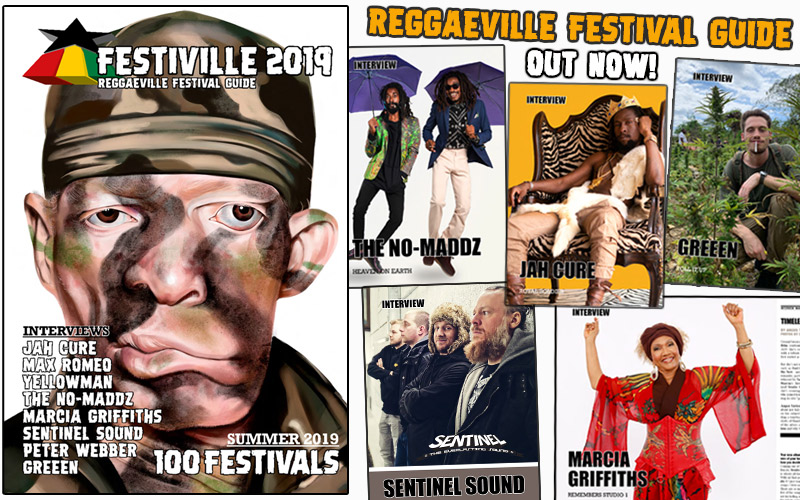 "CHAMPION, WE A REAL CHAMPION!" (Yellowman)

This one goes out to all real people! You are badly needed in a time where fake has become so common it almost seems normal. Fake news, fake accounts, fake lashes... the list goes on and on. When did mankind stop to be satisfied with the real thing?

Fortunately, we at Reggaeville.com value real music, real pictures, real artists and real information - for 10 years now! July 1, 2019 marks our decennial jubilee, so this FESTIVILLE edition is a special one. That's why we, once again, compiled a real treasure chest to guide you through the upcoming summer, providing you with a list of more than 100 festivals.

Of course, next to informing you about these fervently awaited live shows, we take a close look at established and upcoming artists and their music. 40 years after winning the Tastee's Amateur Talent Contest and starting a stellar career, the real Yellowman is back with a full studio album, the first one in 15 years. Released under his daughter K'reema's label Yellow Baby Music, it prompted us to talk to the King of Dancehall about his career and No More War.

Marcia Griffiths and Max Romeo, both of them remarkable veteran artists, have their say, too, and introduce their albums Timeless and Words From The Brave respectively, while Jah Cure chats about Royal Soldier. Real Soundsystem Soldiers (World Clash Winner 2005), Sentinel are featured in their 20th anniversary year, and style-kings The No-Maddz talk about the decade-long experience of their Dub Poetry Art Collective and their new album. Hitherto lesser known names in a Reggae context are interviewed as well: GReeeN (a German newcomer who is about to release the Irievibrations Records collaboration Smaragd) and Peter Webber (a British director who captured the Inna De Yard project on film).

Really and truly, there is a lot to discover in here. And that you, dear readers/listeners/followers, are an inquisitive bunch is evident by the amount of subscribers our YouTube-Channel has.

You are champions - stay real! BIG UP!