Interview with Jah Bouks
12/30/2013 by Angus Taylor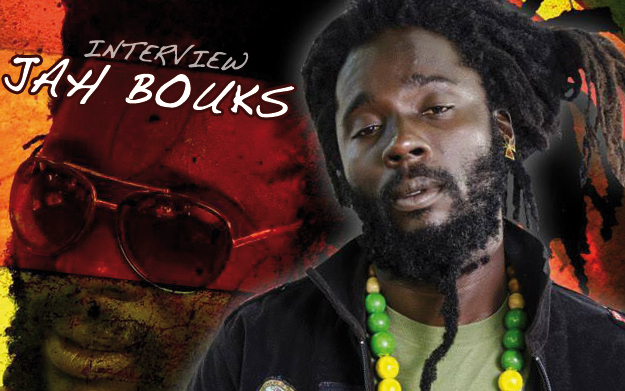 One of the biggest tunes of 2013 was Angola - the debut single by Jah Bouks. The previously unknown 38 year old from St Thomas previewed his cultural anthem on the TV show Magnum Kings and Queens of Dancehall. Amazingly, his first venture in a professional studio yielded an island-wide summer smash.

With its Afrocentric message over a remake of the Wailers' Soul Rebel rhythm, Angola confirmed that unapologetic old school roots reggae is still popular in Jamaica. Jah Bouks joins the ranks of Junior Kelly, Glen Washington and Beres Hammond (who gets a mention in the song) as a singer who has blossomed in later life.

Reggaeville linked up with Jah Bouks at home with his mother and manager Zyon Panton to discuss the soundtrack to an eventful year.

On his first musical experience aged 12
"It was in Winchester – the little community where I was born. There was this song by Tracy Chapman "I'm sorry, is all that you can say". [Baby Can I Hold You Tonight] I went up there, sang this song and I won something. Box of beer. Man didn't drink beer in those times!"

On the music in his family
"The musical blood used to come from both father and mother because my mother can sing. But my father is a man who would go on like he was a Rastaman and used to play a sound named Black Atani. In that time there was this Idren named Welton Irie and there was Yellowman and those type of warriors and from those times we used to catch those vibes."

On getting the name Boukie – which evolved into Jah Bouks
"My father went to see a movie where there was a brethren in it named Suzuki – and it was pure jokes Suzuki would give that made everybody in the movie laugh and all the people in the venue. So when the show finished and everybody came out with a bellyful of laughter and talking, he decided "Boy, Boukie mi a give my son name. If there is a boy pickney him a go get it". I found there were a couple more Boukies round the place so I did the rightful thing – I just added the "Jah" to it and just fixed it up as Jah Bouks."

On having his mother as manager
"She was the first person to take me into the studio professionally and get the song Angola professionally done. It was she who first loved it and said "We want everybody fi hear that song yunno".

When she hears a thing she will talk about what goes on. And I will listen to her and correct if there is something to correct. I'm not saying anything she says I have to jump and go do it! But she talks rightful things and I have to go deal with it."

On becoming Rasta...
"I saw all my idren knot up and said "Eh - someone fi look to, yunno". A Rastafari just tells you "It feels like you can't go round the system. You can't go round it. I'm going make something. I'm going to put something out there." You like how that person looks or wants to look. So that Rastafari just put one out there calm and collected and I said "That's how mi fi look. How mi fi look royal. How mi fi look natural". So I see the ones that knot up their heads and just follow Rasta because of how some look and how some go on."

On the progression from singing popular songs to writing his own material...
"I have a style. I have a way how I project my music. I say to myself "I can't just sing people's music and do it so. I must show the people that this is my craft and this is how I do it. If I perform your song and don't do it how I perform it, then to me it doesn't look Iley. So I'm going to do my thing my way"."

On his favourite country and western artist...
"The big man himself. Mr Kenny Rogers. I love country and western. I sit in and listen to those songs enough times. I love how those people put their things together."

On entering Magnum Kings and Queens of Dancehall competition...
"In the final audition there were something like 630 contestants and I was the last person to join the line so I was the last one to audition. While I was in the line I heard enough ones walked out and said "They done. They picked who they want already". I never let that matter to me. Once I was in the line I had to get a chance to audition and for me to get a chance to make them hear me I just had to do what I do best. I just had to be me and hope the people will love it and give thanks – that was it. So they called me and said I had been chosen for the live shows and I didn't even get that excited and say "Yeah!" Because it had gone already. I did it already. I'm not easy to get excited and I still don't get excited. I feel joy within myself and a vibes."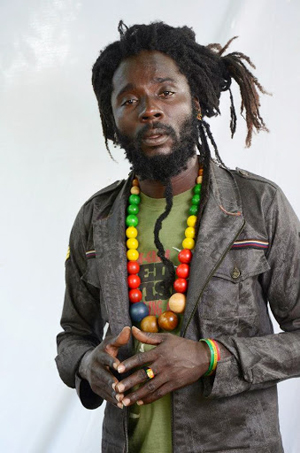 On how he campaigned for votes at the grass roots to stay in the competition...
"Nothing ever comes easy, so we had to go out and do my campaign. Most of the contestants when they went into a parish they would look for the town to go. I didn't do that. I looked for the far country areas where the people watch their TV but they don't see the artists live. So when they saw me come and sing on their doorstep live, any little credit they had upon their phone they would say "He come sing for me – right upon my doorstep" if they saw me on the TV they would give I a forward. Most people walked up and down in the town in most business places but we would come and knock at people's gates!

I think that was one of the things that kept me on the competition so long. I don't have a pretty face you know. Enough people say me and said "Old Rastaman come off mi TV!" But the personality beyond the face is warm and irie. And when you see me in person you see a difference in the way you see."

On being happy despite not winning the final...
"To me this is better than having the literal crown on my head. I have a crown already so I never needed that crown. I just needed them to lift me up to where I want to go and they have done it."

On the genesis of the Angola lyric...
I flicked some words in my head but the whole melody of the thing – it was there in the wind. I said to myself "I want make music about Africa" so I held a vibes and listened to the beat and said "Africa mi a pree with this right now". I don't know African music but I'm an African man. So that just came into I.

I guess my ancestors told me what to say because I never studied anything about Angola. This Angola thing just lingered in the back of my brain for a good reason. Probably I was there from those times. Because nothing is new, so I am not new. Nothing is new upon the face of the earth, so I am here a long time since then.
But I'm not going to tell you that one time I just started singing and it just built one time. One week I would go boom and be without the first verse but the melody is sweet and then I would trod with the first verse and Idren would say "Yeah man. It sound good. Words them connect too". But I am a man who will change up the music five or six times before I can say "Yeah". For instance I first sang "Think unnu can come take Mama Africa from none away". I said "None away" but then we thought "It's wrong. Them take it from we already. Better you say that we defend it now and you can't take it away again". As I said the song has come a long way - over seven years now to get it right."

On building the rhythm...
"We have a couple of musicians who played upon the rhythm. Before we constructed a rhythm for ourselves. It was a rhythm we made on the computer. But then I said "You know wha? We can't manage this computer thing. We have to deal with the live business." That computer rhythm wasn't ours and to put out our first music we have to have our own thing.

That was when she [his mother Zyon] called in some musicians and said we wanted it done this way and we wanted it to sound that way. Then we called in two harmonisers and just clapped it up like that. It was done at a studio in St Mary and the engineer was a brethren named Sheldon Francis who we call Harmony."

On the universal message of the song...
"To me the song is a great song. And I am dealing with Africans. Black people. But anyone who digs their roots will love that song. As a black man I have to talk about my place where I come from and my skin colour so I deal with my roots. You as a white man who hears that song you don't even have to think about the blackness I talk about. Just talk about the rootical part of it and the things I defend. Because it is not about black people alone that I hail up in that song. We touch some more countries like Afghanistan and Lebanon. So we don't just defend one skin colour. I defend truths and rights. The base and root of the song has to be my personal life story and my personal skin tone, but a universal sound I make. I realised – I knew – that black people would love it – and white people too because it's universal."

On being attacked by a policeman for singing the song in Clarendon in July 2013...
I got a little friendly box there! The brethren misunderstood the whole scenario of the thing star and did something he never wanted to do. Probably something came over him where he couldn't control. He probably had a drink of some liquor which he couldn't control.
I was on the stage performing and this brethren walked out and said "Turn it off and lock it off" but I heard my rhythm play same way so I sang the song same way then. When I sang "Burn fire hot upon Babylon" he said "Turn off that" and then when I sang "Nah get no chuck from Babylon" he got angry and give the I a one.
I just held the box and was just easy you know. Because a fire stick he had in his hand. So I wasn't going to play fool with the thing. I would get hurt and nothing would come out of it. I want to go to Africa and Europe and everywhere to talk to my people and sing for them. So I don't have time for him. I would take one or two box just to know that we are living and still get the word across same way."

On the number of fake social media pages for fake dubplates that have been set up since his name got big...
"To tell you the truth I have not seen any artists get that like I have right now! About four more Jah Bouks pages just appeared that I know about. I could even call out artists names when I hearsay they are doing it but I am not going to do that. I hearsay when they splice I to a dubplate. But I hold a balance. I have no business with them. Because you can splice I but when it comes to the shows and tours and all those things I don't think you can go – you have to call for the real Jah Bouks!
Everybody tries to find a way to break the system. Probably if I was in their position I would try to find a way to break certain systems. But I found a way to break the system and be in this limelight now. I found a way by going in the Magnum competition because my mother didn't have the money to do it and she was the only producer I saw interested in my career from long time. I just jumped in it and broke the system."

On performing at the Nelson Mandela concert in Jamaica on the 16th December and wanting to continue his legacy...
"I wish I could have shook his hand. To shake the hand of a legend like that. The brethren is a good brethren and I have to respect and honour him every time. The world's greatest.
I want to make the leaders come together too while I am alive. I want all the leaders to come in one venue and I want to sing for them one time. To make them know I can burn the fire hot and let them know about the small people in the place who need attention. Because through me being small I have to defend small people."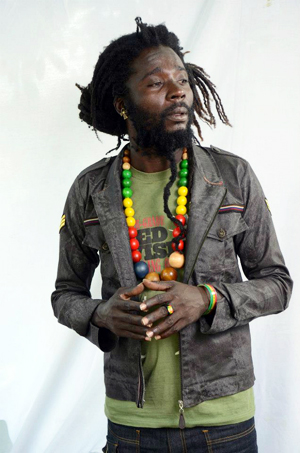 On why he places Peter Tosh above Bob and Beres...
"Peter was a man who didn't care where he was – he was going to talk his mind. And he would be himself. To me Peter Tosh was not an actor. He would be himself every time. You have certain men who when they are up on stage they don't have certain facial expressions because they don't want the crowd to see them bend up and wrench up there or talk certain words too. Peter would just spit his words anyway. And just bend up his face anyway. He wouldn't take certain things from people."

On his catchphrase greeting "Iley!"...
"Normally people go on stage and say "Haile Selassie I" but I wanted to do something unique and I wanted to do something quicker. So instead of just calling out the whole name like that I give it a brief "Iley!!!" and then everyone knows it is Selassie I deal with same way. We have to hail the king – a black king – so we have to give Ises every time."

On Tessanne Chin winning the Voice USA...
"We run things and I think Jamaicans are going to take over the globe. Everything we put our hands to will blast off. Everything we put our hearts and our minds to we can accomplish and we can win it."

On performing at Rebel Salute 2014...
"I just go out and do my work. I don't really look forward to anything. I just go out and perform. Because when I go out on stage it is not about mashing up the place. I want you to hear what I say. I don't want you to jump up and not take what I say. My thing is a story. My thing is a message. It's not about riding a rhythm, making a sweet sound, people dance and that's it. Look into the whole argument and see if it makes sense what I talk about. But Rebel Salute now, I have a band I work with called the Sunizes band and my set we always rehearse, I don't think people are going to be able to hear it until I come to Rebel Salute. Because that is the show where I think we are going to get a full cultural segment where you have the time to get more of Jah Bouks. The ones that come out to that culture festival – you are going to get a bellyful of Jah Bouks."

On performing in Africa...
"If you are putting on an event up there then invite I man! Because if you are ready tomorrow I will be ready! But right now I have not got any shows up there yet. A whole heap of talk about it but until we sign the paper it's just talk."

On the release of his first album...
"I have a party going on in May. Last time we kept it in Gregory Park, St Catherine and this time we are going to keep it in St Thomas. We are going to launch the album and the party in one on 15th May 2014."

On the highlight of 2013...
"Angola and Magnum Kings and Queens. Magnum Kings and Queens took Jah Bouks to the world. Made them see Jah Bouks rather than just hearing Jah Bouks."

On his plans for 2014...
"I would like some Europe work. To tell you the truth I don't want to do any travelling before I release the album. I don't want to come, sing one song and then come off stage like it's a ramping thing. So when we do an album it will be this we are coming with and we want to come with a band and do a full performance. We're not coming to do a little 15-20 minutes ramp."


WATCH THE OFFICIAL ANGOLA VIDEO: