Review
Album Review: Bugle - Picture Perfect
08/30/2019
by Gardy Stein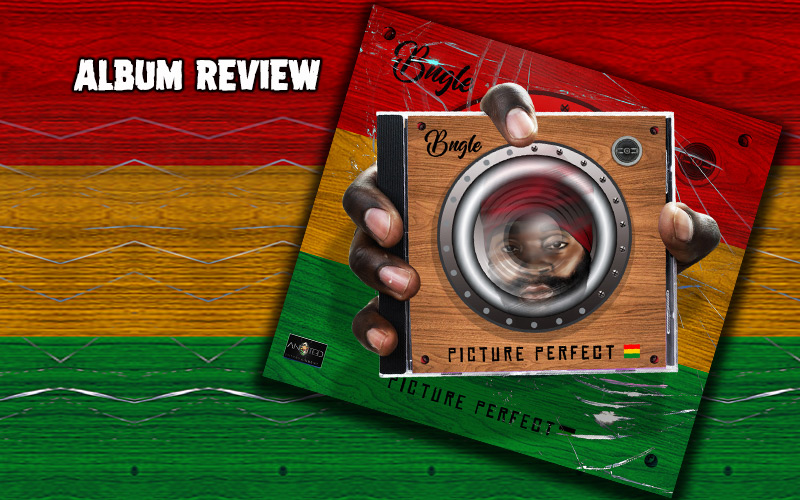 "I don't make music only to entertain but also as a tool to educate and inspire. I hope the fans will truly appreciate this latest offering as we strive to preserve the authentic Dancehall and Reggae culture." (Bugle)
Nine months in the making, the youngest brainchild of Roy Thompson aka Bugle has seen the light of day a few weeks ago - about time we take a closer look at Picture Perfect! Remarkably, the third studio album by this consistent artist outnumbers the already extensive tracklists of its predecessors, presenting 20 songs that compete for our attention.
They are grouped in two segments entitled, accordingly, "Picture" and "Perfect". Picture, the press release informs us, is "a blend of contemporary and traditional Reggae" while Perfect, as the second part of the release is dubbed, is picking up speed: "a perfect dancehall vibe infused with those heavy drums and bassline".
The Intro is heavy stuff already, an ominous soundscape traversed by the piercing vocals of Kingston's Dub Poet Ras Shadai. The fact that he was chosen to feature here is a testimony of Bugle's deep involvement with Rastafari, since Ras Shadai is a conscious wordsmith and craftsman participating in most (if not all) deeply cultural Roots events Jamaica's capital has to offer.
With the same keen sense for who might fit which riddim, Bugle has invited a fascinating array of fellow artists, among them Gramps Morgan, who also joined the team in the executive production. Together, they sing Encouragement for those times when life is rough on a riddim produced by Markus Myrie, of which I especially like the thirty-odd-second-ride Bugle takes from minute 2:07.
On a whole different level, the title track brings the smooth-like-silk vocals of Jada Kingdom to the fore, on an equally supple riddim forged in Bugle's own An9ted Entertainment Studio with compositional support by brothers Alex and Ainsworth Taffe from the Rockaz Elements family affair. Combined with Bugle's low bedroom-voice this makes for some damn sexy music!
A very personal approach is taken on Life Saviour featuring Noah Powa and Alexander. Listen keenly to learn something about Bugle's career so far, as each artist he's been crossing paths with, from Papa San via Shocking Vibes, Bounty Killer and Elephant Man to Shawn Scott Music Group (SSMG) and Daseca, is mentioned: "God bless Daseca cause dem help me fi deya still today, produce two album fi miself now the third one on the way." The song, produced by Lamar Reynolds, surprises with a Gospel-like chorus that will stick with you, mind!
Apart from the outernational combination My Way, a lively, Afrobeats-infused riddim contributed by Switzerland's Little Lion Sound, only two features remain to be mentioned. Rise Again, a track that has been released as single early last year, comes as a remix with the "lyrics deity" Kabaka Pyramid, who also acted as producer for the thought-provoking What Is Life, by the way. Also out since 2018 is the Shuga collaboration Replay, definitely one of the most well-rounded tracks on the album when it comes to production (by R4Nyte Entertainment), mix (by Red Boom) and artist delivery - not to forget the stunning video!
But Bugle is well capable of shining on his own, too, as his solo tunes show. Perfectly tailored to suit his vocals with a relaxed, slow one-drop, Memories looks back to where he's coming from. Mixed by the legendary duo Errol and Shane Brown, the bass gets the warm prominence it deserves, and also the backing vocals are on point (with all that expertise, I wonder why the guitar sounds a little out-of-tune, though - might that be intentional?). The subsequent 24hrs asks us what would happen if everyone took a rest and quit his or her work - I understand it as motivational piece for you to take your job serious, whether you are a teacher, a doctor or a cleaner. You all are needed!
Opening the Perfect segment, Dancehall Style is the outcome of a collaboration with UK-based Jungle duo Chase & Status and makes clear how relevant Bugle is for leading the way into conscious, clean, un-slack Dancehall music, just like the following track Zaddy. Produced by Ajusdivybz Music, it is one of the singles that have been released earlier this year, a humourous self-praise in which he disappoints all the girls out there with the final words "Sorry, I'm taken."
While Stereotype addresses prejudices and mechanisms established by society, Bugle once again brings words of comfort to those in need of upliftment with Unbothered. "Life has its way of working itself out, so mi no worry bout nothing!" Worth mentioning here is the melodic singing style the artist shares with us, again present in Focus. This Hungry Lion production has a deep Reggae beat which brings the tempo back to the initial speed, thus closing the circle and setting the mood right for the final track.
My personl favourite, Appreciation is one of those anthems Bugle unfailingly manages to create on each and every release. Just like Anointed in 2014 and Be Yourself in 2017, Appreciation touches deeply by the simplicity of both instrumentation and message. "Tell you brother se you love him, rate him, appreciate him, tell your sister the same thing because life a no game thing!"
Picture Perfect is exactly what its name implies, a perfect picture of what the artist Bugle has grown into. Of course, working with experts such as Anju Blaxx or Jermaine Forde as well as the artists and producers mentioned above play a big role in the creation of this album, but most of all it's Bugle's ability to observe and analyse what's going on around him, and to find exactly the right words to express whatever it is he wants to say that make his releases so special and easily relatable to by his audience. Chapeau!
---
Release details
Bugle - Picture Perfect
DIGITAL RELEASE / CD [An9ted Ent]
Release date: 08/16/2019
Tracks
01. Intro feat. Ras Shadai
02. Educated Dunce
03. Engagement feat. Gramps Morgan (Remix)
04. Picture Perfect feat. Jada Kingdom
05. Next Of Kin
06. Memories
07. 24hrs
08. Rise Again feat. Kabaka Pyramid
09. Hungry Days
10. Life Savior feat. Noah Powa & Norman Alexander
11. Dancehall Style
12. Zaddy
13. Way feat. Little Lion Sound
14. Replay feat. Shuga
15. Stereotype
16. Unbothered
17. Celebration
18. What Is Life
19. Focus
20. Appreciation
Featured artists
Jada Kingdom
/
Kabaka Pyramid
/
Gramps Morgan
/
Shuga