Review
Album Review: Nick Sefakis - Foundation
02/22/2020
by Gardy Stein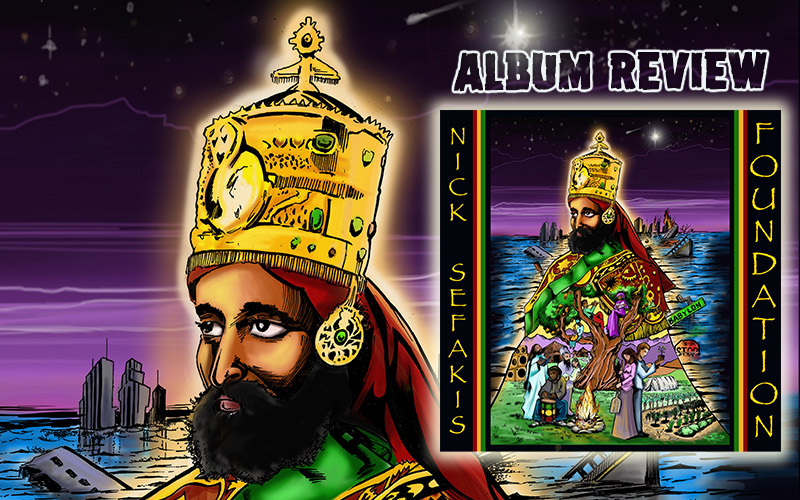 On repeat for a week now and no sign of getting tired of it: Nick Sefakis' Foundation is a true ear candy, an album that will make you discover something new with each round of listening. This being said, let's take a closer look at the who and what of this release.
Pulling off an almost one-man show, Nick Sefakis has created ten tracks of exceptional beauty and novelty, firmly rooted within the multifaceted realm of Reggae. The Californian guitarist joined his compatriots Iya Terra in 2015, contributing to their signature sound, and has since honed his skills as multi-instrumentalist as well. Foundation is his debut solo album, and virtually everything from drum programming via bass and guitar playing to songwriting and singing has stemmed from this creative's hands and mind.
The credits inform us that there is an occasional addition on keys and organ by Ryan Kordich as well as a guitar solo (on the title track) and a feature (on Live Free) of David Yun, both members of Eureka Sound, a band who has collaborated with Iya Terra on their 2018 single Big Pharma.
The only other features are Elliot Martin of US-Reggae-veterans John Brown's Body on the hypnotically chanted Lion Order as well as Rik Jam on Don't Want Conscious. One of Jamaica's most promising young talents, the song introduces us to his fresh, youthful voice that harmonizes perfectly with Nick's warmer timbre, the both of them complaining about those Rasta imposters who smoke herb and grow locks while not embracing the conscious teachings of Rastafarianism at all.
All other tracks are a playground of Sefakis' incredible vocal range, stretching from the relaxed, low slur in Respect to the melodious, high-pitched lilt in Keep On Loving You. "Inspired by my beautiful girlfriend Sandy Krietzberg", as the liner notes tell us, the song reminds me of the fantastic The Frightnrs, both musically and vocally. Speaking of reminiscence: intentionally or not, the title track Foundation sounds as if Akae Beka was a big influence, with the typical conscious chant and a special way of stressing certain words. Masters live on!
A personal favourite, Ring Out A Chant is a meditative experience if there ever was one. Get lost in the laid-back rhythm and Nick's intense, touching and melodic voice, which certainly makes for a big part of this album's fascination.
With a nod to R&B and HipHop, Truly closes the release on a modern note. "Life is truly what you make it, so I make a dream out of it!" Dream-inspired seems to be the artwork as well, contributed by Ras Elijah Tafari: H.I.M. Haile Selassie enrobes the tree of life in whose branches musicians dwell and at whose feet people gather around a fire after having planted food crops, while Babylon perishes in the background...
Dream on, Nick Sefakis, and never ever stop creating music such as this Foundation!
---
Release details
Nick Sefakis - Foundation
DIGITAL RELEASE
Release date: 02/21/2020
Tracks
01. Foundation
02. Lion Order feat. Elliot Martin
03. Young Dread
04. Keep On Loving You
05. Don't Want Conscious feat. Rik Jam
06. Book Ah Scripture
07. Respect
08. Ring Out A Chant
09. Live Free feat. David Yun
10. Truly
Featured artists
Rik Jam
/
John Brown's Body