Interview with Iriepathie - 10th Anniversary Irievibrations Records
11/06/2013 by Gardy Stein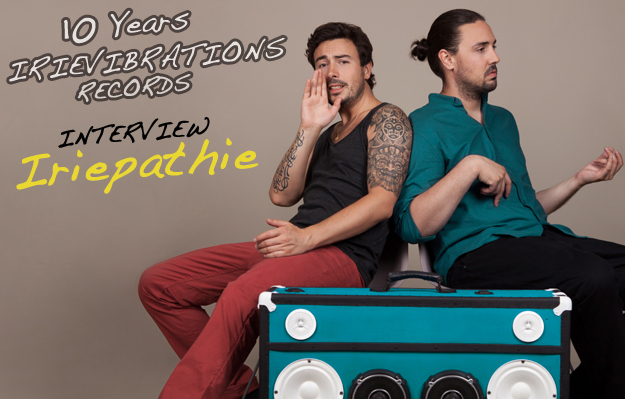 On Helloween-Eve, I was finally able to tackle down the busy mastermind behind the three Iries: Irievibrations Records, Iriepathie and Irievibration Soundsystem. Taking into account the remarkable output of the successful Austrian label, it seems like a miracle that basically it is run by three people who happen to be brothers as well as business partners. Fortunately undisturbed by candy-hunting kids, Michael Lechleitner aka Professa spoke to Reggaeville about the last ten years of creating music, their new album and future plans.

You are about to celebrate 10 years of Irievibrations Records. How did it all start?
The first step was actually the band. Back in the days we were just called Professa and DJ Syrix and once we had a few songs we started to organize our first concerts and shows and Snowboard-jump-contests with afterparty. Next, we recorded some stuff as well, and in the year 2003 we had the first release on what has become our own label. It was the 12-inch Mehr Fragen Als Antworten and on it was a tune called Irievibrations. This was the first of our songs finding airplay on FM4 which was quite important at that time, so we chose its title for our company. And then we kept building up continually until it has grown into what it is today.

And what a growth it is! Among the artists you produce are not only local heroes, but also international stars like Luciano, Anthony B and Konshens. Did they come to you or did you invite them?
Well, you know, in the beginning of course you have to request the people, you have to work up a reputation. We consider ourselves lucky because we have relatives in Jamaica, so we've been there from early childhood, with 8 or 9 years maybe. And when we started to take music seriously and really advanced in it, we did some recordings there as well. We started out with some local acts in Montego Bay like Brilliant and Lyrics Factory who even took us on a European Tour. And then they had this Riddim called Love Band and told us that they have connections with a lot of artists and could break us a deal. So we built that up and it was really cool. Anthony B was one of the great Jamaican artists they hooked us up with and we did some recordings as early as 2004 or 2005. More contacts were made when we opened as Iriepathie on Reggae Sumfest 2004 on a Friday night. That was quite enjoyable!

By now you are really successful, having your own band, your own label, a new album and so many great artists you produce – what else do you want to reach? Which dreams you'd like to chase?
Of course we still have a lot of dreams! The thing is, what we are doing is only possible through hard work. Syrix is in the studio the whole time and Tomic, our youngest brother, is doing the marketing in the office. We have various units in the company ranging from graphics to programming to booking where people work on a freelance-basis, but still we have to struggle to keep it all together. As you know, Reggae is not as profitable as popular music or Schlager, so the cash is not flowing in that easily. It's a small field and it's important to try to work as professionally as possible to stay economical. Without the huge passion we feel for this music, we would probably not be doing it. But we love what we are doing and so we put up with literally working 24/7!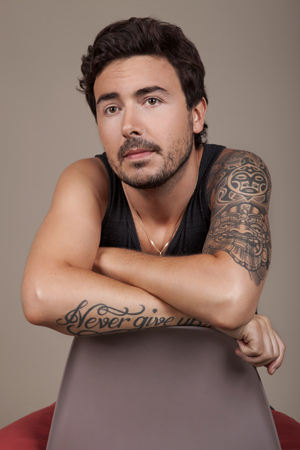 Ok, so that means you can make a living out of it?
Yes, it is our full-time-job, but as I said before, it is hard work. We really labour seven days a week, and this year with the additional release of Auf Wiederhören we really reached our limits. I mean, when you do three festivals, produce and release 5 albums which you have to write, record and promote with basically three people who do most of the tasks – you can imagine how that workload affects us.

Yes, indeed! And what do you do to relax, to regenerate, to regain your strength?
Traditionally, we fly to Jamaica in November to get a break. On the one hand we are there to start some new projects for the next year, but on the other hand we really take time to chill. It's very relaxed to be there for 3 or 4 weeks in a row. But what is really important to us is to spend time at home. We all live in Wien since ten years now, so whenever possible we go to see our parents in Tirol for Christmas or other holidays when everyone comes together. Family is our most significant source of strength, family in the wider sense too, including close friends and the people we live and work with.

Nice. Is it difficult to work with your brothers around the clock? Are there moments when one of you needs to get away?
Yes, it happens, especially when we are under pressure and there is a lot of stress to deal with. It's not so easy sometimes and it can get a little rough, but we are always quick to forgive and talk about everything. It's intense. But we value the luxury to work together as a family, especially since each of us owns shares of the company too, so we are able to work harder than people who only do a job.

How does Irievibration Sound fit in that picture? Is it you as well doing that?
Yes, we are doing the Soundsystem too. Actually, we have quite an impressive dub-box already, but we are not on the road regularly. When we perform, these are special parties and Mattydread or Tomic act as selecta while Syrix is the operator. When a party really peaks and he jumps on the turntables, then there's no holding back! (laughs)

Speaking of… When can we party with you in Germany again?
We are just about to set up a Germany-Tour for Iriepathie with 15 stops from south to north. It will be from middle January until end of February 2014.

About your new album, what are the reactions so far? What feedback do you get?
Actually only good feedback! We were surprised because we had so much more positive reactions compared to the last album. People tell us that they love the combination of our established vibes stretching out in new directions. It seems we did the right thing at the right time and that's what people feel, I guess. Sometimes, the more professional you get and the more songs you put out, the more you try to do something new and subsequent releases start to sound exertive or strained. I think we managed to keep the tonality easygoing and laid-back; it's a homogenous mix which shows the full spectrum of Iriepathie. Authenticity is important!

Yes, definitely. Especially the collaboration with Irie Révoltés seems to be celebrated by fans worldwide. Do you plan on any new projects with them?
The funny thing is, we only got to know each other through the song. And it worked out at once… I really like the guys because they personify the things they talk about and are completely honest, friendly, down-to-earth-people. The vibe was there from the beginning. Actually, they were the only artists we hadn't met before – the other features are old friends mostly – and after Syrix had built the track for Laut Sein, Irie Révoltés came to my mind at once. I just felt it would have to be them. So we sent them a message through Twitter, and even thought they've been working on their own album at the time, they agreed at once and took their time to write the song. We then started shooting the video in Wien and moved on to Berlin for the second part, where we found huge support from the Urban Tree Team (a grateful big-up to the whole crew!). So, the video came out really nice and also our joint performance last week in Wien was burning down the place, so it definitely wasn't the last time that we worked with them!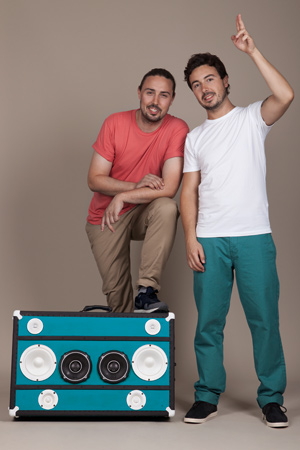 This song also has an important message: to speak up and get involved. On your Facebook-site you started an appeal that people should post organizations they find support-worthy. Is there any project you are especially dedicated to, a charity you engage in?
Yes, we have done different things. We've grown very fond of this project in Jamaica where we built a complete studio, and now the real challenge is to keep it going. Since there are so many young people, we want to organize workshops and invite some local producers to work with them and put them on the right track, you know. Another thing is less public. In commemoration of a cousin of ours we financed the digging of a well for a hospital in Tanzania. As to what you mentioned, we now have a list of some charities which deserve support and have to decide which one to choose. They all are working for a good cause, but the important thing for us is that the support is as direct as possible and that the people behind it have creative ideas how to make the best use of the aid given, like Viva con Agua for example. I'm not a friend of throwing money to a huge NGO, I prefer handing it over myself. We don't talk about large amounts here, so the more important it becomes for us to make sure the little means we gather have the biggest possible effect.

Respect, that's good to hear. Another track that just saw its video release is Ich. Watching it, I got the impression that there is a little melancholy or nostalgia under the surface, contemplating the free-spirited times of your childhood. If you could give an advice or a message to the kids of today, what would it be?
Very simply stated: that they should enjoy their time. That they are absolutely allowed to make mistakes. That they don't have to function all the time like a machine. At the same time, they should always keep an eye on themselves and see what does them good and what doesn't. And to be conscious about the fact that too much from anything is not good, so be careful what becomes a habit. It always helps to listen to your inner self and try to find a balance.

Last question: rumour has it that for your decennial anniversary, you will release a label-sampler. Can you confirm that or is it still a secret?
The label-sampler will be an exclusive free download on Reggaeville to celebrate with our fans, our community. It contains a cross-section of tunes from 10 years of Irievibrations Records, including Gyptian, Morgan Heritage, Anthony B and Ward 21 – a cool mixture! And next year we'll do a producer-album where you will find the newest stuff.

Sounds great! Anything else you wish to add?
Without revealing too much, there is an upcoming project we are very excited about. We will go to Jamaica to make a special documentary which will be out 2014. Just to make you curious! (laughs)

We will be looking forward to it. Thank you so much for your time and keep up the good work for the next ten years!