Inner Circle Re-Releases Jacob Miller and Ray I's Natty Christmas Album
12/10/2020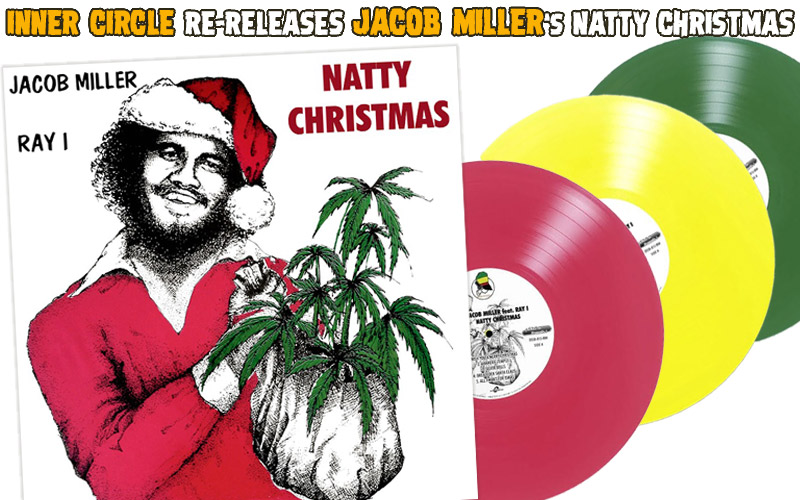 It's been 42 years since Inner Circle and their charismatic lead singer Jacob Miller recorded Natty Christmas, a jolly reggae spin on the Yuletide season featuring deejay Ray I.
This year, the Bad Boys of Reggae are re-releasing the popular 10-song as special vinvl series (with the records in red, green and gold), which is available @ BUYREGGAE.com
It will be done 40 years since Miller died in a motor accident in March, 1980 at age 27.
Abebe Lewis, marketing manager for Inner Circle, said, "With vinyl sales rising we wanted to produce a special commemorative piece."
He disclosed that as many as 2,000 copies will be available. Natty Christmas remastered was also recently released via streaming.
Recorded at Channel One studio in Kingston, Jamaica, Natty Christmas contains 11 songs, including reggae-fied takes on Christmas standards such as Wish You A Merry Christmas and Silver Bells. There is also Natty No Santa Claus, All I Want For Ismas, and On The Twelve Day of Ismas.
Bernard "Touter" Harvey, Inner Circle's keyboardist, said he and his bandmates were just looking to have some fun.
He remembers Miller making it even easier to record.
"The sessions had a great vibe; Jacob was his usual self, making or should I say changing the lyrics as we go along," he recalled. "At the time it was another first for us, as it was the only Christmas album with a reggae beat," he recalled in a 2019 interview with the Jamaica Observer newspaper.
Brothers Roger and Ian Lewis, who founded Inner Circle in 1968, played guitar and bass, respectively, on Natty Christmas. Guitarist Mikey Chung and bassist Robbie Shakespeare of Sly and Robbie fame, also played on the groundbreaking set.
VINYL TRACKLIST
A1 Wish You A Merry Christmas
A2 Ahameric Temple
A3 Silver Bells
A4 Dreadlock Santa Claus
A5 All I Want For Ismas
B1 On The Twelve Day Of Ismas
B2 Deck The Hall
B3 Bruck Pocket Ismas
B4 Deck The Hall (With Lots Of Collie)
B5 Chronic Buzz Ismas