Line-up Sting 2014 & Live Stream
12/16/2014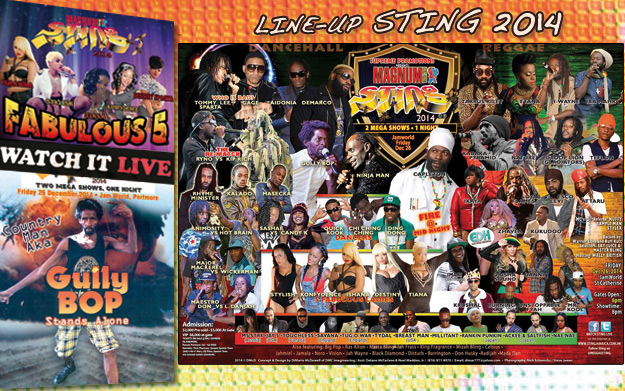 Sting 2014 'The Greatest One Night Reggae / Dancehall Show On Earth' takes place next week - December 26th!

The official poster and the full line-up have been revealed recently. Check the full line-up HERE!

Sting is announced as an event with two festivals in one night. A Reggae part and a Dancehall part.

Promoter Isaiah Laing told the Jamaica Gleaner:
"For the first time ever, we will have two major festivals on one night; this year will be electrifying! The number one dancehall show and the number one dancehall-selling brand, Magnum, have reunited for this extraordinary staging. For the reggae show, we will see the current major players in reggae. We have a reputation for always delivering the giants for a reasonable entrance fee; that will not change for Magnum Sting 2014."

PAY-PER-VIEW LIVE STREAM
If you can't attend the show… you may watch the LIVE STREAM on your computer. The Pay-per-view registration is now open @ STINGJAMAICA.com.jm and it's available for $19,99, which sounds like a pretty good deal. In the past years the rate on show-day was $50,00.


And guess who is the most talked about Sting 2014 artist these days and will maybe clash Ninjaman? It's Gully Bop... Gully who? Watch his appearance @ OnStage TV past saturday: