Jamaica 58 Independence Day Celebrations 2020
08/06/2020 by Press Release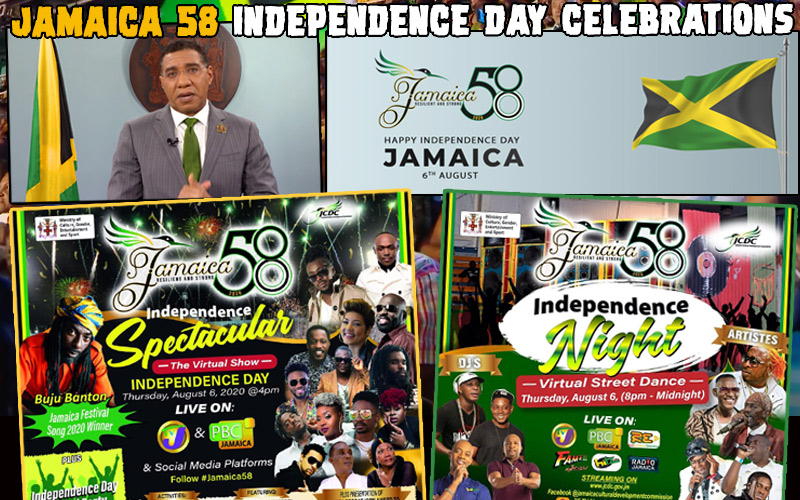 The Minister of Culture, Gender, Entertainment and Sport, the Honourable Olivia Grange, has announced that there will be fireworks over Kingston at the climax of the Independence Spectacular on Thursday - August 6, 2020.
The fireworks show — lasting five minutes — will come at the end of the Independence Spectacular which is being staged as a virtual edition of the annual Independence Grand Gala.
The Independence Spectacular will be held without an audience at the National Arena in keeping with the necessary restrictions on gatherings to reduce the spread of the coronavirus.
The music stars, Shaggy, Marcia Griffiths and Ken Boothe will be presented with Jamaica Reggae Icon Awards at the event which will feature popular local artistes, including the 2020 Jamaica Festival Song winner, Buju Banton; Kemar Highcon; Beenie Man; Dre Island; Christopher Martin; Tessanne Chin; Wayne Marshall; Kevin Downswell; Kukudoo; Chevaughn; Ikaya; Shereita; and Richie Stephens.
L'Acadco, Dance Xpressionz and Citi Dance Company will also perform on the show which begins at 4pm and will be broadcast live on TVJ, PBCJ and on social media.
Following the Independence Spectacular from the National Arena, the Ministry of Culture, Gender, Entertainment and Sport and the Jamaica Cultural Development Commission will be hosting an Independence Night Virtual Street Dance, featuring Ricky Trooper, DJ Boom Boom, Collin Hines, DJ Rodrick, Elephant Man, and Jah Vinci.
The Virtual Street Dance is to compensate for the absence this year of the annual street parties in major towns across the island due to the reality of covid-19.
The Virtual Street Dance, from 8pm to midnight, will be broadcast live on TVJ, RETV, PBCJ, FAME 95FM, HITZ 92FM, Radio Jamaica and online.
Members of the public will be able to participate in the Virtual Street Dance via the video conferencing and messaging platform, Zoom.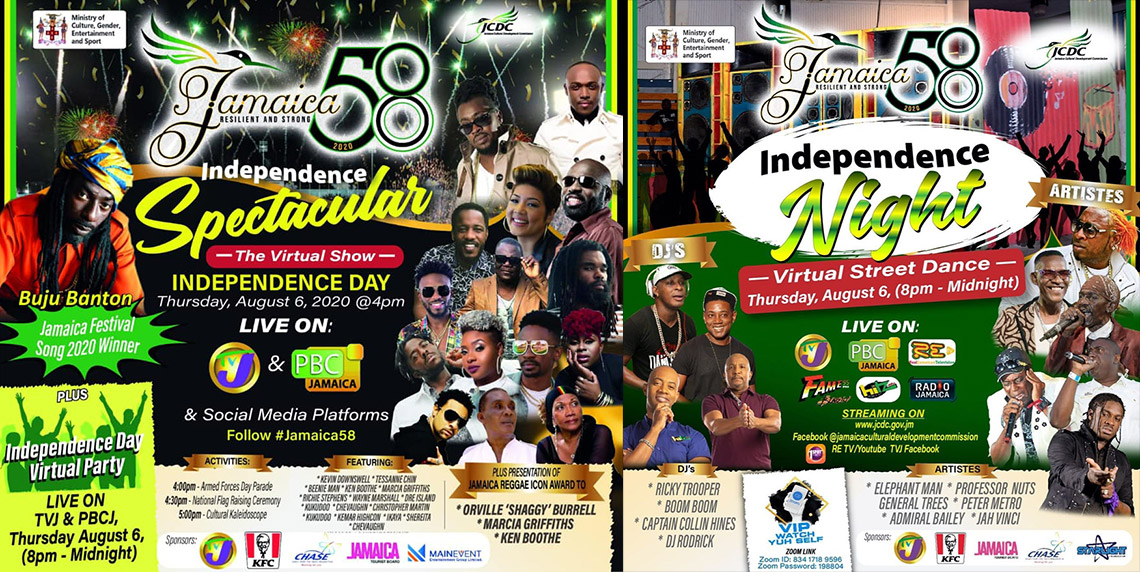 'Emancipendence' 2020 Message from Minister Olivia Grange, Minister of Culture, Gender, Entertainment and Sport
Happy Emancipendence Jamaica!
Fellow Jamaicans, we celebrate the 58th anniversary of our nation's Independence and 182nd anniversary of our Emancipation amid the impact of a global pandemic, COVID-19, which has upended our society and threatened our lives and livelihood. And yet, it is not lost on us that we have in our veins the blood of our ancestors whose life-giving and energizing fight for our freedom has made us Resilient and Strong.
Today we want to pay tribute to our medical and public health officials and other frontline workers who continue to display deep commitment and courage as they work assiduously to keep our country safe from the coronavirus. Their acts of sacrifice and dedication reflect those of our ancestors who were the models of bravery and determination in their many actions of resistance and rebellion, which assured in the end the freedom of their children then yet unborn.
As we celebrate this significant achievement, let us understand that the greatest tribute we can pay to our ancestors, the most significant manner in which we may represent our mettle as an independent people, is in living and working together for the betterment of each other. Our ancestors made their destiny one of collective responsibility. So it is that we must come together and chart a course of sustainable prosperity for all our people, believing that full freedom and independence rest in our determination to promote a common purpose and destiny.
In this regard, we must examine again how we treat each other. We must ensure that our laws, regulations and ways of doing redound to the greater good of all our people, especially our women and children, and that our actions in governance, justice and development seek to encompass all our people, regardless of colour, creed, demography or social standing. In particular, we must eliminate in our country the scourge of violence and crime, especially toward our women and girls.
We must be vigilant at every moment so that we do not exclude any of our people as we advance our nation's prosperity. Since education is ultimately the foundation of personal and collective development of our people, we must commit to the fulsome education of all our children, that none is left behind, that none is excluded for any cause or reason, but rather that we embrace our children, especially those from poor and vulnerable circumstances, assuring them of hope in their future and guaranteeing for them success in their achievements.
Finally, we salute our Jamaican creatives who have over many decades helped to position Jamaica as an outstanding global brand. Our creatives have always used their creative imagination to promote our goods and services to the world market and contribute to the resilience of our creative economy. Even as we face the pandemic, our creatives have engaged in new forms of production and promotion that has kept us abreast of our challenges and kept our national flag flowing high everywhere in the world, identifying us as Jamaicans. In the words of Buju Banton, winner of the Festival Song 2020:
Resilient and brave
Industrious
Yes, we are Jamaican.
OR
Beautiful smile
God-fearing people
Known across the world
Yet (we're) so simple
And it's not (our) fault
That (we're) so loving and kind
Jah bless this island of mine.
Happy Emancipendence fellow Jamaicans! May God continue to bless Jamaica Land We Love!