Reggaeville Riddim Corner #22 (Yaad N Abraad, Chancery Lane & Destiny)
03/18/2018 by Dan Dabber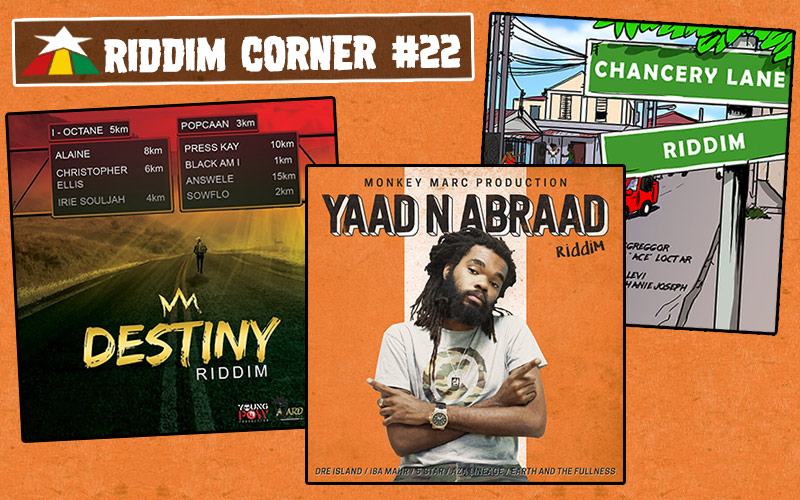 YAAD N ABRAAD RIDDIM (DIGIKILLAZ)
Yaad N Abraad might only be producer Monkey Marc's second riddim release, but Monkey, a name given to him during his days working in the Australian Outback as a geologist, is not a typical reggae producer. In fact, there's really nothing at all typical about him. He spent many years dedicated to activism, bouncing around the Aussie desert in a vegetable oil-fueled van that also hauled a homemade solar powered sound system called Labrats. Labrats was a vital part of the formation of Monkey's socially conscious hip hop group, Combat Wombat, which won the beat maker notoriety in Australia and abroad. In addition to his work as a hip hop producer with Combat Wombat, Monkey has released numerous other projects, including an album with reggae/hip hop artist, Soom T, and several records for dub label Jahtari. Last year, Monkey released his first juggling, No Surrender, a five song offering that featured Sizzla and Capleton barking lyrics over a funky hip hop track. Monkey Marc is an anomaly - a mash up of Mad Max and Lee Perry with a creative, DIY-fueled mastery of several genres of music, as well as the machines that power and support his productions.
Monkey's long and varied production resume informs Yaad N Abraad, a riddim rooted in the fundamentals of reggae, but with a genre-bending edge. Built on a foundation of filtered guitar skanks and choppy, hip hop-style drum samples, the filters, sound effects, and rude echos give Yaad N Abraad a dynamic texture. These dub-derived elements, pioneered by Jamaican producers like King Tubby in the early 1970s, are often used today in various forms of bass music. The hip hop and dub-wise leanings create a vibe that is easily digestable for Western ears, and this accessibility is further magnified by a similarly familiar, vintage mid-bass lead. The hollow, distorted synth, also popular in many iterations of bass and club music, delivers a simple yet angry melody, which is mirrored by a sub-bass that carries the groove while the lead rests. Although many purists will feel some kind of way about a hip hop/electronic producer suddenly dropping jugglings of strange and brilliant hybrid riddims, there is something to be said for the potential of such records to deliver the music of legit reggae artists to people who might not otherwise hear them.
The lead single from Yaad N Abraad is the titular track from artist Dre Island. An energetic song that seems to play to the crossover potential slightly more than the others, it proves once again that Monkey can hang with some of the best reggae artists in Jamaica. Further proof is Iba Mahr's Come Out, a strong showing from one of modern reggae's most unique voices. Up-and-comer, Aza Lineage, lends her distinct vocals to the project with a tune called Prosper, demonstrating her hypnotizing singjay abilities while delivering uplifting and rebellious reality lyrics. The remaining two artists, Earth & the Fullness and 5 Star, are lesser known than the other three performers on the release, but they are no less competent and help to round out the project as a full package. Yaad N Abraad may catch a buzz with one of these tunes, Dre Island's song being the most likely candidate, but the juggling as a whole is a sign of big things yet to come for Monkey Marc.
CHANCERY LANE RIDDIM (JAMBIAN MUSIC)
If you have any doubts about real Jamaican dancehall's place in the landscape of modern American pop culture, please search for Charly Black's performance on The Wendy Williams Show last summer. It took two years from the time that it was first released, but Charly's song, Party Animal, somehow managed to infiltrate the mainstream, assisted heavily by the poppy, club-friendly, soca-ish sound of the Jambe An Riddim. Jambe An, which was released on Winston Riley's legendary Techniques label, was largely the brainchild of Riley's sons, Kurt and André. Now the brothers have peeled off from Techniques to start their own imprint, Jambian Music, and their first release under the new name, Chancery Lane Riddim, has some key things in common with Jambe An... while sounding nothing at all like it.
Chancery Lane has a classic lovers vibe with organs, horns, and a dramatic key change that builds only the slightest tension. This is a feel-good riddim, guaranteed to inspire the feet of grown folks to let loose and two-step with their special someone. It has neither the club appeal nor the youthful energy of Jambe An, but the artist line up is similar in that it represents a swathe of caribbean flavor that is wider than just Jamaica. Artists like Irvin Ace Loctar from St. Lucia, Stephanie Joseph from Tobago, and Rupee from Barbados are not often featured on Jamaican-produced reggae jugglings. Jambe An had a similar artist roster, which was voiced by almost an equal share of both dancehall and soca artists, with a splash of Daddy Yankee tossed in later for good measure. Even dancehall jugglings don't usually feature non-Jamaican performers, but the broad appeal of Jambe An seemed to call for it. When it comes to the more traditional Jamaican approach of Chancery Lane, the large regional pool of artists is more of a surprise and may reflect, at least partially, what Jambian Music is trying to do as a label.
Anytime a living legend like Freddie McGregor blesses a riddim, it will stand out, and even more so if he performs in combination with an artist who is arguably the premier dancehall deejay - Agent Sasco. In their tune, Too Long, McGregor lovingly lays down an ultimatum for a lady he is pursuing while Sasco reinforces his sentiments. Overall the track is pretty epic, though picky listeners may notice a slight awkwardness in the transitions between the artists. Randy Valentine's romantic Turn Up Love, is as fun as it is sexy, and with strong ties in the UK, Valentine connects the project to a whole other continent, along with another Jamaican transplant currently residing in the UK, Clay. Clay has a nice showing with Stay for the Night, as does Torch with Bangarang. There really isn't a bad track on this juggling and, if there would be a top selection, it would probably be Romain Virgo's Trouble, a playful tribute to the irresistibility of certain types of "bad" girls.
DESTINY RIDDIM (YOUND POW / YARD VYBZ ENTERTAINMENT)
Trevor "Baby G" James of Yard Vybz Entertainment and Sean "Young Pow" Diedrick have teamed up again for a one drop juggling called Destiny. The last time we covered a collab between the two respected producers, it was mid-summer of 2016, and they had just released a mean dancehall riddim called Bazzle. That riddim achieved moderate success, with big versions voiced by Mavado and Beenie Man. However the artist line up for Destiny, which doesn't include any performer with mainstream credentials, seems janky by comparison. Well, that's not 100% true… Destiny does have a Popcaan version, but it is yet another remix of Where We Come From, the title track from his 2014 debut album, which is disappointing considering the caliber of the producers involved with this project.
Although an original Popcaan track would've been preferred, Baby G and Young Pow built the perfect one drop riddim to remix Where We Come From. It may even eclipse the original (which was produced by Anju Blaxx) because the acapella works well with Destiny's built-in sentimentality and relatively fast tempo. The emotion in the riddim track bubbles from the dainty piano flutters and bursts of airy flute, while the bouncing bass line steadfastly grounds the production in rhythm and power. Destiny is a solid rhythm, but its R&B influence and smooth polish, pioneered in 2004 by Donovan "Don Corleon" Bennett with his giant hit, Drop Leaf Riddim, has become an overused style in the last few years. The Destiny project as a whole lacks inspiration in a few key categories, but it has many redeeming qualities, including several extremely talented, and a couple of very well known artists who contribute some excellent tunes.
Alaine's Lucky You is a sweet tribute to good men who can hold down a relationship. Though the talented vocalist sounds great on the track, the most captivating part of the song is a looped sample of what is either Alaine's voice, perhaps pitchshifted and/or reversed, or a yawning cat with perfect pitch. Whatever it is, it is only used in Lucky You and it really sets the tune off. Weh di Fire Gone, from I-Octane, is a beautifully written and masterfully delivered rant, in which the Rastafarian describes various ways a Rasta can stray from their righteous path. Even with some heavier vibes, I-Octane keeps the surface bright with a catchy hook and his trademark nasally vocals. Another nice addition to the artist roster is Chris Ellis, the youngest son of reggae legend, Alton Ellis. Chris is a very gifted singer and, like Alaine, he adds a certain level of artistic quality to the Destiny juggling, but it is I-Octane and the rising female singjay Press Kay who add the lion's share of style points. Press Kay, who first started to gain prominence working with Charly Black, had such a strong a strong performance that Baby G and Young Pow decided to name the riddim after her track, Destiny. The recognition is well placed, as her song stands out even surrounded by some of Jamaica's top talent.

LISTEN TO THE MIX HERE: