Interview with Iba Mahr
11/20/2015 by Angus Taylor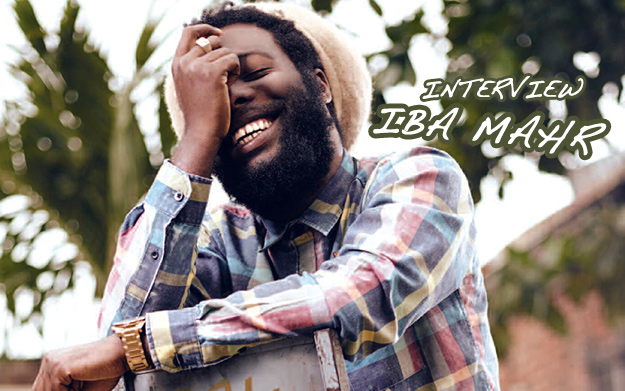 Iba Mahr, the vibrato-voiced vocaliser from Linstead, has finally released his debut album, Diamond Sox.

Recorded predominantly at Iba's adoptive base, Tuff Gong Studios, the majority of productions are helmed by his managers Roland McDermot and Jermaine Edwards of Born Rollin' Music.

Guest contributors include Unga and Welsh of Notis, McDermot's fellow Tuff Gong engineer Michael Howell, Royal Order Music of California, and Oneness Records from Germany. Its vocal and instrumental collaborations feature Capleton, Jah9, Dean Fraser, Jahmali and Tarrus Riley.

Despite containing material from different sources and many previously issued singles, it is a cohesive effort with a sense of thread and flow.

Angus Taylor spoke to Iba Mahr in Jamaica about the ingredients of his long-awaited project and his unique sound.



Congratulations on getting your album out to the people. You said in the past that you were waiting for the right time. Why is now the right time?
I am an artist and sometimes it's good to be creative and do all the nice things to make good music but eventually it comes down to business and timing. It's not just the artist alone who makes the decision on releasing an album. Neither is it just the producers. It's a body of people who come together and decide "This is the day. This is the perfect time" so that's why it never happened before! (laughs) We give thanks for November 20th which is the day and, like you're saying, it's long awaited.

How long did you have in mind that these specific songs would be on the record?
We've been working on this album since the release of Will I Wait In Vain. You will notice we have included some of those songs as foundation songs. Songs that became hearted in the people so I felt it necessary to make them a part of the album. The album was done by a year after releasing Will I Wait In Vain, so these songs, we went in the studio and reinvented them and put a couple of touches on them for the people. Our music has no timeline per se and so whenever we choose to release them we just release them.

You originally wanted to name the album after your song Glory of the King produced by Royal Order Music but settled on the title of your big hit with Notis, Diamond Sox.
I released an EP called Great Is HIM through Tad's Records and Glory of The King seemed like the perfect connection to Great Is Him. It was a great song and give thanks to Jah Yzer but at the end of the day, Diamond Sox really represents me as a person. It represents what I stand for and my code of conduct. More than just socks, more than just a song, it exemplifies a Rastaman who trod in a certain code and certain style.

You've described the album as being like a book. It is a unified album, yet with a lot of different sounding songs.
From my early stage in music, I have developed a sound and a style but I try my very best not to make each song sound the same because that might come off monotonous to the people. If even it was well done and well written you don't want to be making the same songs over and over again. That is what we did with the album and one good way of getting different sounds and different styles is using different producers and different ears. People who have different ways of producing the same artist. Because Iba Mahr's sound doesn't really change but it's sounds we deal in so we need a variety of sounds, a variety of styles. Respect to all the producers who had some kind of input and the engineers who mixed it.

Before you took the name Iba Mahr people called you Skibba – why?
It was just an alias. Everyone who would go to school would have an alias. Everybody called me Skibba when I played football because I had some amount of skills! (laughs) I think my father was named Skibba too.

The first tune you ever recorded was Had It and Lost it in 2008 on the I Chase The Devil rhythm for famous Linstead resident Max Romeo. They put AutoTune on your voice as was the fashion then. These days your distinctive voice is left natural – is that a conscious thing?
At the time I recorded that song it was mixed like that. I was excited just to have recorded the song. I never had any kind of knowledge about AutoTune. It was just ok for me at the time! But as we grew in the music we understood authenticity and knew how to basically do it the right way. If you have a sound you have a sound. If you don't have a sound then you try to perfect the sound.

Where you get your vibrato style from?
It was listening to older songs and older artists. A whole heap of people talk about Jacob Miller but you can't talk about vibrato and not talk about Edi Fitzroy, George Nooks too, or even at times you would hear Dennis Brown with some sort of sound like that. The older artists always seem to have that kind of trembling sound. My music is roots music so a whole heap of my inspirations come from older artists. That's where I fashion my whole energy and style from. But as Jamaican artists you need a style, you need a sound, to really propel in this music. That is my style and that is my sound.

The main producers you work with are Roland McDermot and Jermaine Edwards - what are their different duties when it comes to the album and your career?
Roland and Jermaine are basically partners in business. They are producers and also managers. At times when I am on tour Jermaine would tour with me and sometimes Roland would stay in Jamaica and liaise with Jermaine and see what's happening. It's very hard in this time to find people who really believe in you, people who walk every step and make every move with an artist. When you have a proper management team who decide they are going to bring an artist to a certain level to the people's consciousness you have to give thanks.
A lot of people in the industry will know Roland from working with the Marleys as sound engineer and recording engineer at Tuff Gong studio. He was also a part of Jah Mason's rise with Princess Gone. Roland has some amount of experience and credits to his name. Jermaine is an old friend of mine I grew up with. He was the first person to be interested in really getting my name out there. Jermaine doesn't play an instrument per se but he is also an engineer. He was that type of person who has an ear for sound and can hear when something is right or wrong.

So was Jermaine one of the people who encouraged you to be an artist when you originally just wanted to be a songwriter?
Yeah definitely. At the time we used to have fairs and fetes and different kinds of parties keeping at school so we use to just tag along. Every time Jermaine and our brethren named Dougie who we called Jah Booski heard me sing a song they'd always say "No, sir, you need fi start sing. Every time you write a song and we think about which artists to give the song it just don't make sense because it's you sound good to sing it. We just need a platform where we can make people hear your voice". We just started working and we met Roland and we recorded Will I Wait and from there it's a team.

How did you get the link to work at Tuff Gong?
How we got the link with Roland was, a friend of mine, we call him Fleego. Him and various people heard of my voice and my talent and wanted to help me. That is how my community support me and I have to give thanks to my community in Linstead and in Cheesefield for that support. So Fleego said he had somebody he wanted me to meet and introduced me to Roland. From there Roland was listening to a demo CD and he called me back and said he had a rhythm to send me. I found the song the same day and the next thing you know Will I Wait In Vain was playing on the radio the next morning! (laughs)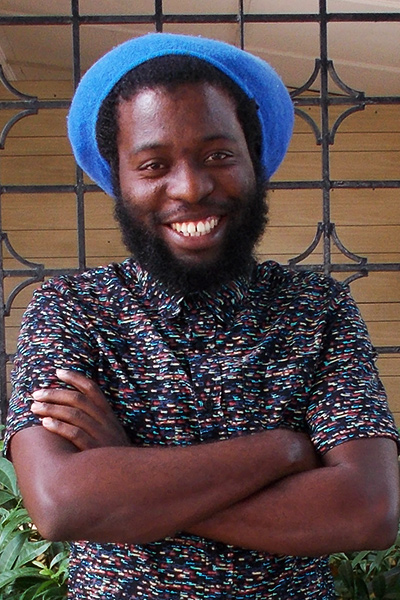 Who inspired Will I Wait In Vain?
Throughout life we have experiences and that's how you put thoughts together - and just by observing other people's experiences also. I'm not sure if it has a connection with Tuff Gong though boss! (laughs) There were certain experiences that we had before that we could tie into a song and make it real to our listeners and that's how Will I Wait In Vain came. How much man will see a woman they like and just want to get to know her? It's a whole heap! (laughs)

When you work at Tuff Gong do you feel like Bob Marley's spirit is there?
I think so. I feel a different kind of energy recording at Tuff Gong as opposed to other studios. It's hard to explain but understanding that you are performing in Tuff Gong gives you a different kind of mediation. Most of our songs were recorded at Tuff Gong and most of the songs on the album – even though they were by other producers – were also recorded at Tuff Gong.

Because it's not just Roland but also Tuff Gong Assistant Producer Michael Howell who is involved in the album – he produces two tracks: Alter and Weeping and Moaning.
Michael Howell is Roland's little brother. He's a very talented youth and just like how we got our start in the music, likewise, we need young producers. When we sight talents we try to make them a part of what we do. Just like my band. My band is a young band. We want to get everything together as a child shall lead the way. We try to build youths and Michael Howell is a talented engineer and a talented producer. We just recorded two nice songs and, as I said, it's a book and it was impossible to not have those songs on the album. Alter and Weeping and Moaning set the album on a different level.

Notis seem to give you some of the most creative and interesting rhythms to work with, in a more dancehall style. As well as producing Diamond Sox and Mama Rosie, Unga and Welsh also play drums and bass on many of the album's other productions by Roland, Jermaine and Michael.
Notis is a family. They are brothers and musical friends. When you find producers who are people that you gel with you try to make the best of it. Notis is one of those for we. People who have ears to your sound. They just know exactly what would work for you and exactly what you would like. Not a whole heap of producers have that energy. Some producers just have a rhythm and think "Iba Mahr could probably give a song".
Notis is a different thing. Sometimes we make songs from scratch. It's always like a family vibes. We cook, we record and we play football, we chill and we talk about just about anything. That is something that really broadens the mind and makes us even more creative in the studio. Diamond Sox is a big one, Let Jah Lead The Way is a big one too, Love You Girl is a big one, not to mention Mama Rosie! And there is a new rhythm out soon called the Crossroads that also features Kabaka and Notis are going to sing on it. I have a song as well.

More traditionally reggae is the song Travelling Home on one of my favourite classic rhythms, Bim Sherman's Golden Locks, re-produced by Oneness Records in Germany.
I call it nice. From producers who are not Jamaicans, and no disrespect to producers outside of Jamaica, but it always amazes me when our culture can spread so wide and people can do it so good and get we involved. The first time I went to Europe I met Benjamin. We had lunch and we chilled and we talked. Benjamin had this plan for about two or three years now because we recorded on the Reggaeville rhythm before but there wasn't too much communication between me and Benjamin. Then when Benjamin came here he worked on the Diamond Sox video with Jay Will and we started becoming friends. That's when Benjamin emailed me the rhythm and I listened to it and he came here and recorded and mixed the song. I just wanted the song on the album. As I said, how we put these songs together is more like a book and I recorded each song meditating the next song that would follow. Travelling was one of those songs.

I know you grew up listening to foundation artists like John Holt and Dennis Brown on your grandfather's sound and your home stereogram. Did you know the original Golden Locks by Bim Sherman?
I knew it before. It was quite slow. But I knew it so when I heard the rhythm and saw it was called Golden Locks I thought "They are listening to the music. They know music." Just the other day I was playing it for a couple of friends just to show them the variation and the connection. It sounded more like an acoustic, softer, and not with so much beat.

How come you decided to put both cuts of Diamond Sox on – the solo one and the one with Tarrus Riley?

I think Tarrus came to Diamond Sox and did something totally different with the song itself – as opposed to just with the message being sent through the song. Tarrus' presence alone, to me personally, did something to the song as a remix. It really connected more with people in New York and some of the people who never knew Iba Mahr music started becoming more familiar with the artist.

How did you link Jah9 to record the song Fame in our Court?
I'm in love with Jah9. I love Jah9 music. I love her conscious spirit. I love the way she uses her voice and the message, definitely. I always listened to Jah9. I listened to the album New Name and just listening through the album I realised there weren't many real intimate relationship love type songs. At the time I was recording Fame in Our Court with just me and I was saying to Roland that I needed a female voice. Listening to the song over and over again I was like "I think Jah9 would be so perfect because it's not so often you hear Jah9 on this softer song in terms of message". So the same day I just called her and said "Jah9, I'm working on my album and I definitely have a song I think we should do". (laughs)

It's definitely a softer more delicate Jah9. It actually takes a couple of seconds to realise it's her.
That is one of the things about music. When you hear the rhythm, when you hear the already said messages then it gives you an idea, it gives you a tone, a spirit, some kind of soul, of how you want to express yourself. I had already recorded some of the song so when I asked her to do it she said "I'm ready!" (laughs) So we just linked up, same place at Tuff Gong and we just did it. The Jah9 Fame In Our Court song is one of my favourite songs on the album and it reminds of some of the great soul music that has come out of America – but with more hard drums.

Do the lyrics of that song represent what your life is like? Can you not go where you want to go without getting papped or rushed by fans?
If it's not me it's many people in music. But some places definitely. Some supermarkets and shopping villages here. But it's a wider concept than just Iba Mahr. It's just to really tap into an artist or a celebrity and a life where some people have a relationship with people who do the same thing as them – which is music. If I am on tour and you are home then by the time I come home you are on tour! (laughs) So by the time we get a chance to do something together then there's probably like a show tonight! It sometimes seems confusing but it's the life.

How did you link with Jahmali for the song The Time Is Now? This is an artist who rarely releases music. Years can go by without him releasing a song. How come you were one of the lucky ones?
Alright! The way I grew as a youth with my grand people shaped me to appreciate specific music and specific artists. I'd always loved Jahmali from El Shaddai and so much more. One day Roland was working with Jahmali on a totally different project. Roland introduced me to Jahmali and said "This is Iba Mahr" and he was like "Yeah? Iba Mahr? Yeah man, nice work!" So from there I became interested to collaborate with Jahmali. Jahmali was supposed to leave two days before we recorded the song. So on that day we recorded the song and we put everything together and Jahmali wrote his part.
He's a very interesting person when you get to work with him and talk to him. You see in the moment. (laughs) He's very unique! I don't think a lot of people can get Jahmali into the studio to do a collaboration! It was interesting because, while I was on the Young Lions tour in the US with Kabaka we went to Florida and Jahmali came to my show. I was surprised to see him so I just called him on stage in the middle of performing. He just started singing El Shaddai a capella and everybody just went "Woah!" and the crowd started singing. This is one proof that the music we do will never die.

How did you get Capleton for Clean and Pure on Voiceful's remake of the Death in the Arena rhythm?
I knew Capleton in the beginning, through Jigsy King who was one of the first people to bring me to Kingston and introduce me to producers and artists. I met Capleton early and then I started going there to bless him up and just to hold a vibes. Then I realised Roland had started touring with Capleton at the time and from there we really had a connection so I wouldn't need Jigsy King and Roland to just connect with Capleton and link up. We had a production with Voiceful which is Mervyn. I just went to the studio and Mervyn needed a combination so we went to Capleton and recorded his part and we just fixed it from there and we just made it one thing. Music always amazes me – trust me. (laughs)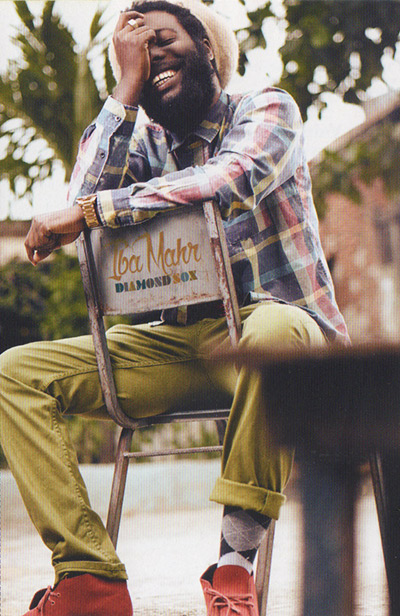 You finish the album with the ska tune Having Fun with Dean Fraser - why did you go back to the ska?
Dean Fraser was one of those people who just grew me too. From the day I met Roland I met these people. It's nice working with Dean Fraser every time. We decided to do a ska because of my root. I still hear a whole heap of ska songs and some were not really that gritty, as the foundation ska would have been. So I said to Roland "We need a ska song for the album and we definitely need the more authentic sounds and authentic vibes". We just called in some young musicians and we called in Dean Fraser to put the final touches on it and that was Having Fun!

How come there are no Winta James productions on the album? You did some big tunes with him…
(big laugh) As I said before, I think it is a body of people who make this decision. And then, I had an EP with Tad's before called Great Is HIM and that was one of the reasons why we didn't have it on the album. We had some issues with producers and distribution companies, so we just still followed through with it.

Last time we spoke it was at Garance festival the week of Haile Selassie's birthday and this is the week of Coronation Day. How did you spend the occasion?
Check the timing! Well on these days we chant Nyabinghi. We go to Scotts Pass. Some Rastafari youth they'd go to 12 Tribes and so forth. But for me, it's Nyabinghi. We chant and sing. We blaze the fire and we hail The King. It's life and we seek some amount of consciousness and some amount of sustainability for the people and for ourselves. We need some sort of energy, some sort of reverence so we can speak to the people on a broader level.

Can you remember when you first heard of HIM?
I'd been hearing about Haile Selassie since I was born. There was a sound system playing in the yard so you'd always have certain kinds of utterances coming from the mouths of the artists. My grandfather always utilised words and slangs like "Wha Gwaan Jah Youth?" and "Yuh Irie?" and "Bless Up The I Self" and so forth. They weren't even Rastas but they had some sort of consciousness through the energy of the music same way. When I sighted Rastafari it was basically through food. Seeking a healthy lifestyle and being around Rastas that were conscious of what they eat, conscious of the things that they said and conscious about how they would spend their day or even their night! (laughs) It grew from that until we took it on our own self and became our faith and our perspective of life. We give thanks for that day until this time. One love.