Review
Album Review: I-Octane - Love & Life
03/30/2018
by Dan Dabber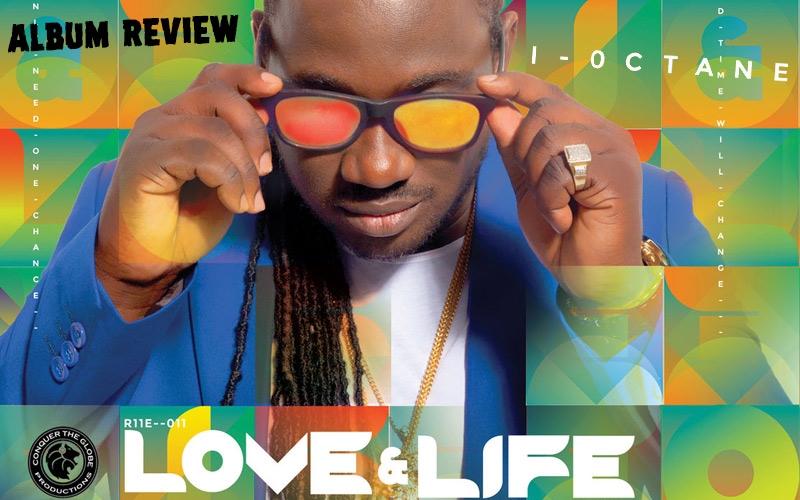 Jamaican artist I-Octane has returned with a third full length solo release, this time on his own newly formed label, Conquer the Globe Productions. Entitled Love & Life, the 19 song project adheres to those two seemingly simple themes, though the singer's lyrical consistency is set to a constantly shifting set of riddims that internally cohere. Love & Life explores vibes like R&B, soca, pop, latin, EDM, afrobeats, and hip hop, while staying grounded in Jamaica's own reggae and dancehall. Octane stands out, even among Jamaica's most versatile musical talent, because of his ability to inhabit different styles of music with ease. Love & Life showcases this aptitude, and when it is applied to such a diverse ethno-pop soundscape, the result is an album that appeals to the multitude of factions in Octane's scattered global fanbase. While the broad appeal is a good thing for both fan and entertainer, the fact that the label is called Conquer the Globe Productions and the first album from that camp is obviously targeting a much broader global pop market may be just a bit too on the nose. It may even be perceived as shallow, especially when coupled with over-simplified title and the songs that are themed in accordance it. Certainly some listeners will find Love & Life to be cheesy, but even those people will find it hard to argue that the music isn't damn good.
Despite the large palette of sounds being drawn from for the individual productions on Love & Life, there is still an overall feeling to the album that holds the project together. With the exception of one or two woeful reality tunes, the subject matter never gets exceedingly heavy, and neither do the riddims. Although I-Octane can and frequently does voice heavy, socially conscious lyrics as well as darker, meaner dancehall tracks, those kinds of tunes were typically not selected for Love & Life, most likely with the aimed intention of keeping it on the lighter side. Despite his versatility, light is a great place for Octane to be with his unmistakable, nasally tenor. His voice shimmers on poppier tracks like Heart Breaker, Girls Dem Into We, and Time Line. In that regard, Love & Life does an amazing job of taking an artist, who by most standards has a very unconventional voice, and presenting him in a way in which he could seem at home in, or maybe even a welcome addition to, the "mainstream."
Love & Life also has two featured artists that hint at an effort to push I-Octane to a broader market. J Boog has managed to cobble together support from a variety of demographics over the years, and he shows why he is so well liked with a powerful performance on the unexpectedly poppy Pretty Loud. I hesitate to presume that it is a Jamaican patois the Polynesian-American Boog occasionally slips into, but if it is, it's a little awkward, though the highly skilled singing does provide nice cover. The two veteran performers divide and conquer the riddim, alternating between Octane's tinny tones and Boog's more soulful approach. I Don't Wanna Know featuring Shaggy operates in a similar but grander fashion, with hints of wobble bass and EDM-style drops that give way to heavy moombah-pop vibes. Octane pairs even nicer with Shaggy, who beats up the track with his booming baritone while I-Octane counterbalances, floating like a cloud around large breaks of clear instrumental skies. Other crucial combinations on Love & Life include Love to See You Dance featuring DeMarco, Unfair Games with Yanique, If You Think You're Lonely Now featuring Romain Virgo, and a tune with Ginjah called One Chance.
Depending on what kind of music you are into, you are likely to find something on Love & Life that you will like. If you're searching for authentic, conventional reggae music, I-Octane has you covered with Let Me Love You, Nothing in Common, When You're In Love, and Weh Di Fire Gone, one of the two "bonus tracks" included with the project. Fans of R&B and hip hop will likely enjoy Passionate Love, If You Think You're Lonely Now, Sexiness, and One Chance. But the big winners are listeners who like pop and/or cheesy dance music without shame. The type of person who can get fully into this album either doesn't care or can look passed the relatively shallow lyrical content to see other high-level stuff at play. Besides I-Octane's knack for melody and timing, the most epic aspect of Love & Life is the overall cohesiveness of this project, especially in an age in which one can expect most albums to have a disjointed feel. Because of the impact technology has had over the last 20 years, contemporary artists from most genres now tap multiple producers for their albums. I-Octane did exactly that for Love & Life, but the way the songs were selected, there is a consistency throughout that could lead listeners to mistakenly believe that they are hearing the work of only one producer. That in itself is remarkable, but coupled with I-Octane's seasoned abilities in the recording booth, there is much about Love & Life that is undeniable, regardless of your personal preferences.
---
Release details
I Octane - Love & Life
DIGITAL RELEASE [Conquer The Globe Productions]
Release date: 03/30/2018
Tracks
01. Up To We
02. Pretty Loud feat. J Boog
03. Let Me Love You
04. Love To See You Dance feat. Demarco
05. Passionate Love
06. Nothing In Common
07. Unfair Games feat. Yanique (Di Curvy Diva)
08. If You Think You're Lonely Now feat. Romain Virgo
09. Heart Breaker
10. I Don't Wanna Know feat. Shaggy
11. Girl's Dem Into We
12. Time Line
13. Private Policy
14. Sexiness
15. When You're In Love
16. Success (T.I.M.E)
17. Love Life
18. One Chance feat. Ginjah*
19. Weh Di Fire Gone*
*Bonus Tracks
Featured artists
J Boog
/
Shaggy
/
Demarco
/
Romain Virgo
/
Ginjah