Review
Album Review: I Kong - Pass It On
09/09/2016
by Gardy Stein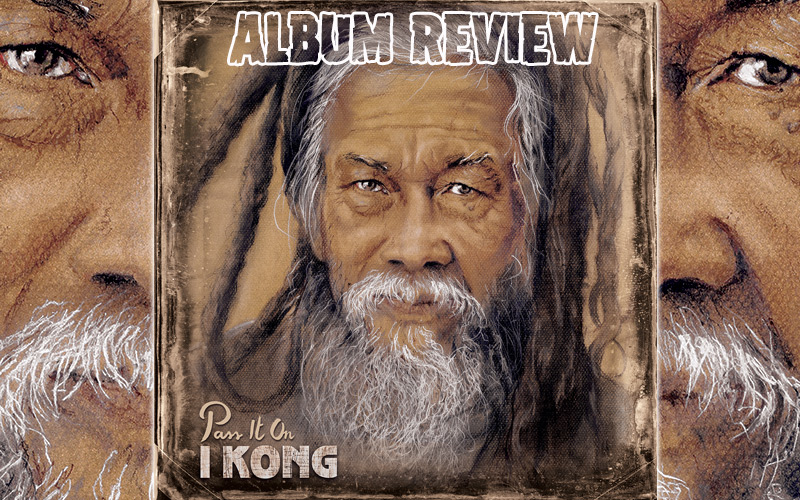 Heavy Roots! You might want to reinforce your CD-shelf before you add this one to your collection: I Kong is back with his sixth studio album entitled Pass It On, including twelve tracks that vividly represent his eventful artist career. Starting out with The Jamaicans in the 60s and 70s, testing new grounds as Ricky Storm with Lee "Scratch" Perry and Bunny Rugs (Ricky & Bunny) and then going on a hiatus for almost 30 years, he now comes full circle with his family-name-inspired appellation.

Pass It On, now, is a mission explained in the eponymous title track. It's a recognition of his advanced age of 69 (an undeniable fact that is also depicted in the beautiful cover art by Jennifer Chatelain) as well as the need to keep the link with the next generation of singers; at the same time it is also a plea for the latter to respect and value the foundation work the elders have laid. A wise choice to feature Raging Fyah on this one, as these youngsters are the undisputable torch-bearers of Roots Reggae traditions at present. Other star-studded features of the release include the former I-Threes-member Judy Mowatt in the opening track Motherless Child and, combining two veterans on one track, Ken Boothe in They Don't Know.

From the piano intro to the last note of the infectious Rocksteady beat, both Change Your Ways and For Whom The Bell Tolls fill us with a desire to sing and skip along. "Listen to the Chiney Ras a chant!" Both tracks are prime examples of the exceptional quality of the underlying instrumentals throughout this release, both in composition and recording. Responsible for this heartfelt rootsy deliverance is the Swiss group Najavibes, a band that started to work with I Kong in 2014 to produce the album A Little Walk. They were actually also the forces behind the first ever tour of the artist in 2015 – after almost 50 years in the business! Respect to these musicians, and to the mixing and mastering engineers Roberto Sánchez and Sam John.

This richness balances the fact that age audibly took its toll on the singer's vocal chords in tracks like Free, Keep Grooving or the education-promoting Make Them Bright, although on others (and especially in the lower ranges) it still sounds full and rich, such as in Light After Darkness and Good Will Follow, a moral plea to do good in life.

Solid As A Rock, perfect farewell, tells us that we will never walk alone as long as we are true to ourselves. Word! And as long as singers like I Kong stay true to their legacy and keep setting such formidable musical examples, we don't have to worry about the next generation of artists. One day, they also will Pass It On!


---
Release details
I Kong - Pass It On
DIGITAL RELEASE [Fruits Records]
Release date: 09/09/2016
Tracks
01. Motherless Child feat. Judy Mowatt
02. Change Your Ways
03. Free
04. Cool Runnings
05. Keep Grooving
06. For Whom The Bell Tolls
07. They Don't Know feat. Ken Boothe
08. Good Will Follow
09. Light After Darkness
10. Pass It On feat. Raging Fyah
11. Make Them Bright
12. Solid As A Rock
Featured artists
Raging Fyah
/
Ken Boothe