Review
Album Review: I Kong – A Little Walk
04/19/2015
A Little Walk is a mandatory listen for roots reggae connoisseurs.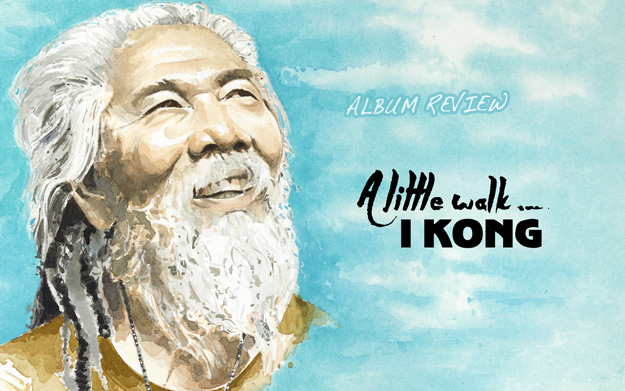 There's been a wave of long-forgotten Jamaican reggae artists from the 1970s and 1960s resurfacing and restarting their careers in recent years. Sometimes with Jamaican musicians, think of the Inna De Yard series, sometimes with European musicians and bands linking up with the heroes of their youth. I Kong's A Little Walk falls into the latter category.

I Kong is a nephew of producer legend Leslie Kong. He started his career back in the 1960s with The Jamaicans, moved on to sing with Yabby You's Prophets later and formed the Lee "Scratch" Perry-produced duo Ricky & Bunny, using his first artist name, Ricky Storm. Bunny was no other than Bunny Rugs, who later rose to fame with Third World. I Kong's first and only album titled The Way It Is was released in 1979.

Now he's back with A Little Walk, a ten-track album released by the young Swiss roots reggae label Fruits Records. This latest effort of I Kong is a blueprint of international artistic collaboration. Swiss band Najavibes, itself going back to the end of the 1990s, draws responsible for most of the music, but they invited top tier musicians from Jamaica and France for completion of the sound they wished for. Scully Sims plays percussions, Dalton Browne adds lead guitar, Sting Wray on horns, and Eric "Rico" Gaultier plays the saxophone. The recording took place at Mixing Lab Studio and Small World Studio, both are located in Kingston. Now the mixing was done by Roberto Sánchez, the Spanish producer that has quite some experience in recreating sounds of the past and adapting them to our ears of today–think Alpheus. A Little Walk was mastered in UK by Sam John, and the impressive cover artwork provided by Sil Cunningham, also based in UK. The artwork alone justifies buying the vinyl version.

A Little Walk features six original songs, plus four dub versions, each of songs found on the very same album. From Guiding Light, the first track, to the last one, Mysterious Ways, I Kong excels. Najavibes and their guests open wide musical spaces with a plethora of details to discover. This is an album that grows on you, one that needs to be actively appreciated. Dub elements are abound even in the original songs. The dub versions on the other hand never fully deconstruct the music, they rather serve to point your attention towards specific elements of the sound. Najavibes and their guests do a terrific job. You'd never guess you're listening to a 2015 record if you wouldn't know. I Kong's soft, emotional voice is the icing on the cake. A Little Walk is a mandatory listen for roots reggae connoisseurs.


---
Release details
I Kong - A Little Walk
VINYL [Fruits Records]
Release date: 04/13/2015
Tracks
01. Guiding Light
02. Guiding Dub
03. Live As One
04. A Little Walk
05. Dub Walk
06. Groovy Feeling
07. Dubby Feeling
08. When I See You Smile
09. Smiling Dub
10. Mysterious Ways